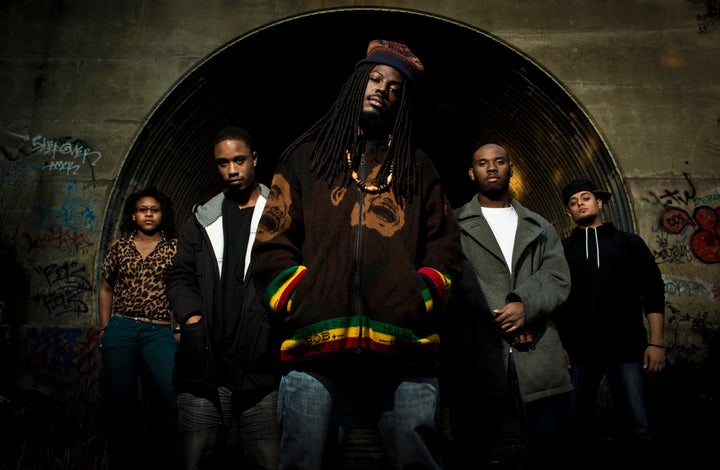 Shakespeare's classic tale of star-crossed lovers received a 21st century facelift last weekend. Montagues and Capulets became Godfreys and Santiagos. The masquerade ball was swapped out for a hip-hop dance break. And the famed balcony was transformed into a Target sale-rack.
Members of Richmond Artists With Talent (RAW Talent) performed a modern day adaptation of "Romeo and Juliet" to a sold-out auditorium in El Cerrito High School Saturday. The play, titled "Te's Harmony," used spoken word theater to tell the story of two teenagers caught in a turf war between Central and North Richmond.
RAW Talent is a creative arts program within the Making Waves Education, an afterschool organization in San Francisco and Richmond. Young performers between the ages of 14 and 22 incorporated modern language and personal stories to make "Romeo and Juliet" relevant to their own lives.
"Many of the [performers] don't feel very connected to Shakespeare," director Rooben Morgan told The Huffington Post. "They got to re-articulate, recreate and re-imagine that work in their own words and talk about issues that were important to them."
Donte Clark, the 22-year-old RAW Talent Assistant Coordinator and a program alum, wrote the script and starred as "Te," a reinterpreted Romeo. His version of the play ended in peace, not tragedy.
"We already have too many people getting killed," Clark told the HuffPost. "We're going to choose life instead."
In real life, Clark is part of the Godfrey family of North Richmond. He incorporated both qualities into his character. D'Neise Robinson played Juliet, renamed "Harmony." Both Robinson and her character are from Central Richmond.
Throughout the piece, students wrote and performed monologues tackling deeply personal issues: death, gang rivalries and familial pride. Many of the actors come from clashing neighborhoods in in Richmond.
"They're expected to put aside any tensions when they're in the building," RAW Talent Coordinator Molly Raynor told the HuffPost. "But once they walk outside into the real world, they are expected to hate each other."
Clark's experiences as a playwright and young man in Richmond are the subject of a documentary by LA-based filmmaker Jason Zeldes. Zeldes began shooting August 6, the day of the Chevron Refinery explosion. The Kickstarter-funded documentary is titled "Romeo Is Bleeding."
"It highlights the transformational power of art, how that can heal not only a person, it can also heal a community," Zeldes told the HuffPost. "I think anyone who was at the theater [Saturday night] saw how cathartic it can be to discuss all sorts of issues in a public space."
"Romeo Is Bleeding" will continue shooting until June before going the festival route, according to the film's producer Michael Klein.

Saturday's performance was the only scheduled showing of "Te's Harmony." However, Morgan and Raynor are open to expanding the project to new theaters and, potentially, new cities.
Clark hopes the project will continue, and shine light on the issues facing the city of Richmond.
"The first step is just to come and be open to what is being said, the next is just thinking about it," Clark said. "There's hope. There's a possibility that we can all come together. We can laugh and heal together."

Related
Popular in the Community