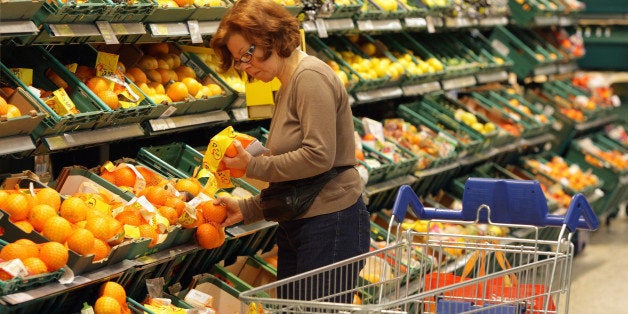 Food waste is becoming less and less acceptable in Western Europe.
In 10 of its U.K. stores, Tesco will be giving away food it otherwise would dispose of to women's refuge centers and children breakfast clubs. The move will help curb the massive amount of food wasted globally each year -- a problem that allows widespread hunger to persist.
According to the World Food Program, about 805 million people don't consume enough food to lead a healthy, active life. If the amount of food wasted each year -- 1.3 billion tons -- was just cut in half, everyone would be fed, as the U.N. Food and Agriculture Organization (FAO) noted last October.
And the lasting effects go beyond bottom lines.
"The impact of food waste is not just financial," as the United Nations Environment Program points out. "Environmentally, food waste leads to wasteful use of chemicals such as fertilizers and pesticides; more fuel used for transportation; and more rotting food, creating more methane – one of the most harmful greenhouse gases that contributes to climate change."
Tesco, however, plans on doing its part to solve the problem. Its new initiative could be the start of a much bigger strategy by the chain.
"This is potentially the biggest single step we've taken to cut food waste," said Dave Lewis, Tesco chief executive, according to Reuters. "We hope it marks the start of eliminating the need to throw away edible food in our stores."
To take action on pressing poverty and food aid issues, check out the Global Citizen's widget below.
This page contains materials from The Huffington Post and/or other third party writers. PricewaterhouseCoopers LLP ("PwC") has not selected or reviewed such third party content and it does not necessarily reflect the views of PwC. PwC does not endorse and is not affiliated with any such third party. The materials are provided for general information purposes only, should not be used as a substitute for consultation with professional advisors, and PwC shall have no liability or responsibility in connection therewith.