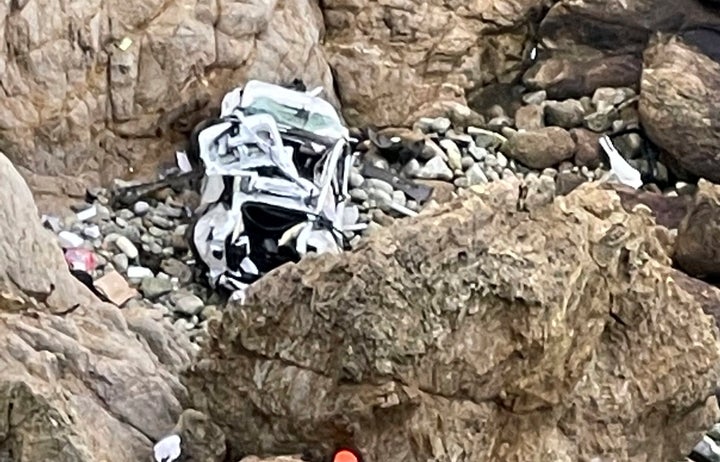 Four people miraculously survived plunging 250 feet from a California cliff when their Tesla veered off-road.
Two adults were traveling with a 9-year-old boy and a 4-year-old girl on Monday morning when their sedan went over a cliff near the Devil's Slide, a site of frequent wrecks on the Pacific Coast Highway.
They lived to tell the tale after being rescued, per CBS News.
"We were able to notice movement in the front seat through the windshield with binoculars," said Pottenger, who sent rescuers down. "So we knew that we had at least one person that was alive. At that point, we did not know how many people were in the vehicle."
"I don't even like driving it," Pottenger told CBS News. "It's definitely a treacherous stretch of California."
Pottenger and his team initially expected to recover bodies when witnesses called 911 at 10:15 a.m. Pottenger said in the footage that they were "actually very shocked when we found survivable victims in the vehicle" — who were both conscious and alert.
"We go there all the time for cars over the cliff and they never live," Pottenger told CBS News. "This was an absolute miracle."
Firefighters used rescue tools to pry the car open. The children were taken out from the rear windshield with moderate musculoskeletal injuries and manually pulled to safety in a rescue basket. The adults were helicoptered to a hospital with traumatic injuries.
Officer Mark Andrews of the California Highway Patrol said an initial investigation found the Tesla wasn't in Autopilot or Full Self-Driving mode when it crashed. The road itself was in good condition, though the crash site lacked a guardrail that might have prevented the fall.
Separately, Tesla shares plunged 10% on Tuesday after Monday's report of vehicle production and delivery numbers for 2022 that fell below expectations, per CNBC. Last year also saw Tesla CEO Elon Musk controversially acquire Twitter — and Tesla lose 65% of its market value, per Yahoo.
Officials are investigating precisely what caused Monday's accident.
Popular in the Community