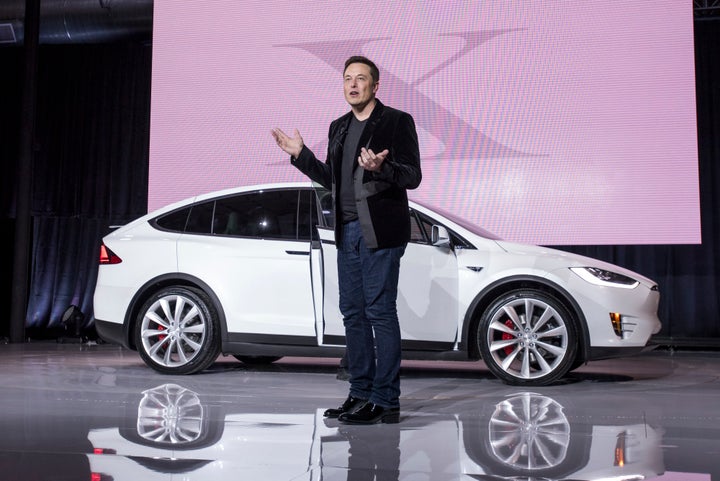 A Tesla Model X crashed into a guardrail and flipped on the Pennsylvania Turnpike, and the motorist told police he had activated the car's autopilot feature, according to The Detroit Free Press. 
The two people in the car survived the July 1 accident, the Free Press reported, as did the driver and passengers in a vehicle that hit the upside-down Tesla. 
Suburban Detroit art gallery owner Albert Scaglione, touted as "the world's largest art dealer" and his son-in-law Tim Yanke were in the Tesla when it crashed 100 miles east of Pittsburgh. 
Tesla and Scaglione did not immediately respond to The Huffington Post's requests for comment about the incident.
By default, autopilot is turned off and must be activated by a driver. Even when the feature is engaged, drivers are reminded to keep their hands on the wheel. The feature was introduced on some Tesla vehicles last year. California, Florida, Michigan, Nevada and the District of Columbia are the only areas to permit autonomous vehicles on major highways.
The Pennsylvania crash occurred a day after the car maker revealed that a 40-year-old man died on May 7 when his Tesla on auto-control collided with a truck in Florida. That was the first death to occur when a vehicle was essentially driverless, Tesla said. 
"Extremely rare circumstances" led to this accident, the company said, because neither the car's sensors nor Brown applied the brakes as the high-tech sedan slammed perpendicular into the tractor trailer. 
The victim's family said the truck "crossed a divided highway and caused the fatal collision."
The National Highway Transportation Safety Administration is investigating.
Meanwhile, Tesla CEO Elon Musk has said fatal car crashes will decrease as autopilot replaces the role of error-prone humans on the road. 
UPDATE: Tesla said in a July 6 statement that it was unsure if autopilot had been turned on before Scaglione's accident. 
"Tesla received a message from the car on July 1st indicating a crash event, but logs were never transmitted. We have no data at this point to indicate that Autopilot was engaged or not engaged. This is consistent with the nature of the damage reported in the press, which can cause the antenna to fail," a company spokeswoman said in a statement. "As we do with all crash events, we immediately reached out to the customer to confirm they were ok and offer support, but were unable to reach him. We have since attempted to contact the customer three times by phone without success. It is not possible to learn more without access to the vehicle's onboard logs."
Calling all HuffPost superfans!
Sign up for membership to become a founding member and help shape HuffPost's next chapter
BEFORE YOU GO