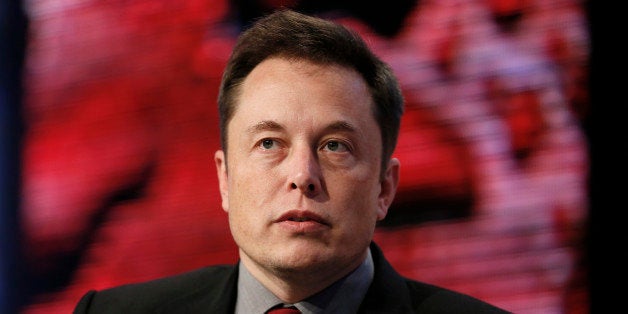 Tesla Motors is planning to formally unveil solar-storage batteries that will power homes and businesses -- its first entry into a teeming market.
The electric carmaker, known for its luxury Model S sedan, announced in an investor memo on Tuesday that it will unveil the new products at a highly anticipated launch event on April 30.
Likely using solar panels produced by Tesla's sister company SolarCity, each unit will store energy for later use, essentially allowing a building to charge itself. It's unclear how much the batteries, sized for either individual homes or commercial-scale structures, will cost.
Tesla is already testing these batteries in about 300 homes in California and 11 Walmart locations, according to Bloomberg.
The nascent energy storage industry is bustling with competitors banking on solar power going mainstream over the next decade.
Swiss battery startup Alevo raised $1 billion in private funding last year. The company claims that each of its GridBanks -- shipping containers with thousands of battery cells -- can power up to 1,300 homes for an hour.
Another, Enphase Energy, stands as one of the largest players in the solar inverter market, according to a report on the investment site Motley Fool.
Tech goliath Samsung already sells what it calls its ESS, a solar energy storage unit that can power homes or commercial spaces.
Still, Tesla has a secret weapon: its chief executive. Elon Musk's rockstar status as a celebrity entrepreneur will no doubt propel Tesla's battery units into the spotlight, making them the most recognizable brand of batteries.
And the industry is burgeoning.
The cost of batteries for homes is beginning to decline. Between 2007 and 2014, the average price of the batteries declined by 14 percent annually, according to research published in March by the journal Nature Climate Change. Within 10 to 15 years, solar-powered batteries will become the most economic choice for powering homes, kicking off a massive energy usage shift away from the traditional electrical grid, per a report from the Rocky Mountain Institute.
Tesla did not respond to a request for comment.