HAWTHORNE, Calif. -- Electric car manufacturer Tesla unveiled its latest electric car Thursday night -- the hotly anticipated, lower-cost Model 3 sedan.
The much-hyped public presentation of the mid-sized sedan at Tesla's design studio was a historic moment for both the electric car industry and for Elon Musk's Tesla.
The Model 3, Tesla's fourth production car, is the first one that's aimed at the masses, with a starting price of $35,000. For Tesla, considered the Apple of the automotive industry, the Model 3 has the potential to be its iPhone -- a sexy, mass-market, consumer-priced machine that changes the game.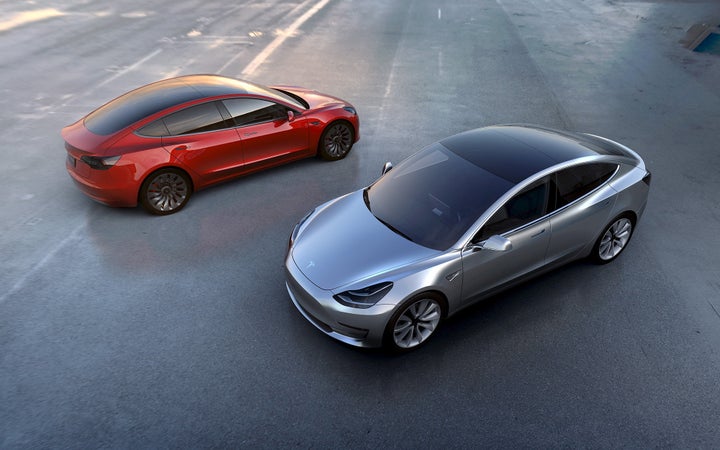 If the car becomes as popular and successful as Musk hopes, Tesla stands to become a major consumer brand that helps shepherd the all-electric car era into the mainstream. Musk said at Thursday night's event that 115,000 Model 3s had been ordered in the previous 24 hours.
But it may be a bumpy road. The Koch brothers are planning a multimillion-dollar assault on electric vehicles, Tesla's direct-to-consumer sales model is prohibited in several states, automotive technology and trends are evolving rapidly and there is a possibility that tax incentives -- a key to electric car sales -- will drop by the time the first Model 3s ship in late 2017. The Model 3 isn't the first affordable all-electric vehicle on the market, and the competition is likely to intensify.
Musk said the Model 3 can go from 0 to 60 mph in less than six seconds and will have a range of at least 215 miles on a charge. The car will seat five adults comfortably and will have front and rear trunks, he said.
"Can you fit a seven-foot surfboard in a Model 3? Yes," said Musk.
A quick spin in a Model 3 with a Tesla driver showed the car to be blazingly fast with sporty handling. When the driver pressed the accelerator, the three passengers -- all journalists -- gasped and giggled.
The back seat was indeed comfortable for two, and had ample room for a third person.
Less than two hours after Musk took the wraps off the car, the number of orders topped 133,000.
UPDATE: April 1, 10:34 p.m. -- Musk reported 232,000 Model 3 orders had been placed.
Before You Go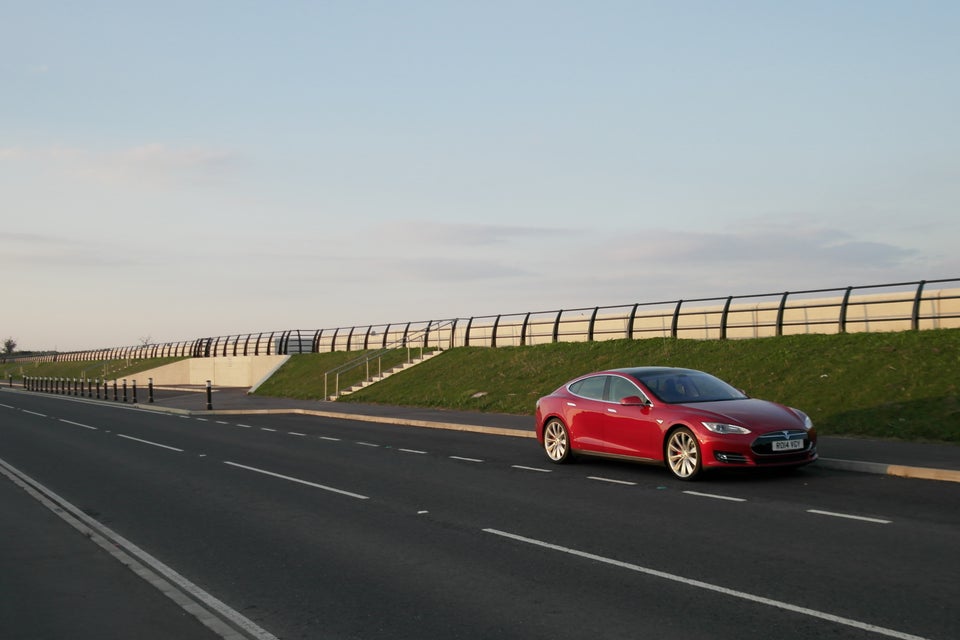 Tesla Model S Performance Plus
Popular in the Community