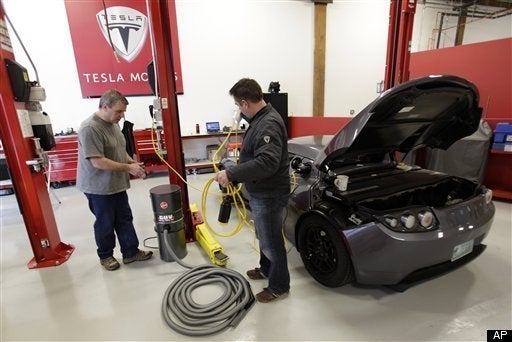 Tesla Motors CEO Elon Musk told BusinessWeek in an email that the company is withholding the victims' identities until family members are notified.
KTVU was first to report Tesla employees were involved in the incident, citing a witness who was with the pilot before the plane took off.
The San Francisco Chronicle reports that the plane was owned by Doug Bourn, a senior electrical engineer for Tesla Motors, an electric sports car maker. The Chronicle also says the plane was enroute to Hawthorne Municipal Airport in Los Angeles County.
Jalopnik is reporting that all three people killed in the crash may have been Tesla executives.
It was announced today that Musk was awarded the 2010 Automotive Executive of the Year Innovator Award.
Kristen Sze of ABC-7 in the Silicon Valley tweeted that Hawthorne Municipal Airport serves SPACEX, also led by Musk, but added cautiously "NOT saying he was on board."
The Federal Aviation Administration has yet to identify the three victims involved in the crash.