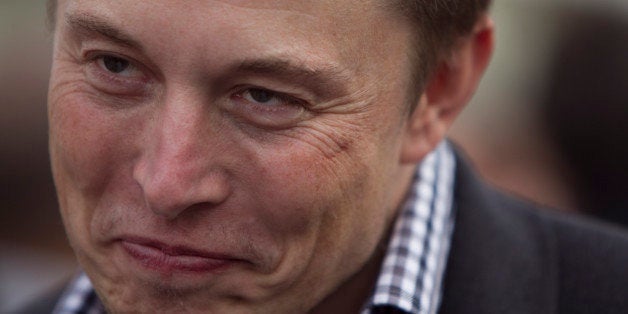 Tesla is giving away its special sauce.
CEO Elon Musk pledged Thursday that the electric carmaker will not sue anyone who uses Tesla's patented technology "in good faith," in hopes of cultivating a bigger industry for rechargeable vehicles.
"If we clear a path to the creation of electric vehicles, but then lay intellectual property landmines behind us to inhibit others, we are acting in a manner contrary to that goal," Musk wrote in a blog post. "Tesla will not initiate patent lawsuits against anyone who, in good faith, wants to use our technology."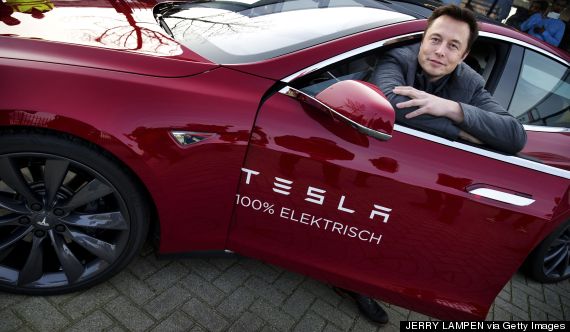 The rock star entrepreneur, who also founded the private space transport company SpaceX, said he originally secured patents to prevent the auto industry goliaths from absorbing Tesla's trade secrets and crushing the startup. However, Musk said, the big players don't seem all that interested in Tesla's work.
Disappointed by what he described as big car companies' "small to non-existent" investments in electric cars, Musk said he is letting others use the patented ideas in order to foster some creativity among other entrepreneurs.
Tesla pioneered the electric car market with its luxury Model S. By allowing others to use Tesla's good ideas, including patents on the technology used to build its network of supercharger stations, Musk could create more options for consumers looking to make the switch to an electric car.
A Tesla spokeswoman did not immediately respond to a request from The Huffington Post for comment.
According to the blog post, the company has taken down patents previously framed in the lobby of its Palo Alto headquarters.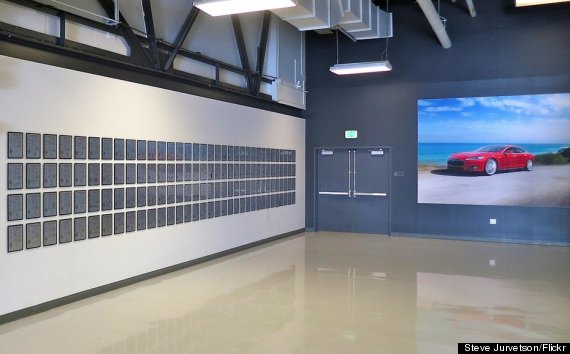 It's a bold move by a man who once so feared knockoffs of his inventions that he called publishing patents "farcical."
Carter Driscoll, a senior tech analyst at investment bank MLV & Co., told HuffPost that Tesla could be trying to entice innovators to build battery-powered cars that are compatible with Tesla chargers. Doing so would help Tesla become the industry backbone and expand its network of power stations without building them itself, he said.
"On the charging side, there is no standard," he said by phone. "This is [Tesla] trying to standardize the technology they've created."
Patent reform has been at the forefront of political issues in Silicon Valley, where Tesla is based. An entire industry of "patent trolls" profits by suing entrepreneurs who violate patents often registered to litigious companies that do little else other than hold those certificates. Holes in intellectual property law also fail to protect companies from international competitors. In China, Tesla recently won a legal battle with a businessman who trademarked the transliteration of the company's name.
A study published last month by MIT's Sloan School of Business estimated that venture capitalists would have invested upward of $21.7 billion over the last five years if not for fear of litigation.
"When you ask auto-industry insiders about Musk's affection for contrarian business models, they invariably roll their eyes," he wrote in a post for Bloomberg View. "They see Tesla as too small to be anything more than a gadfly, and Musk as something between a well-intentioned amateur and a downright charlatan."
However, save for a dip after lackluster fourth-quarter results last year, Tesla has remained a Wall Street darling since becoming profitable in the first quarter of 2013. Meanwhile, stock prices have stagnated for other major carmakers, including Audi, Toyota, Ford and General Motors.


Tesla's stock price is charted in blue.

And it's those companies that Musk sees as his real opponent.
"Our true competition is not the small trickle of non-Tesla electric cars being produced," he wrote in the blog post, "but rather the enormous flood of gasoline cars pouring out of the world's factories every day."
This story has been updated with a comment from Carter Driscoll.

Support HuffPost
The Stakes Have Never Been Higher
Related
Popular in the Community