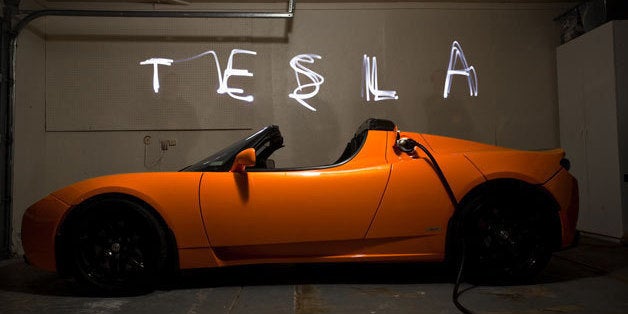 Tesla Motors is slated to unveil a much-anticipated upgrade to its original electric sports car this week.
CEO Elon Musk vowed on Friday to reveal details of the update to the Roadster, which was discontinued in 2011. It's unclear what improvements the electric carmaker will offer, but in an August interview with the U.K.'s Auto Express, Musk promised to upgrade the car's battery, extending its range from about 245 miles to 400 miles per charge.
"The Roadster has an old generation battery," he said in August. "We'll upgrade it to a new generation battery pack and it should have a range of about 400 miles, which will allow you to drive from LA to San Francisco non-stop."
Musk said in a tweet to an Austrian electric car enthusiast that several crises delayed the upgrade.
@tweethilli Roadster update details coming next week. Several crisis issues w higher priority pushed this out longer than expected.

— Elon Musk (@elonmusk) December 19, 2014
Tesla spokeswoman Elizabeth Jarvis-Shean confirmed that the update would be announced this week, but did not specify which day. The actual upgrade to the Roadster will occur at a later date.
Tesla has struggled in recent months, following a summer-long stock surge. Last month, falling oil prices, weak November sales and delays in the rollout of its Model X sports utility vehicle hammered the stock. Upgrades to Tesla's main assembly line "took longer than expected," Musk said in a third-quarter earnings call last month, causing the Model X to be pushed back yet again.
The bleeding didn't stop there. In October, Michigan passed a law banning direct sales of Tesla, a controversial regulation already in effect in New Jersey, Texas, Arizona and Maryland. Backed by car dealership associations, the law prevents car manufacturers from selling vehicles directly to consumers. Because Tesla does not franchise its retail department, sales of its cars are effectively banned in those states.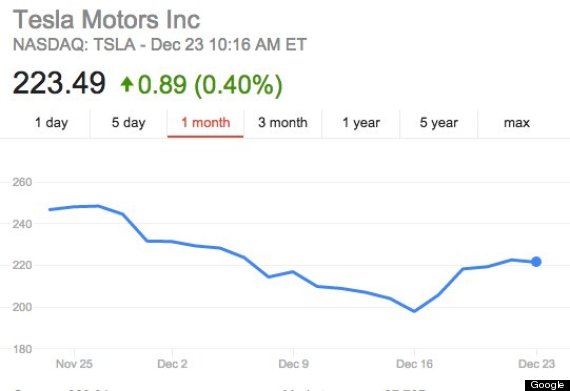 Tesla stock was up to about $221 on Tuesday morning after hitting a low last week.
But last Friday, Tesla debuted a new battery swap program at a Supercharger station in California. In about 90 seconds, Tesla can replace the charging pack in a Model S sedan, elongating the distance a driver can travel in the car without relying on lengthy charging sessions at a Supercharger plug-in point. The new swap feature may work with the Roadster, which first debuted in 2008.
In the meantime, Musk -- like many gearing up for Christmas -- seems to have focused his attention on sugary sweets.
Related
Popular in the Community