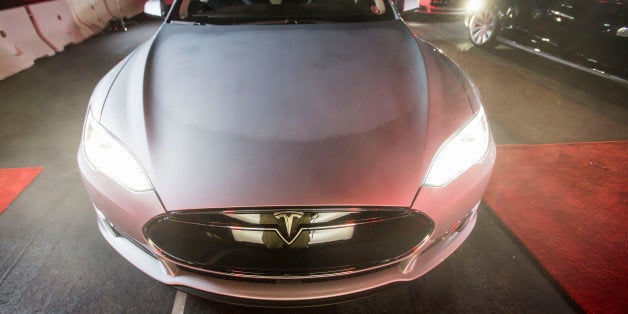 Tesla Motors' plan to roll out a self-driving feature on some cars this summer has regulators, especially in its home state of California, scrambling to write new rules.
Current California law allows automakers to operate autonomous vehicles -- but not regular drivers.
"We have been trying to get a handle on what they are planning to do," Bernard Soriano, deputy director of California's Department of Motor Vehicles, told The Wall Street Journal. "We are knee-deep in it."
Auto insurance is regulated on a state level, so any new policies must await a ruling by the states.
That leaves auto insurers, who represent the next hurdle in the push for driverless cars, idling with the engine on.
"This is so new, there's really no track record upon which to assess what's the likelihood that there will be a crash or lawsuit resulting from a crash," Michael Barry, vice president of media relations at the Insurance Information Institute, an industry-funded nonprofit, told The Huffington Post on Saturday. "It's in its infancy."
Tesla did not respond to a request for comment.
On the bright side, the insurance industry has nimbly adjusted to other new technologies in recent years, Barry said.
He pointed to new programs created for drivers at car-hailing services, allowing them to get a dual policy that separately covers time spent driving for personal and commercial use.
"The auto insurance industry has adapted to technological changes in the past, and will continue to do so in the future," Barry said. "Look at what's going on with Uber and Lyft."
Overall, he predicted that driverless cars will eventually lead to fewer crashes. But it's still far from clear who will actually be responsible if and when a crash does occur.
"Liability is going to become an issue," Barry said. "The burden might be on the manufacturer of the driverless vehicle to prove that it is not responsible for what happened in the event of a crash."
Tesla's autopilot feature will only be available on interstate highways, as CEO Elon Musk has said the technology is not yet "safe on suburban streets."
Fully automated vehicles are still a ways off from becoming the norm. If a circumstance arises where an accident is unavoidable -- say, for instance, a child runs out into the street -- the computers that control the car do not yet have the ethical reasoning to deduce whether they should sacrifice the driver by suddenly swerving away, or run down the child. Last September, Ron Medford, Google's safety chief on its driverless car project, said the company had not yet begun to study that issue.
Either way, even when self-driving cars do become widely available, the rate of turnover in the U.S. car market will delay their widespread adoption.
"The average car on the road is about 11 years old, so it takes decades for the U.S. fleet to turn over," Barry said. "I think we're far away from seeing a lot of driverless cars on the roadways."
Popular in the Community