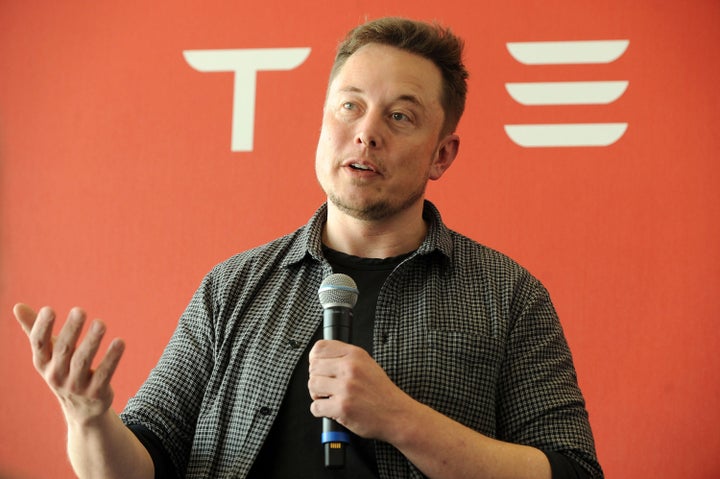 Elon Musk's plan to consolidate his clean-energy empire has few fans on Wall Street.
Tesla, Musk's electric car and battery maker, and SolarCity, his energy firm, are notorious for burning through cash. Their boards of directors, stacked with Musk's family and allies, threaten a "corporate governance nightmare" with few checks on power, The Financial Times has warned. There are real concerns that Musk accelerated his plans to fuse the two companies ― he serves as Tesla's chief executive and SolarCity's chairman ― because SolarCity is struggling and needs to be bailed out before things get worse.
But the deal is likely to happen. And it should. The companies need each other's manufacturing muscle and sales savvy. Combined, they could speed efforts to wean the world off carbon and push competitors to provide more clean energy options. And, as investors have learned time and time again, it's rarely smart to bet against the 45-year-old man with the lilting South African accent.
"If you don't believe in Elon," said David Whiston, an equity strategist covering car companies for the Chicago-based research firm Morningstar, "why are you buying these stocks in the first place?"
Musk's vision, outlined in his updated "master plan" last month, is clear: Rooftop solar panels produce enough electricity to store in a home battery for nighttime use and charge the electric car parked in the garage. The network of homes equipped with sleekly designed SolarCity photovoltaic panels and the sort of Powerwall batteries Tesla released last year sell so much green electricity back to the grid that utility companies pay Tesla for software services to better manage demand. Everyone breathes easier, as the local coal- or natural gas-burning power plant no longer needs to spew climate-ravaging greenhouse gases into the air. And, assuming he isn't making good on his plans to colonize Mars anytime soon, Musk is at the helm of it all.
Mainstreaming solar panels the way Tesla breathed new life into electric cars may prove a unique obstacle, but one that a combined Tesla-SolarCity would have the infrastructure to hurdle.
The merger could solve SolarCity's marketing problems. Many industries rely on customized software to target new customers. But after the scandalous collapse of Solyndra, which went bankrupt on the brink of the solar boom in 2011, venture capitalists shied away from investments in companies producing enterprise software for the solar industry. Without such software, SolarCity has relied on less-than-ideal proprietary software, word-of-mouth marketing ("hey, neighbor, look how much I'm saving on my electricity bill!") and deals with retailers like Home Depot and automakers Honda and Acura to promote solar panels in their stores. The merger could fix this, transforming Tesla's roughly 200 showrooms around the world into one-stop shops for both homeowners and drivers.
That's crucial, given that SolarCity can only succeed if it gets bigger. The company wants to someday function as a distributed power plant that, using its network of panels and batteries, could eliminate the need for utility companies to burn fossil fuels when there isn't enough sun or wind to meet demand, CEO Lyndon Rive, who is Musk's younger cousin, told HuffPost in a June interview. To do that, it needs a lot of SolarCity panels and Tesla batteries in a lot of homes.
So far, that hasn't been easy. The economics of Tesla's pricy Powerwall batteries don't make sense for most homeowners. Electricity rate policies make it cheaper to sell excess solar energy back to the grid during the day than it is to store it for later use at night.
Over the past five years, a huge surge in solar installations, particularly at the utility-scale level, has driven down the cost of solar energy. Solar panels, too, have become much cheaper. But an average 5-kilowatt system still costs more than $16,000 in some states.
SolarCity built its business on people signing decades-long leases to finance the installation of rooftop solar panels. But the company now faces new headwinds as a growing number of U.S. consumers opt to buy their panels outright. In the last quarter, the company lost about $200 million, according data from Bloomberg.
"It's a question of whether retail stores are an ideal way to sell solar to somebody ― and you can see why that makes sense," Kann said. "There's only a subset of the population that can put solar on a roof ― they have to homeowners, they have to have good enough credit to get financed.
"You can imagine that people going into a dealership to buy a car are probably disproportionately more likely to be able to buy solar," Kann added. "You can naturally weed out some of the bad leads that way."
The timing for the deal seems right, too. Tesla christened its $5 billion lithium-ion battery factory at an opening ceremony last month. Dubbed the "Gigafactory 1," the 13.6 million-square-foot facility will, by 2018, produce more of the lithium-ion packs used for Tesla's cars and Powerwall in a year than every other manufacturer today. With that capacity, Tesla could drive down the cost of producing batteries by up to 70 percent, to about $38 per kilowatt-hour.
Tesla plans to ramp up battery production sometime around November, Musk said during the company's second-quarter earnings call last week.
"I think it's going to be really exciting when people see it, that's why I expect kind of exponential growth from there," Musk said of the company's plans for mass-producing batteries. "I think it's really going to go ballistic."
Consider what Tesla has already accomplished for electric cars. Exactly 10 years ago, film director Chris Paine released his hit documentary "Who Killed the Electric Car?" ― a 92-minute dissection of how the auto and oil industries for decades stifled any alternative to dirty combustion engine. Two years later, Tesla released its first vehicle, the Roadster, a super-expensive race car. Four years after that, Tesla unveiled the Model S, its first luxury consumer sedan. Last year, the company launched its first SUV, the Model X, and revealed the Model 3, its most affordable vehicle yet. When Tesla began taking preorders for the Model 3 in March, the company sold nearly a half-million within weeks, making it the "biggest one-week launch of any product ever."
Musk made electric cars sexy. Now, BMW, Ford, General Motors and nearly every other consumer automaker are racing to release or promote their own entrants to the revived electric-car market. Apple's rumored car, dubbed Project Titan, is expected to be electric. A bevy of new players, likely spurred in some small way by Tesla's pledge two years ago to give away its technology to newcomers, have entered the fray, too.
If transforming Tesla and SolarCity into the world's first major vertically integrated clean giant company can have the same effect on the energy industry, humanity might stand a chance of avoiding the worst effects of climate change. At the very least, it could tap into a market worth trillions.
CORRECTION: An earlier version of this article cited outdated pricing data on 5-kilowatt systems.