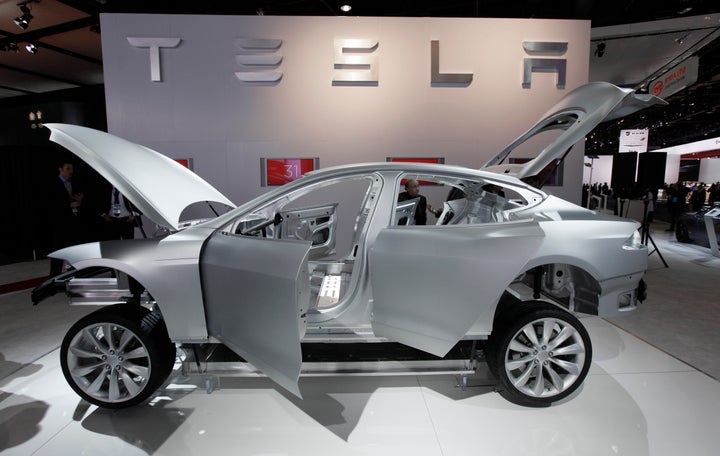 UPDATE: Tesla stocks closed at $27.75 on Thursday, a 2.7 % decrease from a daytime high of $28.51, but up 17 percent from Wednesday.
Ford, General Motors, Chrysler and Tesla?
A new report by Morgan Stanley suggests that electric car startup Tesla is in good position to break into the Big Three to become "America's fourth automaker." The brokerage believes that increasing gas prices and promises of governmental support for alternative fuel vehicles may help launch the manufacturer to global success.
Tesla's stock rose 20 percent following the report, to $28.51, but the firm's price target for the end of the year is $70, about double its current price.
Not everyone is quite so optimistic, however. Though Morgan Stanley's report estimates that electric cars will reach 7 percent of total U.S. car sales by 2020, previous estimates have placed that figure closer to 1 or 2 percent.
"I'd say that the praise is a little bit of a hyperbole," said Ed Kim, director of industry analysis with AutoPacific. "In fact more than a little -- Tesla still has a long way to go before they become a true volume automaker in North America."
Major obstacles still confront the electric vehicle industry from reaching widespread adoption. Unlike gasoline-run cars, or even hybrids, pure electric cars require significant infrastructure to be at all viable outside of urban areas where driving distances tends to be shorter.
Ultimately, though, experts believe EV adoption will come down to price: if gas prices continue to rise, and the government actually steps in to provide major subsidies on electric vehicle purchase, American consumers may come to regard the cars as worthwhile investments.
"As long as we're still in a world where we don't have a vastly expanded infrastructure, in a world where gasoline is still cheap enough, the mainstream is not going to embrace them," said Kim. "Consumer behavior is affected first and foremost by price."
Watch a short video about Tesla below by AOL Autos:
Calling all HuffPost superfans!
Sign up for membership to become a founding member and help shape HuffPost's next chapter