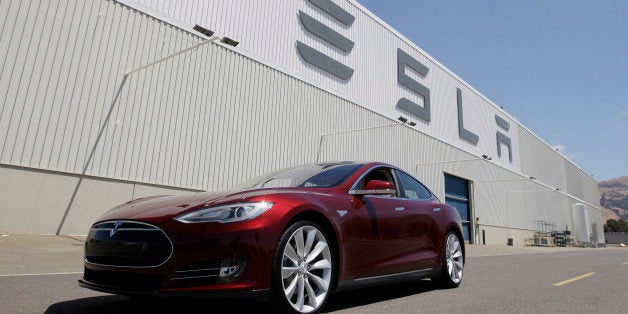 Not that many people buy Tesla's cars, but that's not stopping anyone from buying Tesla stock.
The company's share price hit a record high on Tuesday after an analyst published a note praising the company's potential and the electric carmaker struck a deal to expand in China.
The stock hit a record high of $284.89 during trading on Tuesday before closing slightly lower.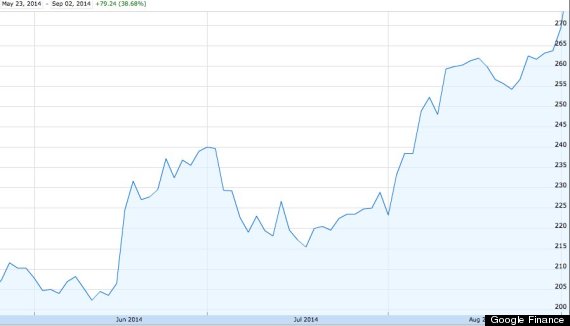 In a note published Monday, James J. Albertine, an analyst at Stifel Equity Research Group, estimated that the stock price for Elon Musk's company should hit $400 by 2017, the year Tesla is expected to open a $5 billion Gigafactory to build the lithium-ion batteries that power its cars. Albertine was previously one of the few voices on Wall Street who remained skeptical of Tesla's real value.
Albertine said the price prediction did not factor in potential uses for the batteries outside of cars or the expected 2017 launch of the Model III, the company's cheaper, mass market car, which it plans to sell for about $35,000. He hinted that the stock would soar even higher once those plans were closer to fruition.
Meanwhile, Albertine said the company's rivals have failed to "fully invest" in battery-run electric car models that could compete with Tesla's slowly growing stable of vehicles.
The stock surge also comes days after Tesla cleared another speed bump on its road to China, the world's largest car market.
The company announced a deal on Friday with China's second-largest mobile phone provider, China Unicom, to build a nationwide network of charging stations. China is also considering a new tax on gasoline that would help fund electric cars, according to Chinese electric carmaker BYD Co.
Still, Tesla's sole vehicle for sale, the Model S, is prohibitively expensive for most consumers, with a starting price of about $70,000. Compared to other electric cars, the Model S came in third place for the most sales this year, and Tesla sold just 500 of cars last month -- its worst month of sales this year, according to electric car site InsideEVs.
Alexis Georgeson, a Tesla spokeswoman, told The Huffington Post the company does not comment on stock price.
Calling all HuffPost superfans!
Sign up for membership to become a founding member and help shape HuffPost's next chapter