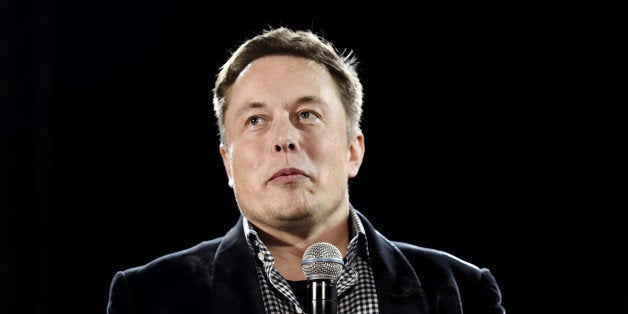 Tesla's stock price fell below $200 on Tuesday, continuing a slide many have chalked up to the plunging price of oil.
But cheap gasoline is just one of many problems plaguing the electric-car maker. Weak sales, longer delays of its next model rollout and a predictable correction of its stock price after months of seemingly limitless ascension are also to blame. Tesla stock was a Wall Street darling earlier this year, reaching a record $284.89 in September.
The stock has been falling ever since, coinciding with a roughly 50 percent collapse in crude-oil prices since August. Earlier this month, the average gasoline price in the U.S. tumbled to $2.75 per gallon from $3.27 a year ago.
Cheaper gas should dampen demand for electric cars. But for a Tesla, the cheapest model of which starts at about $70,000, gasoline's affordability may be less of a decisive factor for potential buyers.
Many of Tesla's problems are self-inflicted, in fact. The Palo Alto-based car startup sold a disappointing 1,200 cars in November, according to an estimate by industry site Inside EVs. In a call discussing Tesla's third-quarter earnings early last month, CEO Elon Musk said the company scaled back production of its Model S unit by 2,000 cars after assembly line upgrades "took longer than expected."
During the same call with investors, Musk pushed back the delivery date of the long-delayed Model X sports utility vehicle to the third quarter of 2015. Given the recent flaws discovered in early versions of the Model S, Tesla said it wanted to spend more time testing the Model X before its release.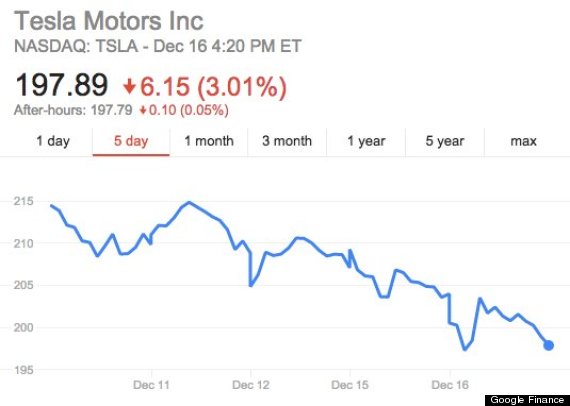 The deflated stock price may also be a natural market correction. Days after Tesla stock hit a record high, Musk admitted at a press conference that he felt shares were overvalued.
"At one time, we were noticing that Tesla was valued at 60 percent of General Motors, although the volume they were selling was about 1 percent of what GM sold," Eric Ibara, a senior analyst at the automotive research firm Kelley Blue Book, told The Huffington Post on Tuesday. "The fact that the stock price is going down is probably more a reflection of, I don't know, maybe some reality that's being factored into analysis."
A Tesla spokeswoman did not respond to a request for comment, though the company typically does not discuss its stock price.
Related
Popular in the Community