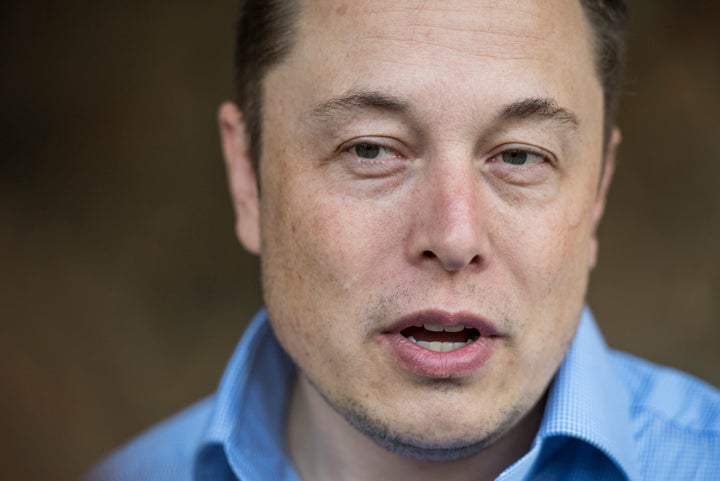 Tesla could soon be in a position to take on Uber, according to a respected auto-industry analyst.
By 2018, the electric automaker, which has pioneered new self-driving technology, could launch a new service of autonomous vehicles that would arrive on demand and shuttle passengers from place to place, according to a Monday research note from Morgan Stanley analyst Adam Jonas.
"Given the pace of technology development both within Tesla and at rival technology and mobility companies, we would be surprised if Tesla did not share formalized business plans on shared mobility within the next 12 to 18 months," Jonas wrote in the memo.
The theoretical service, which Jonas dubbed "Tesla Mobility," could come just after the introduction of the Model 3, Tesla's planned suite of consumer-grade cars that would cost about $35,000 each. The Model 3 is expected to begin production in 2017.
Tesla did not immediately respond to a request for comment.
Jonas, who is known for taking provocative, forward-looking stances on the auto industry, predicted in April that self-driving fleets of electric vehicles will eventually replace individual car ownership. In a chart embedded in a memo to clients, he described what he said will be a shift from fossil-fueled, human-driven, privately owned cars to electric, self-driving armadas owned by ride-hailing services like Uber or Lyft.
Or, as Jonas now posits, Tesla.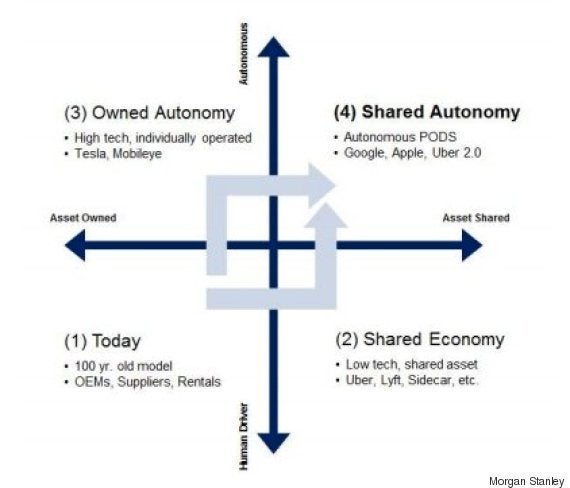 The automaker would have to clear a few hurdles before it could do what Jonas is describing. The company is spending aggressive amounts of cash as it prepares to release the Model X, its first SUV and third vehicle overall. Tesla is also building a $5 billion battery manufacturing plant, dubbed the Gigafactory, in Nevada. Without it, the more affordable Model 3 cannot be mass-produced.
The auto industry is locked in an arms race over the future of driving. Tech giants, including Google and possibly Apple, are competing to build self-driving technology. Traditional automakers like Mercedes-Benz and General Motors are scrambling to wow audiences with their own entrants to the market. Somewhere in between, there's Tesla.
"100 percent of Tesla's cars are electric, connected, and able to 'learn' through over-the-air firmware updates at any time," Jonas wrote. "No other established automaker can claim this today. As we have written for some time, we expect all car companies would eventually see nearly 100 percent of their revenues shift from the sale of human-driven/individually-owned cars to robot-driven/shared cars."
The need for such vehicles is pressing. Ideally, self-driving cars -- free from human input, and thus human error -- would reduce traffic congestion and accidents. Perhaps more importantly, vehicles modeled after Tesla's would help reduce the carbon emissions spewed into the atmosphere every time a car is in use. Cars and trucks account for one-fifth of all U.S. emissions, according to the nonprofit Union of Concerned Scientists.
"If Tesla wants to make good on its mission to accelerate the world's transition to sustainable transport, we see the move to a shared mobility model as critical," Jonas wrote. "Tesla has been the most outspoken auto company on the use of autonomous technology to improve inefficiencies and safety of today's road transport."
Tesla stock soared to over $255 Monday morning after Jonas' note went out.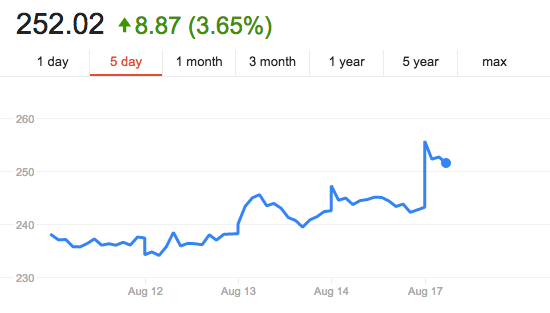 Related