Tesla's chief executive started the rumor mills humming and the Twitter snark rolling last week when he posted a cryptic -- and lewd seeming -- tweet promising to "unveil the D and something else" this Thursday.
It seems unlikely that the D is a new vehicle. The electric car-maker has said it is not working on any additional vehicles beyond the forthcoming Model X, an SUV crossover due out as early as next year, or the $35,000 Model 3, which likely won't go into production until 2017.
But three major theories about the D are:
1. It's an all-wheel drive Model S

The D, as Business Insider's Matthew Debord speculates, stands for "dual-motor," (not another 'D' word that Twitterati were happy to chirp on about) a sign that an an all-wheel drive sedan would contain two electric motors, powering the front and rear wheels. The company has been working on an all-wheel drive car since last year, according to The Verge. A photo surfaced on the forum Tesla Motors Club last week showing a black Model S with the nomenclature P85D emblazoned on the beneath the right rear light.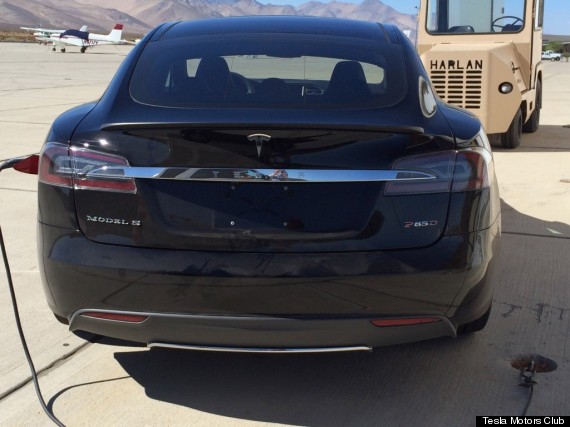 2. It's a driverless car

Last May, Bloomberg reported that Tesla was in talks with Google to build a driverless car. Musk told CNN's Rachel Crane last week that Tesla could be 90 percent "capable of autopilot" by next year. The move toward cars that navigate the roads autonomously spooked some Tesla investors last month, after a Morgan Stanley analyst sent out a note speculating that the luxury battery-powered car company would lose its edge in a driverless world.
3. It's a racetrack-worthy Model S

Tesla made its debut in 2007 with the Roadster, a sports car with a price tag that started at about $101,000. Production was discontinued in 2012 as the company switched gears to produce its flagship sedan and expand overseas. But in August, Saleen Automotive, which manufactures custom car parts and souped-up versions of some car brands, officially began accepting orders for the $152,000 Foursixteen, a beefed up Model S. It's unclear how well the vehicle sold, but perhaps Tesla wants a piece of the action. Electrek, an electric car blog, reported on Wednesday that the Model S P85D would go from 0 to 60 miles per hour in under three seconds -- making the company's flagship car worthy of the German Autobahn.
On stage at Vanity Fair's New Establishment Summit on Wednesday, Musk hinted that at least one of the things he planned to reveal was already a latent feature.
"One of the things is already there, and people just don't realize it," Musk said. "The Internet is very good at guessing these things. [They're ] directionally correct, but the magnitude is not appreciated yet."
REAL LIFE. REAL NEWS. REAL VOICES.
Help us tell more of the stories that matter from voices that too often remain unheard.