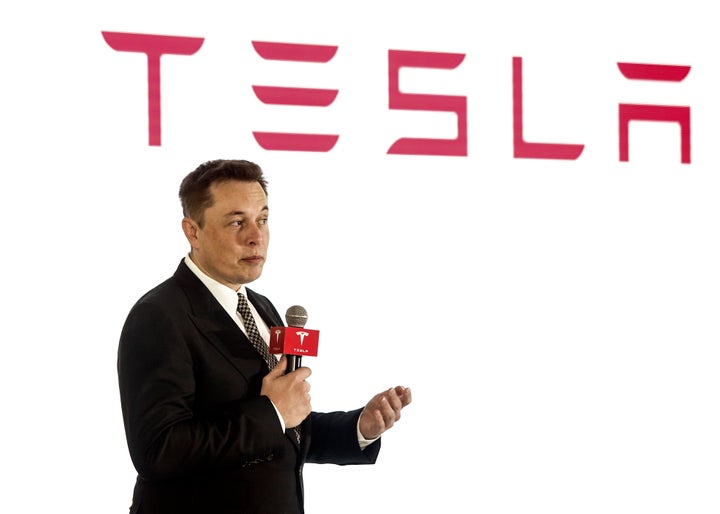 Tesla Motors CEO Elon Musk said Thursday night the electric automaker is beefing up its self-driving car software.
The urgency of Musk's offer, and the fact that he chose to tweet it to the public, could signal that the company is preparing to launch a self-driving mobility service akin to the one being built by Uber, the $51 billion ride-hailing service.
Tesla declined to comment on Thursday night about how many engineers it hopes to hire and its future plans for them.
"We're going to let the tweets speak for themselves," a Tesla spokeswoman told The Huffington Post in an email.
Tesla launched its Autopilot feature last month. The current software enables restricted self-driving functions that allow the cars to steer themselves on highways and even to drive themselves on private property wherever an owner summons them.
But the current software is limited. Soon after it became available, drivers began posting daring, if at times reckless, videos to YouTube that demonstrated the cars' inability to detect some badly worn lane markers, resulting in near-collisions with other vehicles. All along, Musk has insisted that drivers must remain attentive to the road and ready to grip the wheel at any time.
Tesla's autonomy efforts at first glance may appear to be in keeping with the auto industry zeitgeist.
There's currently a race in the auto and tech industries to perfect the self-driving vehicle. Google -- with its fleet of bug-like prototype vehicles puttering around Mountain View, California -- has probably garnered the most attention for its autonomous car program.
In July, the University of Michigan opened a testing facility, designed to look like a town, where a consortium of traditional automakers and tech firms can test the software for their vehicles.
In March, Mercedes debuted a sleek, futuristic self-driving concept car around San Francisco. Two months later, its parent company, Daimler, unveiled an autonomous 18-wheeler. Then last month, General Motors announced "aggressive" plans of its own for self-driving vehicles.
But despite these advances, Tesla's main competitor in the self-driving space may be Uber.
Earlier this year, the transportation company poached nearly "everybody" in the robotics department at Carnegie Mellon University, including the director, for its self-driving program. Adam Jonas, a revered analyst at Morgan Stanley who covers the auto industry, predicted that self-driving technology would radically upend traditional car companies. Fewer people will own cars, he said, and will instead rely on fleets of self-driving vehicles that come on demand, like Uber or Lyft drivers do now.
In August, Jonas wrote a memo to clients predicting that Tesla would launch a self-driving competitor service to Uber by 2018. After pressing an uncharacteristically tight-lipped Musk during an analyst call, Jonas doubled down on his prediction, forecasting that Tesla would announce a mobility app within the next two years.
It could be that Musk, burning through investors' cash as he is, is just making sure Tesla remains a leader in the self-driving sphere. But -- perhaps if his tweeted job offer yields the right candidates -- Tesla could be moving beyond electric luxury cars and storage batteries fairly soon.
Popular in the Community