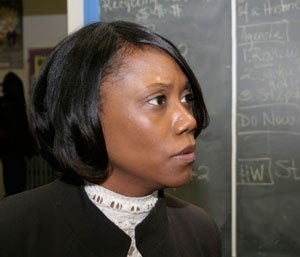 In July 2010, when Saliyah Cruz was named principal of Communications Technology High, state test scores said the small school in Southwest Philadelphia was one of the best in the city.
Everything else said something different.
SAT scores were poor. Summer enrichment programs were empty. Loads of kids tested into remedial reading and math. According to Cruz, even the police complained that many students had spent much of the previous school year at the nearby Penrose Plaza strip mall instead of in class.
"Those kinds of things didn't add up for me," she said. "If my kids were out in the street when they were supposed to be in school, how were [75] percent scoring proficient?"
Two years later, an answer appeared: A mountain of circumstantial evidence now suggests that Comm Tech's results on the 2010 Pennsylvania System of School Assessment (PSSA) exams were inflated by adult cheating.
The school, which takes students from all over the city, is one of 53 District schools and four area charters involved in a state-led investigation that has prompted questions about the validity of test results between 2009 and 2011.
Cruz, who left the Philadelphia school system in frustration and is now a middle school principal in Delaware, says the suspect scores at Comm Tech hurt students. She also believes they reflected a district-wide culture at that time that rewarded improbable PSSA gains while dismissing steady improvement.
"The message quite clearly was 'here's what's expected in the School District of Philadelphia,'" Cruz said, talking about a time period when Arlene Ackerman was still schools superintendent. "All the principals, all the teachers, all the kids need to be able to make these giant leaps forward."
Testing experts say the ripple effects of inflated scores go even wider, especially because the District continues to rely on data that are likely tainted to measure success and make high-stakes policy decisions.
"I think the implications are pretty profound," said Jonathan Supovitz, a University of Pennsylvania professor who co-directs the Consortium for Policy Research in Education (CPRE).
"If we can't assume the stability of the data, then any sense of guidance about what we're doing well or not well is broken down."
SUDDEN SPIKES, SUDDEN DROPS
District officials declined to be interviewed for this story.
"It is too early to say how the PSSA scores have been affected by the allegations of testing improprieties," wrote spokesman Fernando Gallard in a statement, citing the ongoing investigation.
Each year, students in grades 3-8 and 11 take the PSSA in reading and math. Their scores are used to determine whether schools meet federally mandated performance targets, known as adequate yearly progress (AYP). In Philadelphia, they're also used to make big decisions, such as which schools get closed or converted to charters.
In 2010, 75 percent of 11th graders at Comm Tech scored proficient or above in reading. That was a 22 percentage-point jump over the previous year.
In math, 70 percent of Comm Tech 11th graders scored proficient or above, 40 points higher than the year before.An analysis commissioned by the Pennsylvania Department of Education suggested the results may be illegitimate. In both 2009 and 2010, a high number of student response sheets at Comm Tech had suspicious patterns of "wrong-to-right" erasures - a telltale sign of adult cheating.
Before the 2010-11 school year, Comm Tech's principal, Barbara McCreery, was replaced. That year, under Saliyah Cruz, the suspicious erasures went away. The school's scores tanked, dropping 38 points in reading and 45 points in math.McCreery, now the principal at Bok Technical High, declined to comment for this story.
This piece has been truncated. To read the rest of the story, visit Newsworks.
Popular in the Community