When Elsa Bailey turned 100 last May, she still had a bucket list. And on it was her desire to see a polar bear in the wild.
Last week Bailey got to realize her dream when she traveled to Churchill, Manitoba as the guest of Natural Habitat Adventures.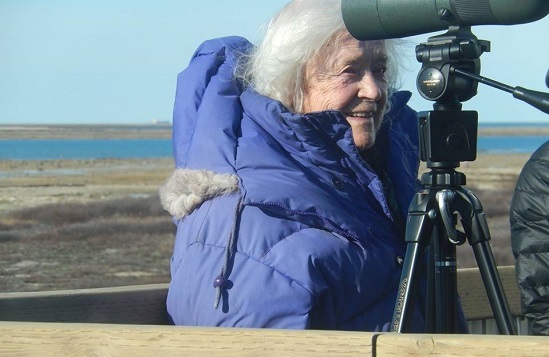 Through the picture window of a Polar Rover, Bailey caught sight of a polar bear lumbering over the tundra. It was approaching the big custom vehicle built to navigate this wilderness terrain along the shores of Hudson Bay. Despite her compromised vision due to cataracts, Bailey could make out the bear's every move as it came closer:
"It just stopped... It raised its head... It's coming toward us!"
Spying her first wild polar bear was just one of many northern adventures Bailey reveled in as she spent a week on the tundra outside Churchill.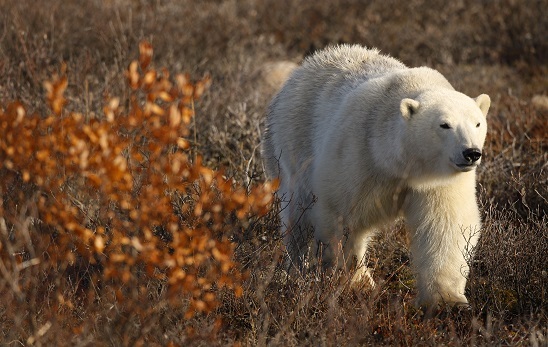 The lively centenarian from Colorado Springs got connected with Natural Habitat as she celebrated her 100th birthday at Colorado's Arapaho Basin ski area - on skis.
NHA staffer Becky Pahl was on the slopes and happened to witness Bailey's feat. When Pahl tuned in to TV news coverage of the event later that evening, she heard Bailey tell a reporter that there were still plenty of things she wanted to do, and tops among them was to see a wild polar bear.
Natural Habitat happens to be the world's premier polar bear tour operator, so Pahl made Bailey's wish known to president Ben Bressler, and plans were arranged to surprise her with a birthday gift from the company: a trip to Canada to pursue her dream.
The Boulder, Colo.-based adventure travel operator focuses on nature and wildlife expeditions, including six polar bear itineraries in the Canadian subarctic. Churchill, known as the Polar Bear Capital of the World, is where the charismatic carnivores gather each fall to await the freeze-up of Hudson Bay and the start of seal-hunting season.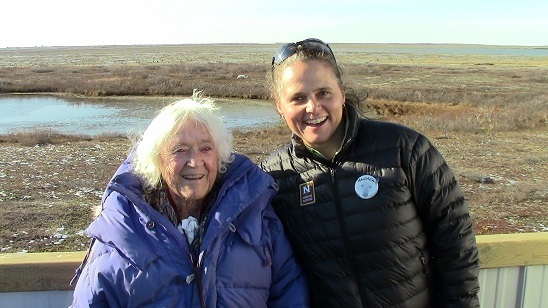 Accompanied by her own personal escort, NHA Adventure Specialist Andrea Reynolds, Bailey flew to Winnipeg where she met the other traveling companions in her group, then on to Churchill aboard NHA's private chartered flight.
They spent their first three nights in the heart of wild polar bear habitat at the Tundra Lodge, a unique "rolling hotel" with sleeping, dining and lounge cars designed like a train. The lodge is placed at the beginning of each season in an area of high bear density, offering guests the opportunity to be in the bears' midst around the clock. In addition to polar bears, other creatures inhabit the tundra, including arctic hare, arctic fox and ptarmigan.
"Elsa was quick to spring into action when we spotted wildlife," recounts Reynolds. With the occasional help of binoculars and spotting scopes, she was able to make out details of the animals. Reynolds, herself a guide on NHA's Alaska trips, was delighted to help Bailey tap all her senses to fully experience the tundra realm, relying on sound and smell to enhance her limited vision.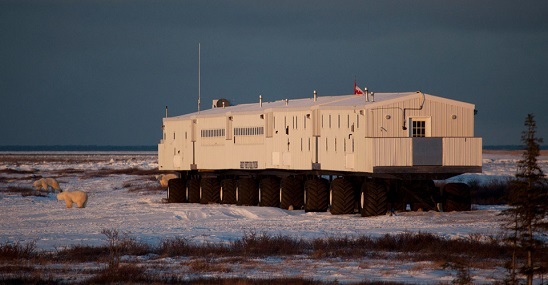 But seeing Arctic wildlife wasn't the only thrill for Bailey. An option for Tundra Lodge guests is to receive a wake-up knock when the northern lights make an appearance. On two consecutive nights "she eagerly jumped out of bed to see it," said Reynolds, donning ski hat, mittens, slippers and parka over her nightgown to venture onto the viewing deck in the wind and 20-degree air.
Though Bailey's wish was to see polar bears, Reyonlds thinks she may have gotten even more delight from an encounter with sled dogs. The group got to meet a local musher and take a ride in a sled pulled by the team. The adventure brought back memories of half a lifetime ago for Bailey, who spent a winter living in Alaska where she had the use of a dog team.
Bailey's initiative certainly inspired the rest of the group, said Reynolds. "They thought it was phenomenal that someone her age would not only dream about it, but actually go."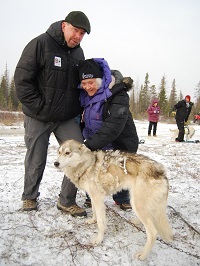 Naturally, those who traveled with her wanted to know her secret of living to be 100-plus.
"It's a question that made sense to ask," said Reynolds, "but I think everyone who spent time will come away with their own answer, as they reflect on the many inspirational moments with Elsa that they were a part of, myself included."
Reynolds was especially impressed by the way Bailey "embraced each and every moment." And how Bailey has never seen age as a barrier to pursuing what she wants. At 80, in fact, Bailey moved from San Francisco to Colorado because the skiing was better.
What's next for Elsa Bailey? Well, she's never seen Yellowstone, America's first national park, established in 1872 - 41 years before Bailey was born. That's where she plans to travel this summer.
Reynolds said she would love to accompany Bailey, who has no children of her own. "But I guess I'll need to step up my training regimen, as she'll no doubt have me running just to try and keep up with her!"
Happy hundredth, Elsa Bailey - Carpe diem!

Photo Captions and Credits:
1. Elsa Bailey, 100, spotting polar bears on the back of the Tundra Lodge, © Nancy McDonough Greenhalgh
2. A polar bear approaches the Polar Rover, © Eric Rock/Natural Habitat Adventures
3. Elsa Bailey (left) and NHA Adventure Specialist, Andrea Reynolds (right), © Natural Habitat Adventures
4. Natural Habitat Adventure's Tundra Lodge, Churchill, Manitoba, Canada, © Glen Delman/Natural Habitat Adventures
5. Elsa Bailey (right) and Expedition Leader Eric Rock (left) visiting with the sled dogs after dogsledding, © Natural Habitat Adventures
Related