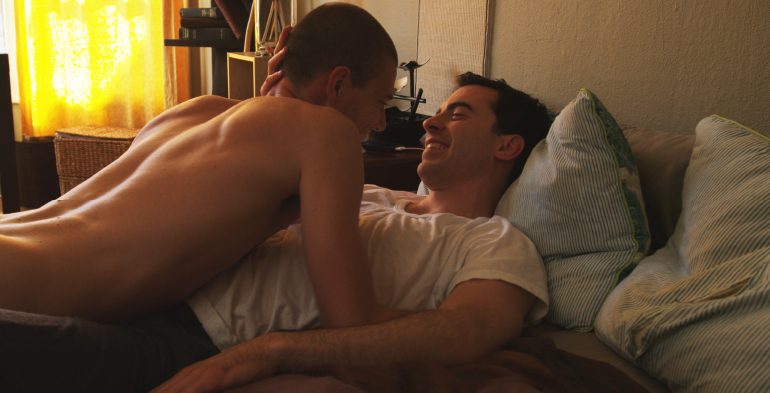 Shot in Portland, Ore., the Falls saga follows the doomed romance of two Mormon youth who discover much more than God whilst doing their mission work. Testament of Love picks up the story five years after we last saw the pair of conflicted lovers and is set to take the 2013 festival circuit by storm this fall.
I caught up with Garcia this week to chat about the film. Read our interview after the trailer below.
Logan Lynn: Hi, Jon. For our readers who have not seen The Falls, could you give us the rundown on the story of the original film?
Jon Garcia: The Falls is the story of Chris Merrill and RJ Smith, two Mormon missionaries that fall in love on their mission. RJ is assigned to live with senior companion Chris Merrill, who teaches him the daily regimen of missionary life. As teaches the word of "our heavenly father," they realize there is so much more to life. While in the devoted services of their Mormon Church, they discover love.
Lynn: Sounds hot. What moved you to make the first movie? Is it autobiographical?
Garcia: I was raised Catholic, so I did not live through these experiences the way that RJ and Chris did, but I can identify with these characters in many ways. I was writing a very different story in 2010, until I spoke with two friends who had grow up Mormon and had such experiences. They spoke of the struggle they endured while serving their church and falling in love with the young men they were missionary companions with. Neither were excommunicated, but what happened on their mission was brought to the attention of their mission president, then eventually to their families back home. It was a traumatic experience for both of them. I was then inspired to change the direction of my story about a young gay teenager living in the middle of Idaho to a 19-year-old Mormon young man about to leave home for the first time to go on his mission.
Lynn: The Falls: Testament of Love is making its world premiere next month at the Portland Lesbian and Gay Film Festival. Tell me a little bit about the sequel.
Garcia: The Falls: Testament of Love takes place five years after their mission. The way The Falls concluded was purposefully left open-ended, but my intention was to give the impression that Chris and RJ would get together after their mission and take a road trip across America, no longer as elders but as two young men with their whole lives ahead of them. The two young men are now 25 and living very different lives, Chris is still a devout Mormon, and RJ is living out and gay in Seattle, Wash. An unexpected event leads both men back to the small town where they served their mission. As old feelings rise to the surface, Chris and RJ risk hurting the ones they love as they pursue their desire to be together.
Lynn: Did you always know there would be a second part to this story?
Garcia: I didn't know I was going to do a sequel. After the release of The Falls, however, I kept receiving emails from individuals all over the world asking me about the ending and what happened to these young men after their mission. I was curious myself, and I'd played it out in my mind, what I thought had happened. One day I called Breaking Glass Pictures, the distribution company who put out the first movie, and I told them I wanted to make a sequel. After a lot of discussion, I wrote the script, presented it to them, and was eventually given the green light to make the film.
Lynn: Nice. Both films were shot in Portland, Ore., with a local cast. Why Portland?
Garcia: I have shot most of my films in Portland because it is my home, and moving the production elsewhere could mean more cost. Portland is also graced with a pool of very talented actors. We are actually very lucky in that sense. I have a great crew that I work with here. I love and trust them, and I am able to make these movies because I have their support.
Lynn: If you could sum up the film in one word, what would it be?
Lynn: How is life for queer Mormons these days? Many churches in the evangelical movement are shifting their views. Are these changes happening in the Mormon Church as well?
Garcia: From what I know, the Mormon Church is trying to change the way they are perceived in the public eye, but changes within stakes around the United States are happening very slowly. I know a few members of Affirmation, the gay and lesbian organization for former and presently practicing Mormons, and to my knowledge this is evolving, but I can't say to what degree. I can say that we did have a cast member who was Mormon, and her views alone helped me realize that there are a lot of Mormons out there who see nothing wrong with LGBT individuals of faith.
Lynn: We came relatively close to potentially having a Mormon president this past election cycle. What might that have meant for our country's LGBTQ population?
Garcia: I feel that Mitt Romney would have been a step back not only for the LGBT community but for women, education, the middle class and many other issues. Exodus International may not have closed, so therefore the ex-gay movement would still be in effect, and DOMA may not have been repealed. [Editor's note: The Defense of Marriage Act, or DOMA, was not repealed; the Supreme Court struck down a key provision of the law, Section 3, which defined "marriage" as a legal union of one man and one woman for federal purposes.] I also don't think we would now have 13 states where gay marriage is legal.
Lynn: Who are some of your favorite filmmakers?
Garcia: Stanley Kubrick, Paul Thomas Anderson, and Terrence Malick are my favs right now. I've been a fan Wes Anderson's work too.
Lynn: And actors? Anyone you are dying to work with?
Garcia: Ryan Gosling and Michael Fassbender! I'd cast them in the gay surfer cowboy movie I've been wanting to make. It's like Brokeback Mountain meets Point Break. I grew up in a beach town in south Texas. There were many surfer cowboys there. Whether or not any of them were gay, I'm not sure, but one can dream.
Lynn: Yes. One can, and one should. Do you have plans for any more installments of The Falls, or does Testament of Love wrap things up for these two?
Garcia: I don't know; it really depends on the reception of this film. I already know where I'd take the story, though. Companion novels are already in the works, with the first coming out soon by author Marty Beaudet.
Lynn: Cool. What's next for you?
Garcia: My film The Hours till Daylight, about a Hispanic family in south Texas traumatized by paranormal phenomena, will be coming out in early 2014. I shot the film in Bastrop, Texas, with a crew of three in the spring of 2012, and it was recently picked up for distribution by Zahra Pictures. John Neff, who was David Lynch's sound designer for years, is doing our score and sound design for this one. Very excited to get back to work on this project!
Lynn: That does sound exciting. Thanks for chatting with me today. Any last words you would like to leave our readers with before we go?
Garcia: I think where we stand as a country on gay and lesbian individuals of faith is one of the most important issues we are facing right now; therefore, the timing of The Falls: Testament of Love couldn't be better. I hope that people are more than entertained by this film. I feel this movie provides perspective on how excluding the LGBT community from religious practices can be detrimental to the human spirit.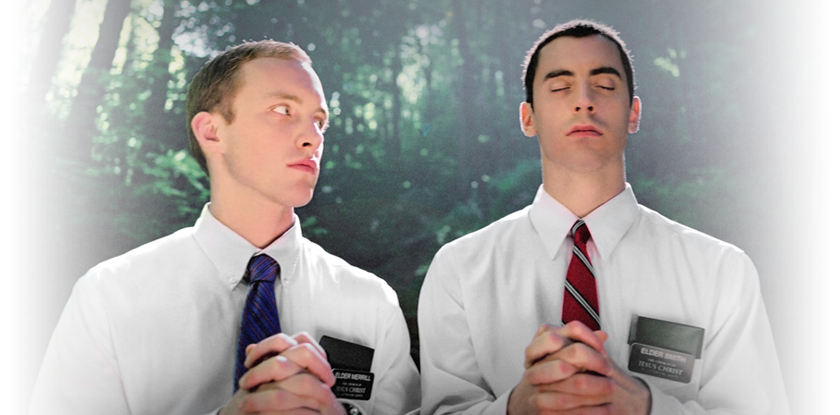 For more on the Portland Lesbian and Gay Film Festival and the premiere of The Falls: Testament of Love, visit plgff.org.
Calling all HuffPost superfans!
Sign up for membership to become a founding member and help shape HuffPost's next chapter