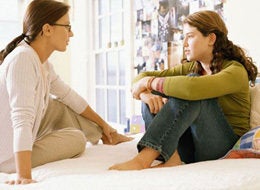 On Independence Day, somebody somehow slipped a pill into my wine glass at a dinner dance, and I left about three minutes before it really hit. In my attempt to walk home, I substantially overshot my house without noticing and could barely organize my limbs to turn back around. I spent the rest of the evening vomiting and trying to keep the floor from spinning away.
It may sound like I was drunk, but I am familiar with the effects of alcohol, and this was more like waking up from surgery. I felt as if someone had stuffed my brain with cotton and strapped me to a tilt-a-whirl. I passed out, thankfully in the safety of my own bed. In the morning, I could barely stand at all, or change the position of my body without vomiting.
My father had been at the party (an inter-generational, family event where previously I'd have said you'd more likely find a grandparent's dentures in your glass than a pill), and had the pleasure of waking up at 7 am to take his drugged out thirty-two year old daughter to the hospital. He had to stop on the way over so I could vomit.
My father is a nice man, and a lawyer, and was eager for my toxicology screens, which would allow us to build a case against my assailant. We were astounded to be told no such screens existed for legal drugs, nor for Rohypnol, the most well-known date rape drug. (That turns out not to be true.) We were quite pushy about this, and still got nowhere. Marijuana they could test for, the doctor explained, but for drugs commonly used as a rape weapon, the tests simply did not exist. She mentioned one that they could theoretically send out, but refused to do so, because it would only test for "a handful out of maybe thirty different possibilities," and cost $5000.
Date rape drugs are a weapon. Drugging someone is assault (poisoning), and obviously used to commit far greater crimes. Testing for these drugs, or at least the most common among them, should be standard hospital procedure in situations like this, and as easily available as tests for drugs that are themselves illegal. The fact that there are tests for marijuana and not the various sleeping pills used to knock out unsuspecting women reflects very poor priorities on the part of our medical establishment. By making the crime of drugging someone prosecutable, these tests would surely have a preventative effect, clearly a public health benefit. The legal benefits are obvious.
When I got home I Googled "date rape drug testing" and quickly found this $399 hair test, which luckily I can still use. Since I have no idea what I consumed, I don't know if anything will turn up, but the real point is that the hospital didn't appear to know about it either, or have a faster test to offer, and that is wrong. Even if there are thirty or so possibilities, clearly some will be more common than others. Evidence of one would allow me to build a case and press charges, preventing the person from doing it again.
The Southern Maine Medical Center is a decent hospital, and my ER doc was another young woman who I'm sure believed me, and cared. She explained that my physical health was her concern; the legal implications of failing to collect evidence of whatever was in my system were not. So I suspect their failure to offer me available testing was a failure of ignorance, not malice, but it doesn't matter.
Thank goodness my credibility in our community is good, and all of the people who matter believe me. But what if I had a reputation for lying? What if I had had a whole lot more to drink at that dance, and gotten still more messed up -- after people saw me drinking too much? (In that situation, I could also have died, depending on the pill.) What if I were sixteen and not used to the effects of alcohol? Would everyone believe me then? It's not clear, and I would have no recourse. I might even doubt my own experience. What would not change is the fact that a crime has been committed against me, and without physical evidence, there is probably nothing I can do about it except write an essay.
Related