With the recent growth of Angie's List, HomeAdvisor, and Amazon's announcement of their own home services program, Google apparently wishes to enter this arena by promoting their own program called Home Service Ads.
It appears that Google just recently launched this new local service program that is designed to appear as a sponsored search result when people are looking for a local service provider, like locksmiths and plumbers. The program is currently being beta-tested in the San Francisco area.
Google searchers are able to submit requests to the providers directly from these Ad results. As you can see in the video below, the new system is drastically changing the way the results are shown. In traditional local SEO results, it is very common for Google to display a variety of local Google My Business listings. In the example shown in the video, I am able to demonstrate how traditional local SEO results or the Google My Business listings disappear. Instead, it's replaced with paid ads from Google. Of course, anyone that's familiar with Google My Business listings are well aware that these listings are free for small business owners to both create and verify for their own business use. In the video below you can see these results when I did a search when using an incognito, or private, browser:
As seen in the video, the interface seems very clean and simple to use. Each listing includes a photo of the professional, their phone number, and their location. Also included in the listing are their prior business reviews, which are pulled from past users of the Home Service Ads system. It remains to be seen as to whether or not Google My Business (GMB) reviews will be used here as well, or if these reviews will count towards their total review corpus within GMB listings. Additionally, there's an option for Ad extensions that provides additional details about the company, including qualifications, types of services available, and any special offers.
At this point, there's no indication on how these top 3 listings are shown, whether they are randomly selected, influenced by reviews, an ad auction like AdWords (very likely), or a combination of all 3 or more elements.
For this program to work, trust of these providers will play a big role, as Google is promoting these businesses as QUALIFIED professionals. As a result, I suspect that there will be a mad scramble of small business owners looking to participate in this program, assuming that this beta takes off, and this system scales nationally, or even worldwide. In order to be accepted into this program, professionals will be required to be licensed, insured, and pass a thorough background check.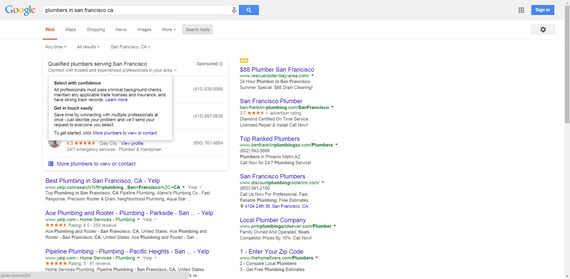 Google has hired a 3rd party to conduct comprehensive background checks, which includes analyzing national sex offender databases, as well as terrorist and other registries. Additionally, locksmiths need a valid license from the Bureau of Security and Investigative Services in order to participate in this ecosystem.
It is also very likely that user reviews will play a factor in acceptance into the program as this will be a strong indicator of performance as a business historically. When taking the time to learn more about the program on Google support pages, Google claims it conducts a "reputation assessment" on all of the providers, including any reviews from prior users using the same sponsored ads program and independent mystery shoppers hired by Google to evaluate the performance of the small business.
Assuming a searcher is interested in hiring one of these professionals from the listings, the user is able to submit their request up to three participants. As you can see in the video, users can go to a directory-style page where multiple practitioners are listed and the searcher can quickly select the checkboxes to choose which participants will receive contact information. Or the users can click on the View Profile linnk as the image below indicates. By hitting the Send Request button, the user's contact information will only be submitted to that one individual provider.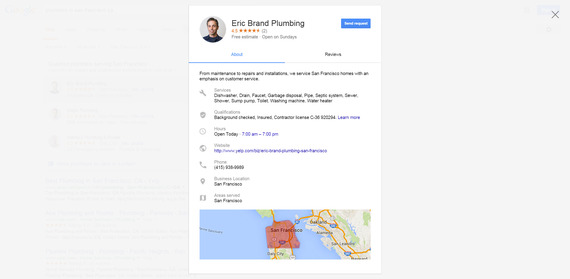 Upon submission of the request, Google's new system will forward the contact information to each professional selected via email. It is up to each of those individual business owners or companies to respond to these requests.
Each of the qualified home service professionals that are contacted will have one business day to respond to each user's request. Depending on what information the users submit someone from each business should contact the user by email, or a phone number if provided.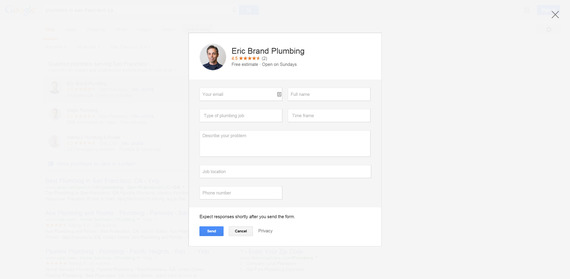 Once the searcher communicates with the professional and agrees on a price, it's time to schedule the appointment with the business owner directly. Google's support indicates they won't be sending out any appointment reminders, so this negotiation and appointment process occurs between the searcher and the business directly.
Should the business be swamped, isn't able to take additional requests, or they don't offer the specific type of service needed, then Google will actually communicate via email and include any notes from the company about why they chose not to accept the invitation. At that point, the searcher is encouraged to find another service professional on the Google Home Service Ads network, and submit their request again. Lastly, if the user doesn't get any responses, Google asks to be contacted directly for feedback and help, or simply reach out to another professional.
Upon completion of the job, Google will send an email out to each user to rate and review the business. This internal feedback system will help to evaluate these qualified professionals, and ensure that they are meeting the standards to stay within the program. According to Google's support area, if one of the service providers gets serious or repeated negative customer feedback, it is likely that the professional or company will be disqualified, suspended or even terminated from the home service ads program.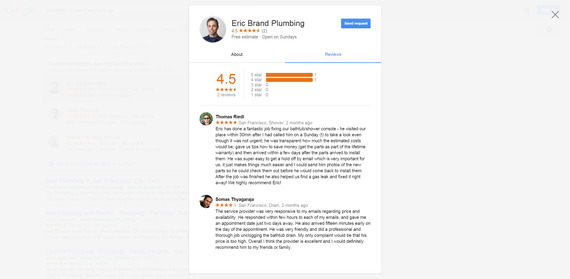 Reviews can be left directly by each user or they can be published anonymously. Anonymous reviews will contain the approximate time of service performed, the type of services performed, and the city in which the service was provided. However, it will not include their name, username, or their Google Plus profile image. If an existing review needs to be edited or deleted, Google is requiring that the user contact them directly for help.
It remains to be seen how soon or how fast this program is going to scale. I do believe it is going to have a direct impact on search results and will have an impact on local SEO results. Based on what was shown in the video, it appears Google is testing the possibility of replacing their free local Google My Business listing results with these paid, sponsored Ads. I'm sure that many service-based business are cringing when they hear of this development. I suspect that if the program scales, other service industries like carpet cleaning, roofing, painting and others will be following suit.
With Yelp's recent resurgent success in Google's search results, this is likely dismal news for their enterprise. Additionally, sites like YellowPages, SuperPages, CitySearch and others will find this announcement disconcerting.
But the BIG question is this, "Do you believe this will help or hurt small business owners who operate a home-service business?"
I believe the process of qualifying these professionals is a good idea for the consumers, as it would reduce the amount of poorly executed work being performed. For reputable, established companies and franchises, this is good news. However, it could create a negative impact on the budget of a startup business or a professional struggling to get new business. Once it scales, and more companies are able to participate, will it saturate any benefits that early adopters might receive? How will Google decide or discriminate who gets to participate? What happens to applicants that are rejected? Will Google integrate these Home Service Ads into their results and exclude the free local Maps or Google My Business listings? Or will they combine them?
Do you support Google decision to implement this system? Do you think it should scale? Only time will tell. My suspicion is that this system will be here to stay, and will ultimately have a negative impact in the world of free local Google My Business listings. It's a material world, and Google is a material girl.
Popular in the Community