Crockpot quinoa with a Mexican twist. This delicious meal comes together in a snap and cooks low and slow all day.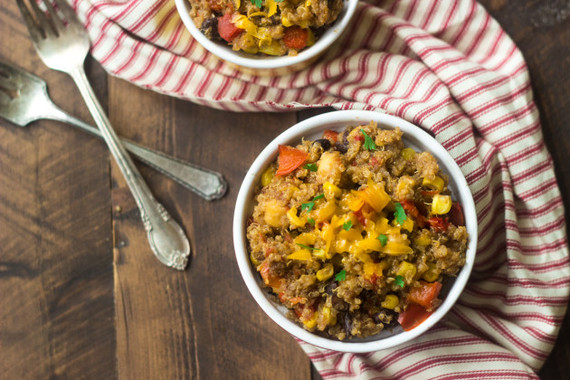 You know that saying "a dog is a man's best friend?"
Well, I think that's false.
After much ponder-age, I have decided that a slow cooker really is a man's best friend.
Let's look at the facts shall we?
1. It makes dinner FOR YOU. You just need to throw some random things into it, press a button and VOILA! Somehow a delicious meal is magically ready when you get home.
When was the last time you came home to a big batch of pulled pork made by your furry friend?
2. It makes your house smell REALLY amazing while it does its thang.
"WOW, your house smells so good! What kind of dog do you have?" Said no one ever.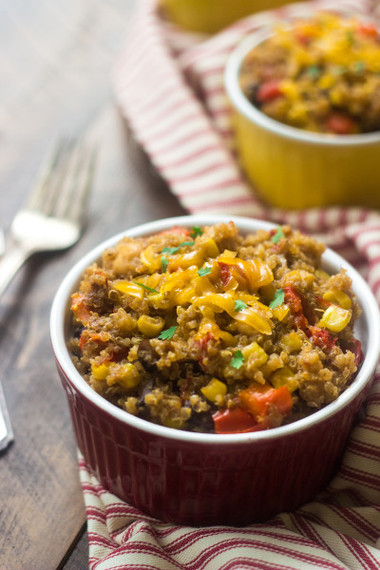 Now, I'm sure there are many other comparisons to make in the dog vs slow cooker debate but, let's be real, those are PRETTY compelling
ESPECIALLY when we're talking about spicy, Slow Cooker Mexican Quinoa that is topped with ooey-gooey cheesy goodness.
The only way to get some Mexi-goodness out of your dog is to put a sombrero on its head.
And, that's just not the same.
Now, this quinoa. It's almost embarrassingly easy. As in you just have to make a FEW chops, open some cans, and then the slow cooker does the rest for you.
How awesome is that right? Spending all night slaving in the kitchen < working for 5 minutes and then using your saved time to binge-watch "The Millionaire Matchmaker"
Not that I know anything about that.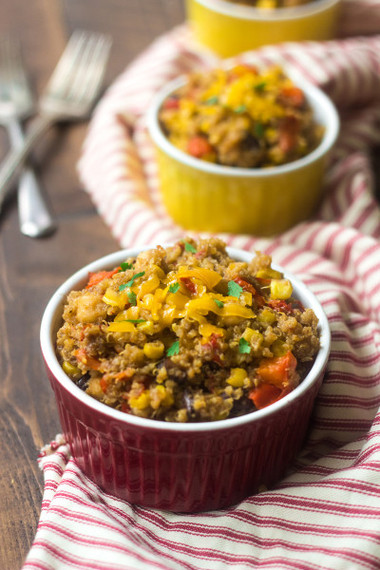 Besides being easy-peasy, this Mexican quinoa is loaded with ALL the healthy goodness: chickpeas, black beans, corn, peppers, AND tomatoes.
It's a veggie fiesta up in here folks.
And, you're on the VIP invite list.
So, what are you waiting for? Let's get crock-in'.
Taylor keeps
close to the heart on her blog of the same name. We're excited to have her as a
fanatic.