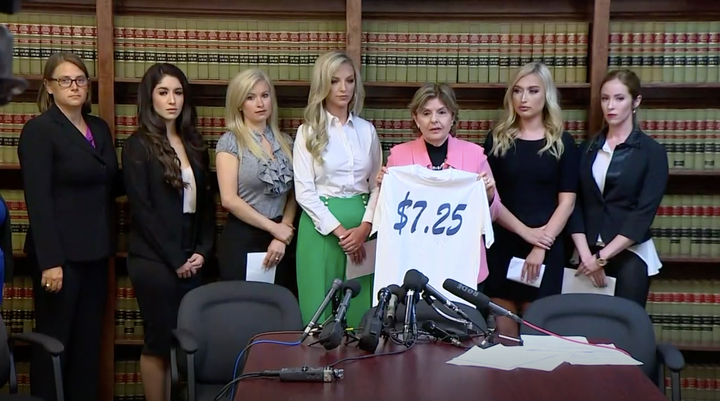 A group of former cheerleaders for the Houston Texans are suing the football team over unpaid wages and what they call a "hostile and unfair" work environment.
Five former cheerleaders involved in the suit appeared at a Friday press conference in Houston alongside famed women's rights attorney Gloria Allred. Also present were two Houston attorneys who are representing the five women.
The women say they made federal minimum wage, or $7.25 per hour, working on the NFL team. For some of the work they did as cheerleaders, they allegedly weren't compensated at all ― including for merchandise featuring their images.
Allred called on NFL leadership to "stop penny-pinching."
"Women should not have to put up with being paid minimum wage while their male colleagues are paid millions of dollars," she said. "How is it possible that cheerleaders are paid so little, or not paid at all, for their work?"
The women also took issue with how they were treated.
Hannah Turnbow, one of the former cheerleaders, said at the press conference that a fan once physically assaulted her, leaving abrasions on her shoulders. When she went to management, she said, she was told to "get over it."
"We were harassed, we were bullied and we were body shamed for $7.25 an hour," Ainsley Parish, another former cheerleader, said at the presser.
Parish said she and her colleagues were told who they could follow on their personal social media, who they could socialize with outside of work hours, what they could say and what they could wear.
Allred said the women are seeking monetary compensation and "change for the women that will come after them."
Texans spokeswoman Amy Palcic defended the team in a statement to Houston Public Media.
"We are proud of the cheerleader program and have had hundreds of women participate and enjoy their experience while making a positive impact in the local community," she said. "We are constantly evaluating our procedures and will continue to make adjustments as needed to make the program enjoyable for everyone."
The suit is the second in two weeks to be filed against the Texans.
The other, which seeks class-action status, was filed May 21 on behalf of three former cheerleaders. More are expected to join that lawsuit, which also includes allegations of unpaid wages and a difficult work environment, and specifically names program director Gary.
The case linked to Allred will seek individual damages for each of the women involved.
"The Houston Texans should not have given us a uniform if they did not expect us to become an army," Parish said.
Popular in the Community