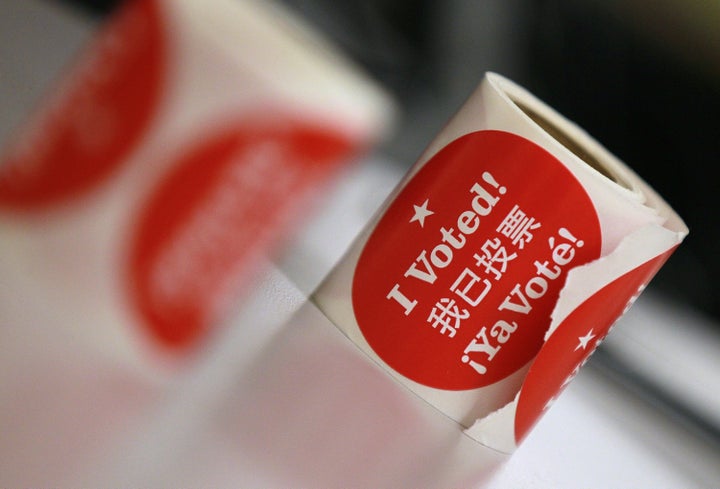 When Texas state legislators moved to cut student IDs from the list of acceptable voter identifications in May, they actually made voting easier for some residents: Now gun owners in Texas are allowed to use their concealed-carry permits as valid proof of the right to vote.
During a congressional forum on state voting laws in Washington on Monday, House Democrats sharply criticized a wave of new voter restrictions that have passed in states since the 2010 elections -- including the new Texas law -- as a broad attack on voting rights.
Rep. Emanuel Cleaver (D-Mo.), the chairman of the Congressional Black Caucus, worried about the Texas law's effect on students at Prairie View A&M, the historically black university in Texas that Cleaver attended.
"The students there at Prairie View cannot vote with their student ID. However, if you are a gun owner, you can show your gun registration and vote," he said at the forum, entitled "Excluded from Democracy: The Impact of Recent State Voting Law Changes."
"You have to be a very mean-spirited and ideologically warped person to believe that this is right and that this is fair," Cleaver continued.
As many as 12 percent of eligible voters nationwide may not have government-issued photo ID, according to the Brennan Center for Justice. That percentage is likely even higher for students, seniors and people of color.
States have enacted a slew of restrictive voting laws since the 2010 elections, and Texas is only one of several places where students now face new obstacles to vote. Tennessee passed a similar law this year making student IDs invalid for voting use, while the Wisconsin legislature passed legislation that only allows voters to use student IDs if the IDs have certain information, including addresses and expiration dates.
The Wisconsin law amounted to a ban on student IDs, according to observers, because none of Wisconsin's universities issue cards that include the necessary information.
"I've actually never seen a case where student ID does have an address," said Matthew Segal of Our Time, an advocacy group for Americans under 30 years old. Segal also spoke during Monday's Capitol Hill forum.
The University of Wisconsin estimated that it would be forced spend $700,000 every two years in order to make its new ID cards that comply with the law, which requires that all school IDs used in elections expire in less than two years after those elections.
The state's Government Accountability Board, which runs the state's elections, has clashed with the Republican legislature over stopgap solutions. The board recommended that students be allowed to vote by placing state-produced stickers on their IDs that carried the required information, but the lawmakers said that compromise could encourage fraud. A conflict over the use of technical college IDs is still ongoing.
In Maine, Charlie Webster, the chairman of the state Republican Party, has accused more than 200 out-of-state students attending college in Maine of committing voter fraud by registering to vote in Maine -- a claim that has been met with significant skepticism within the state.
The League of Women Voters, one of the groups fighting the new voting laws, has said the difficulties students trying to vote have faced suggest the new acts have caused widespread disenfranchisements.
"These laws are confusing, time-consuming and cost prohibitive for many citizens, including some who have been exercising their legal right to vote for decades," Elizabeth MacNamara, the head of the League, said at Monday's forum.
The Brennan Center issued a report last month detailing the effects of the laws. The states with the new voting laws, some of which also include cutbacks on early voting and restrictions on registration drives, now account for 185 electoral votes, two-thirds of the necessary total to win the presidency. Lawrence Norden, the deputy director of the Center's Democracy Program, called the laws "a state-based assault on voting" that would disproportionately impact minorities, the elderly and students.
Popular in the Community