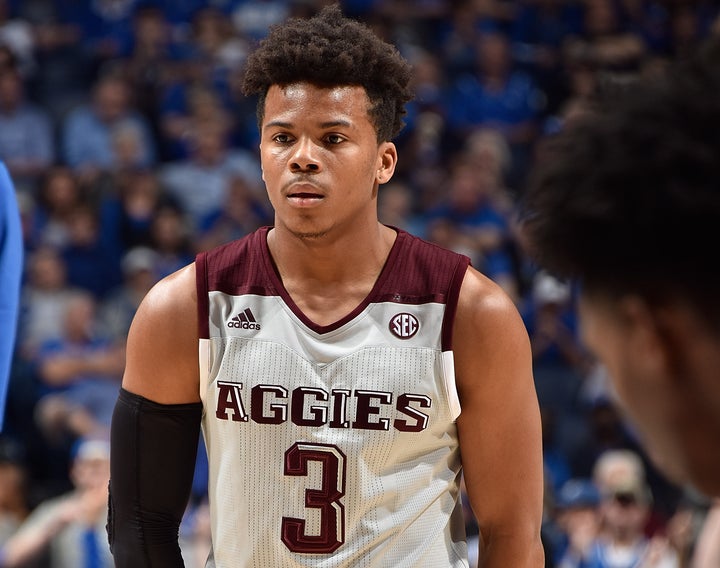 With just a few ticks of the clock left in the second half of Texas A&M's Sunday game against the University of Northern Iowa, A&M freshman Admon Gilder threw in an awkward layup to tie the game 71-71. 
The flip was the final basket of what was arguably the greatest comeback in March Madness history --- a 12-point deficit erased in less than 35 seconds. Texas A&M would go on to win the game in double overtime, make it to the Sweet 16 and, for a brief moment, become the biggest sports story in the world. 
It was the sort of thing any parent would remember forever, a story ready to be whipped out at family gathering after family gathering, which makes it so damn sad that Gilder's parents left right before it happened. 
"They left with under a minute to go," Gilder told the Dallas Morning News in a story published Thursday. The A&M guard told reporters that his parents were walking to their car when they found out that their son had tied the game. As a result, they ended up watching the double-overtime period in the car on a phone. 
Gilder's layup that sent the game to overtime
Although Gilder's parents might be kicking themselves for missing the Aggies' comeback, probability and history say you can't blame them much. As FiveThirtyEight notes, A&M had a one-in-3333 chance of winning the game at the point when they were down 12 points with 35 seconds left to play. Another stat notes that Northern Iowa's win probability was 99.99 percent at that same mark.
For what it's worth, Gilder said his parents apologized for missing the comeback and promised to stay until the end of A&M's Sweet 16 game against Oklahoma on Thursday. Something tells us they'll stay until the final buzzer this time.
REAL LIFE. REAL NEWS. REAL VOICES.
Help us tell more of the stories that matter from voices that too often remain unheard.
BEFORE YOU GO