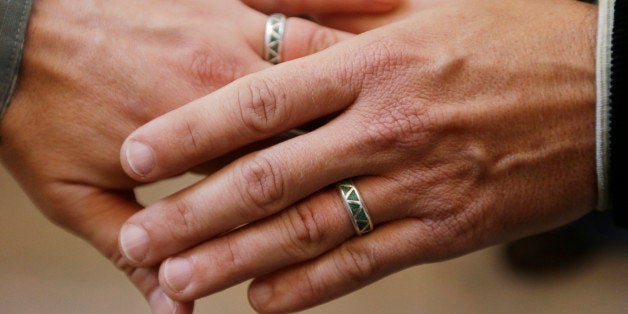 Joe, a sheriff's deputy in a medium-sized city in Texas, says he tries not to define himself as "the gay cop." He has a good reason for that -- in Texas, it's perfectly legal to fire someone for being gay.
Most weeks, he doesn't mind keeping his personal life under wraps. "I love what I do. I've wanted to be a police officer for as long as I can remember, and it's easier for me to go to work and just be a police officer. I don't go around flying a rainbow flag," he said. (Joe asked that his real name be withheld from this article, along with his fiance's.)
This week has been harder than most, though. In the past couple of months, Texas has introduced around two dozen anti-gay laws. Socially conservative Texan politicians are preparing for the Supreme Court to issue a ruling next month that could legalize same-sex marriage throughout the land. On Thursday, the Texas House of Representatives is set to consider a bill that would effectively put a stop to same-sex marriage in Texas, no matter what the Supreme Court rules. The law, which has 89 co-authors, would forbid any public employee from issuing, enforcing or recognizing same-sex marriage licenses.
"We as Texans have a sovereign right to define and regulate marriage," Republican state Rep. Cecil Bell, the author of the bill, told Talking Points Memo earlier this week. "I don't believe that this bill puts anyone in a lesser position than what they were in before."
Joe learned about the bill on Monday morning, reading Yahoo News at his desk at work. It had never crossed his mind that Texas might be able to undermine the Supreme Court's ruling on marriage -- but if it did, it would certainly put him in a lesser position than the one he has been imagining. He thought about his fiance, John -- about their down payment at the Pelazzio, a Houston wedding venue where they plan to tie the knot in December, about the 150 or so invitations, ready to be mailed, sitting on the dining room table. He thought about his 4-year-old daughter, who calls John "dad." He thought about what would happen if he was harmed in the line of duty -- how John wouldn't be able to visit him in the hospital, or see their daughter again. But he kept his thoughts to himself, and went about his day.
"It leaves a bitter taste in my mouth," he said. "It frustrates me and angers me to know that there are people that are so closed-minded that they don't care who is hurt by what they're doing."
Katherine Franke, a professor at Columbia Law School and the director of the Center for Gender & Sexuality Law, described the newly proposed anti-gay laws in Texas and other states as a "frontlash" against the Supreme Court's anticipated ruling, similar to steps southern states took in the 1950s and '60s to fight back against national changes in racial equality. "Should a public official be required not to follow a Supreme Court mandate? That's just unconstitutional," she said. But constitutionality is not really the point of these laws, she added. One point the lawmakers are making is, "this is Texas -- we'll go down fighting."
Joe, who is 27, has spent most of his life fighting who he is. In high school, he was the running back for the football team and ran track, but he never made good friends. "It was easy for me to hide," he said. He saw what happened to a schoolmate who wasn't as good at hiding his identity. "I'd walk down the halls and see him get thrown up against the locker and called a fag. I didn't want to be a part of that," he said. Instead, he went to church and spoke with his pastor and the pastor's wife. They told him to seek counseling. "I needed to attend more church, be more faithful, do more praying, and everything would change."
When he was 21, he married a woman he met in church. But six months later, after another huge argument, he decided that he couldn't do it anymore. They split up, and soon after, he met John, a student at a nearby college. They fell in love, and on Valentine's Day two years ago, on a moonlit night, John proposed. They exchanged rings, and John decided that he would wear his to work. He had never told a colleague that he was gay before, and would lie if he was asked. "I didn't know what was going to happen or who I could trust. But when I put the ring on my finger, I made the decision to not care what they thought," he said.
Still, he doesn't talk about it much. He knows that his safety net is fragile, in more ways than one. "It hurts me to think that if John was ever hurt to the point where he was on his death bed, there's nothing I could do to go back and see him, to let him know that I'm there, that I love him," he said. "We've come a long way, but there's a chance now that I'll never be able to do that living here in Texas, where all of our family is at, where all are of our friends are at. It's really hurtful."
Calling all HuffPost superfans!
Sign up for membership to become a founding member and help shape HuffPost's next chapter