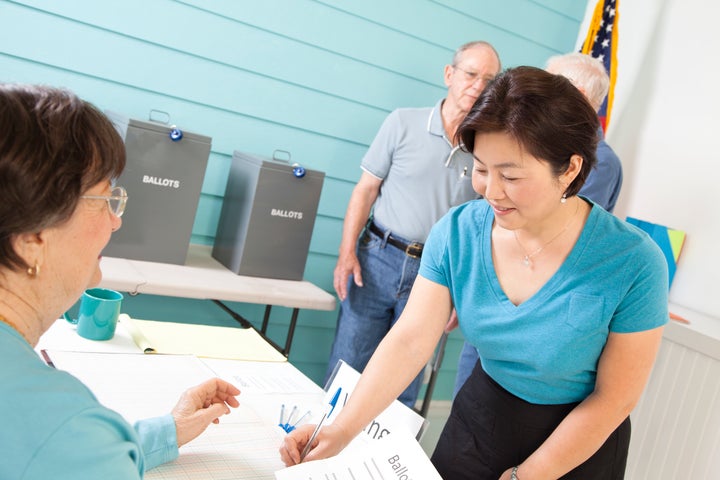 A recent decision in Texas could encourage many more Asian-Americans in the Lone Star State to participate in their civic duties.
Asian-Americans voters who need language help can now use an interpreter of their choice after a ruling found that Texas violated an act that prevents racial discrimination at the polls.
Jerry Vattamala, nonprofit Asian American Legal Defense and Education Fund's democracy program director, told HuffPost that the victory is particularly important given the minority group's increasing voice in politics.
"Asian Americans can absolutely affect the outcome of election, particularly in close elections - we can make the difference and cannot allow our community to be disenfranchised," Vattamala, whose organization sued the state, told HuffPost.
The new ruling states that Texas had violated the Voting Rights Act through a provision in its election code. The provision had stipulated that interpreters for voters be registered in the same county as the voters themselves ― something that had greatly impact Asian-Americans, who are rarely provided county language assistance.
Because of the ruling, Asian-Americans who need language assistance are able to bring whoever they are comfortable with to the polls to help, regardless of whether the interpreter is registered to vote in the county or even registered at at all, Deborah Chen, of the case's plaintiff organization OCA-Greater Houston, told HuffPost. Only employers or voters' union representatives are excluded from interpreting. Vattamala explained to HuffPost that the decision is crucial as thousands of Asian-Americans could have been affected by the previous code.
Texas may be a diverse state with a majority minority population, but multilingual resources don't always exist for voters who aren't proficient in English, particularly for Asian-Americans. While state law mandates that all voting materials be translated into Spanish, a similar requirement does not exist across Texas for other languages.
Currently, only two counties offer any Asian language translations at all, Vattamala pointed out. Harris County provides Chinese and Vietnamese and Tarrant County offers Vietnamese. That leaves many more Asian-Americans unaccounted for.
In Texas, Almost two-thirds of the Asian-American population is foreign-born and many of them are considered Limited English Proficient (LEP), defined as having a limited ability to read, speak, write, or understand English. Some areas have particularly high rates of LEP residents with 35 percent of Asian-Americans in the Houston metro fall under that category. And there have been instances where LEP Texans weren't able to exercise their civic duties due to the restrictive election code. Mallika Das, who's since died, was one such voter. Mallika, whose experience prompted AALDEF to sue on her behalf, tried to vote during the 2014 election, bringing her son Saurabh to help her vote. However he was registered in a different county and thus Mallika was denied language assistance.
While the nonprofits had already won the case at the district court level back in 2016, the state appealed the case to the Fifth Circuit. With the recent affirmation of the district court's decision, Saurabh said he is excited for what the ruling will mean for others who aren't proficient in English in future elections.
"My mother would have been pleased to see this outcome," Saurabh said in a press release about the case.
CORRECTION: A previous version of this article misstated Jerry Vattamala's title.
Support HuffPost
The Stakes Have Never Been Higher
Popular in the Community