If you're opposed to Texas' proposed "bathroom bill," you'll have to get in line.
Literally. After Texas' Senate Committee on State Affairs opened the floor to public input on Senate Bill 3 on Friday, clerks said more than 230 people signed up to testify.
With two minutes of speaking time allotted to each person, there could be over seven and a half hours of comment. In the first few hours, the vast majority of speakers came out against the bill.
Reporters on the scene captured the long line of speakers snaking around a corner, down a flight of steps and down the hall.
SB 3 would prevent trans people in Texas from using bathrooms that correspond with their gender identity, instead forcing them to use bathrooms that align with the gender they were assigned on their birth certificate.
This is Texas' second go at forcing through the bill this session. An earlier attempt during the regular session in April failed spectacularly, prompting Lt. Governor Dan Patrick (R), who introduced the bill, to block other must-pass legislation, thereby forcing a special session.
Texas Gov. Greg Abbott (R) named SB 3 a priority when he opened the 30-day special session on Tuesday.
In opening remarks on Friday, the bill's sponsor, state Sen. Lois Kolkhorst (R) portrayed the legislation as an effort to protect women, regardless of how much it might cost the state in terms of lost business.
Kolkhorst framed SB 3 as an extension of Title IX, the federal law that mandates equal opportunity for men and women, and says trans women have an unfair advantage in sports.
Critics have dismissed that argument as absurd.  
"Do we really think that trans kids are transitioning to win local High School track meets?" Rebecca Marques, a strategist at the ACLU of Texas, asked on Twitter.
Ashley Smith, one of the first women to testify on Friday, said the bill would force her to use the men's restroom ― because Alabama, the state where she was born, won't allow her to change the sex on her birth certificate.
"What about my safety?" she asked during testimony. "There are people out there who hate me."
Last Saturday, Abbott posed for a photo with Smith, which went viral after she used it to criticize SB 3.
"How will the Potty Police know I'm transgender if the Governor doesn't?" Smith asked in the photo's caption.
If, as Kolkhorst maintains, SB 3 is intended to enshrine privacy by keeping men out of women's bathrooms, one trans man told lawmakers it will be counterproductive. Rather than use the men's room, as he does currently, SB 3 would actually force him to begin using facilities for women.
"If the goal of these bills is to keep men out of women's facilities," he said, "you're doing it wrong."
Others in the crowd held signs making similar arguments.
"Sen. Kolkhorst might as well argue that black people be banned from the bathroom because rapists might wear blackface," an SB 3 opponent argued.
Another witness testified that trans people need more legal protections, not fewer. "Trans people are not the ones committing sexual violence," said Austin resident Nia Goldstein. "They're the ones experiencing it."
Police departments in Dallas, Austin, and El Paso, among other experts, have repeatedly debunked the idea that allowing people to use bathrooms corresponding with their gender identity threatens women's safety.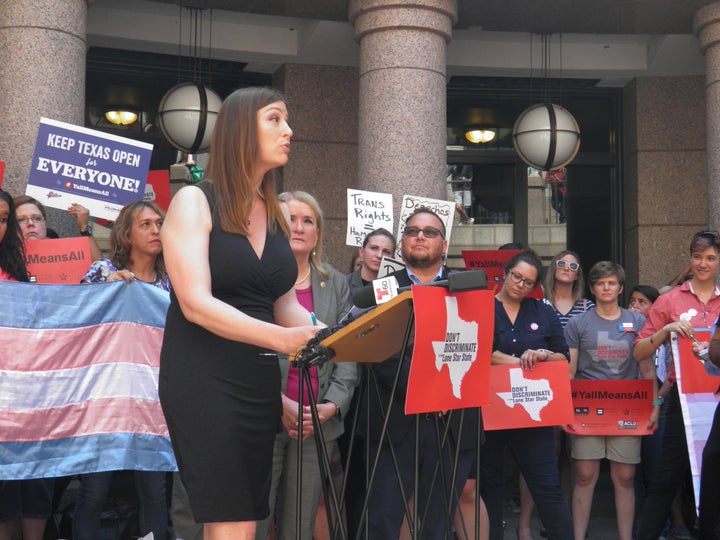 Senate Bill 3 has numerous opponents in the business community as well, including Roland Swenson, CEO and co-founder of South by Southwest, a nationally prominent technology and music festival in Austin.
Swenson penned a letter in opposition to SB 3 on Thursday. In addition to decrying the bill as divisive and discriminatory, he warned it will prompt a backlash against Texas businesses.
"The State of Texas faces a tangible economic impact from the legalization of this kind of discrimination," he wrote. "Harming economic growth is not in the best interests of the state or its residents."
Tim Noonan of Visit Austin, a trade and tourism advocacy group, told the committee that Austin has already lost $10 million in conventions and stands to lose $133 million more should SB3 pass.
Those concerns were echoed by Visit Dallas CEO Philip Jones, who predicted Dallas stands to lose upwards of $1 billion thanks to the legislation.
Calling all HuffPost superfans!
Sign up for membership to become a founding member and help shape HuffPost's next chapter