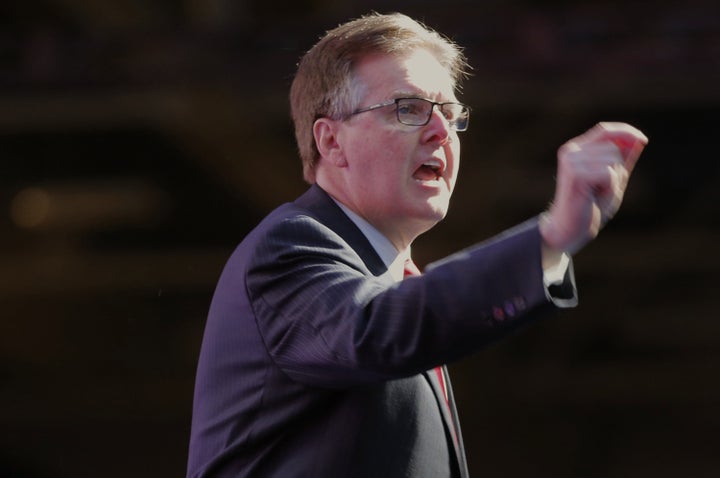 AUSTIN, Texas ― Lt. Gov. Dan Patrick (R) isn't worried about scaring businesses away from his state with a bathroom bill widely viewed as hostile to transgender people.
Speaking in an interview with Texas Tribune CEO Evan Smith Wednesday, Patrick repeatedly said the economic fallout from the proposal would be minimal, brushing off concerns that Texas would repeat the experience of North Carolina.
When North Carolina passed a similar bill last year, legal fees, canceled events and lost tourism cost the state about $400 million over six months, according to Wired. A study by the Texas Association of Business found that Texas could jeopardize 180,000 jobs and cost the state $8.5 billion annually in lost business as a result of similar boycotts and companies refusing to set up shop here.
But Patrick, who likened such businesses' attitudes to "extortion," said Texas will be fine.
"I'm not concerned," Patrick said, later adding: "Let's say there is some economic impact. Are we for sale?"
The proposal would require people in Texas schools and public facilities to use the bathroom that corresponds to the sex on their birth certificates. Any schools that adopt policies letting people use the bathroom that most closely matches their gender identity would face the threat of lawsuits and could be made to pay thousands of dollars in penalties.  
Patrick insists the bill, which he helped craft with state Sen. Lois Kolkhorst (R-Brenham), is different from the controversial North Carolina measure. The Texas version doesn't include the term "original birth certificate" ― an omission that Patrick says is meant to accommodate transgender people, who are permitted to change the sex on their birth certificates later in life. The only people who oppose the Texas bill are "Anglo liberals," he said.  
"Why is it that you want to have this basic bill that says men shouldn't be in ladies' rooms and teenagers shouldn't be showering together, and somehow you're discriminating?" Patrick said. "When we introduce men into ladies' rooms, we introduce a danger... It's not the transgender community, because they can get their birth certificates changed if it's legitimate."
But Mara Keisling, who heads the National Center for Transgender Equality, says the Texas bathroom bill is just as discriminatory as North Carolina's. Keisling points out that the North Carolina bill doesn't actually make a distinction between original and current birth certificates.
"People aren't coming home and saying, 'Honey, we have to do something about this transgender-people-in-the-bathroom problem,'" Keisling told The Huffington Post. "People want their public officials to work on important things. They don't want them to pick on transgender people over a non-issue, to hurt children on a non-issue."
Patrick presides over the Texas state Senate and has named the bathroom bill among his priorities for the year. Republicans control both chambers of the state legislature as well as the governorship, but the bill might face opposition from moderate Republicans in the House of Representatives concerned about harming the state's business environment.
Calling all HuffPost superfans!
Sign up for membership to become a founding member and help shape HuffPost's next chapter
BEFORE YOU GO