A Texas church recently voted to stop hosting weddings as long as its denomination prohibits clergy from officiating same-sex marriages.
The First United Methodist Church in downtown Austin announced on its website that its congregation had voted 93 percent in favor of the new resolution "to align its wedding policies with its strongly-held principle of full inclusion of all persons."
People who scheduled their weddings before the resolution was announced would still be able to continue them as planned, the church said. But the clergy would not schedule new ceremonies. The church published a video on its Facebook page on Thursday explaining the process that led to its decision.
"This is a step we feel called to take as we continue to strive for change in the wider church," the Austin church's senior pastor, Rev. Taylor Fuerst, said in the video.
The house of worship is formally affiliated with the United Methodist Church, which does not permit clergy to officiate same-sex weddings. The U.S. Supreme Court legalized gay marriage in all 50 states in a landmark ruling in 2015. But in the UMC, clergy risk being defrocked if they oversee such unions.
The UMC's constitution states that "all persons are of sacred worth." But the denomination's Book of Discipline holds that "homosexuality is incompatible with Christian teaching." Current policies bar "self-avowed practicing homosexuals" from being ordained and prohibit pastors and churches from performing or hosting same-sex weddings.
"We support laws in civil society that define marriage as the union of one man and one woman," the UMC website states.
In its resolution, the Austin church argued that the denomination's policies regarding marriage and sexuality "are incompatible with the inclusive teachings of Jesus Christ, as well as our United Methodist Constitution, and are fundamentally contrary to our mission and to our service to each member of the church."
Fuerst said the congregation was inspired to take action after three same-sex couples ― all of whom were prominent members and leaders in the church ― were forced to wed in alternate locations given the denomination's stance.
"They didn't even have the option to wed in the church," the pastor told HuffPost. "Their weddings were joyful, beautiful occasions, but it was painful to have the shadow of this exclusion over so many people who are faithful, growing disciples of Christ and leaders in our congregation. It goes directly against what we believe Jesus taught and revealed to us about God in scripture."
The UMC boasts more than seven million members in the United States alone and has long struggled to come to an agreement about how to minister to LGBTQ people. UMC clergy members in Michigan, Pennsylvania and New York have come under fire in recent years for officiating at same-sex weddings.
Methodist minister Rev. Frank Schaefer was defrocked in 2013 for officiating at his son's marriage to another man. He was reinstated in 2014.
Over 1,500 other clergy members subsequently released a letter of support for their LGBTQ colleagues, urging the UMC to end discrimination based on gender or sexual orientation.
Other churches have previously adopted similar measures like the First United Methodist Church's recent effort, including Green Street Church in Winston-Salem, North Carolina, which voted in 2013 not to host any weddings until the denomination lifted its ban on same-sex marriage.
"This vote demonstrates that our members are willing to sacrifice a position of privilege in order to stand in solidarity with those who are discriminated against."
"I do not see it as an act of exclusion for straight couples, but an invitation for all people to be in solidarity with those who are excluded," Rev. Kelly P. Carpenter, the church's senior pastor, said in a pastoral letter at the time.
The Austin church's decision offers a similar act of solidarity without violating the UMC's Book of Discipline.
"Boards of trustees of local congregations set their own facility-use policies," Bishop Robert Schnase, who leads the UMC's Rio Texas Conference, said in a statement. "This was a decision made at the local level in compliance with our rules."
But church members say they hope the move will send a message to the denomination's leaders, as well as to the LGBTQ community.
"This vote demonstrates that our members are willing to sacrifice a position of privilege in order to stand in solidarity with those who are discriminated against," Davis Covin, a church member who helped draft the resolution and whose husband is also a leader in the church, told the United Methodist News Service.
"I think this also serves as a great example to the children and youth in our church by showing that our members strive for social justice and equality for all God's children," he added.
Fuerst said she was hopeful that the UMC would adopt more inclusive policies and that someday the resolution would become obsolete.
"I don't know whether our action will effect change in the UMC policy, but I do hope it will give courage to other congregations and their leaders, to consider how God may be calling them to act," she told HuffPost. "We are not powerless; we can make change right where we are."
Before You Go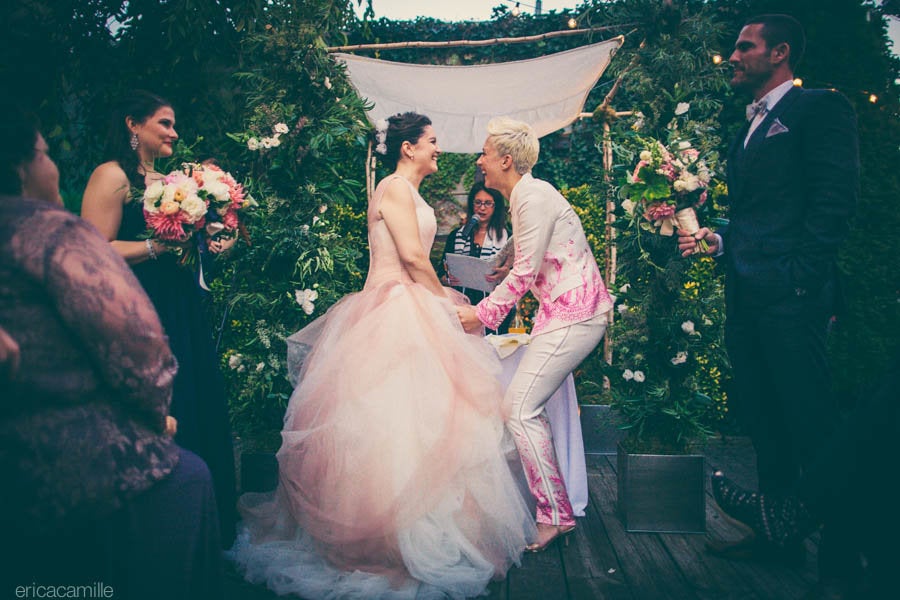 Same-Sex Wedding Photos
Popular in the Community