Devin Patrick Kelley, 26, had been involved in a "domestic situation" with his in-laws, officials said. They worshipped at the targeted church, but were not there during the shooting.

Kelley received a "bad conduct" discharge from the Air Force in 2012 after being court-martialed over abuse of his first spouse and child.

Before shooting himself, Kelley called his father from his car as he fled the scene of the attack.

NEW BRAUNFELS, Texas ― The man responsible for Sunday's mass shooting at small Texas church seemed "off" in recent years, according to Facebook comments posted by his former classmates.
Several New Braunfels High School graduates described Devin Patrick Kelley, the 26-year-old gunman, as "creepy" in social media comments posted after the attack.
Courtney Kleiber wrote in a Facebook post Sunday that she was "close" with Kelley in middle school and high school.
"I had always known there was something off about him," Kleiber wrote. "He use[d] to be happy at one point, normal, your average kid... Over the years we all saw him change into something that he wasn't."
"To be completely honest, I'm really not surprised this happened, and I don't think anyone who knew him is very surprised either," she continued. "My heart goes out to all of the victims that should've never been." Kleiber didn't immediately respond to HuffPost's request for further comment.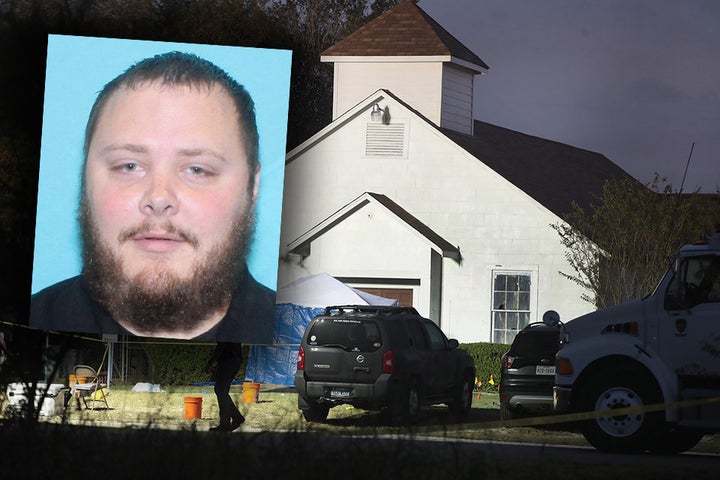 Officials said Monday that Kelley, wearing black tactical gear and a ballistic vest, stormed First Baptist Church in Sutherland Springs during prayer service on Sunday around 11:30 a.m. and opened fire on churchgoers with what Martin described as a "Ruger AR assault-type rifle."
At least 26 people were killed, including the grandmother of Kelley's wife, and 20 others were wounded in the attack, according to law enforcement officials. Victims ranged in age from as young as 18 months to as old as 77 years.
Kelley had been involved in a "domestic situation" with his wife and her parents, Freeman Martin, regional director for the Texas Department of Public Safety, said during a news conference Monday.
"It's a senseless crime, but we can tell you that there was a domestic situation going on within this family," Martin said. "The suspect's mother-in-law attended this church. We know that he had made threatening texts."
Kelley's in-laws were not at the church at the time of the attack, Martin said.
The lone shooter most recently lived in New Braunfels, roughly 30 miles northeast of San Antonio, officials said. He previously lived in Colorado Springs, Colorado, according to public records.
Kelley was a former member of the U.S. Air Force who served in logistics readiness at Holloman Air Force Base in New Mexico from 2010 until his discharge in 2014, USAF spokeswoman Ann Stefanek said.
The Air Force said Kelley was court-martialed in 2012 for assault on his spouse and their child. He received a bad conduct discharge, a 12-month sentence in a military prison and a reduction in rank for the offense. The New York Times reports that his first wife sued for divorce in New Mexico later that year.
Kelley was found guilty of hitting, choking and kicking his wife, as well as pulling her hair, according to Air Force court-martial documents from 2013. He was also found guilty of hitting their son, "with a force likely to produce death or grievous bodily harm."
Kelley was also charged with pointing a loaded gun, as well as an unloaded gun, at his wife. He pled not guilty and those charges and they were ultimately dismissed.
Kelley married another woman, Danielle Lee Shields, in April 2014, according to public records. Roughly four months later, Kelley was charged with cruelty to animals while living in an RV park in Colorado Springs, reports the Times. A former neighbor told the newspaper that someone called the police to report that Kelley struck his pit bull puppy in the head. The case was later dismissed.
In June 2016, Kelley was hired as a "seasonal unarmed night security guard" at the Schlitterbahn New Braunfels water park. He worked there for less than six weeks before being terminated, said Winter Prosapio, a spokeswoman for the company.
"He wasn't a good fit," Prosapio told HuffPost.
Schlitterbahn said in a statement to HuffPost that all of their security guards "must pass a criminal background check through the Texas Department of Public Safety."
Kelley worked at Summit Vacation and RV Resort during the month and a half leading up to the massacre, resort manager Claudia Varjabedian told The Associated Press.
He "seemed like a nice guy," Varjabedian said. "I had no complaints. I was as shocked as anyone else."
On Monday, Texas Gov. Greg Abbott (R) called Kelley "a powder keg waiting to go off" and said state law should have prevented him from buying a gun.
"I don't think this church was picked out at random," Abbott said during an appearance on "CBS This Morning" on Monday. "I think there was purpose and intent that Devin Kelley had in showing up at this location."
"Current law should have prevented him from being able to get a gun," he said.
Kelley "apparently" had mental health issues, according to Abbott, and his application for a Texas gun license was previously denied.
"He was rejected either because he didn't fully answer all the questions that are required to get a Texas gun permit or he answered those questions wrong," Abbott said on "Fox & Friends."
Kelley bought two firearms from Academy Sports + Outdoors, a sporting goods chain, in 2016 and 2017, a spokeswoman for the company told HuffPost in a statement Monday.
"Based on information we received from law enforcement, we confirmed that the suspect purchased two firearms from two San Antonio locations, one in 2016 and one in 2017," the statement said.
"We also confirmed that both sales were approved by the National Instant Criminal Background Check System (NICS)," it continued. "We are cooperating with law enforcement as they investigate further."
Kelley lived in a "barndominium" next to his parents' home, neighbors Mark and Terry Moravitz told local ABC affiliate KSAT.
"Nothing abnormal. Regular guy," Mark Moravitz said of Kelley. "I mean, the only thing unusual across the street is we hear a lot of gunfire, a lot of times at night. We hear gunfire a lot, but we're out in the country."
Marshall Scubert, who has lived in the area for roughly 20 years, echoed his neighbor's sentiments about gunshots.
"That don't mean much around here," Scubert, 70, told HuffPost about hearing gunfire near the suspected gunman's home. "People have large areas of property, and they're either practicing or killing small game."
"But when you hear of a terrible accident like this ― where someone's crazy, taking people's lives ― you start wondering," he continued.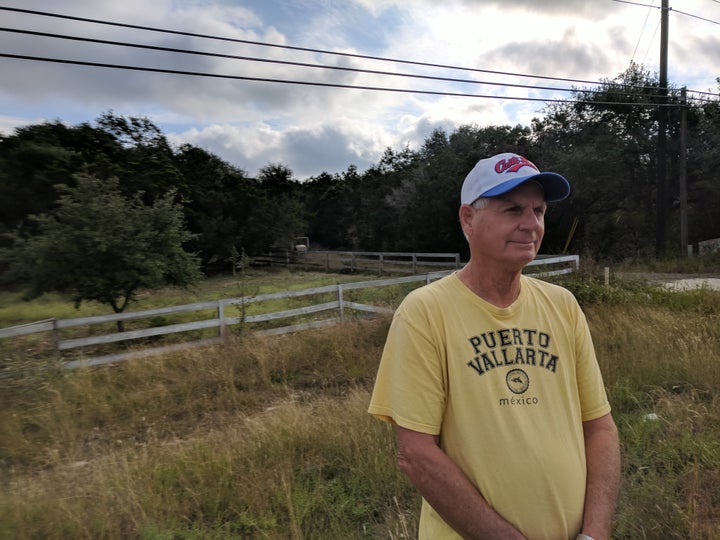 The gunfire coming from Kelley's home in recent days seemed abnormal, according to Ryan Albers, another neighbor.
It was "really loud," he told The Guardian. "It was someone using automatic weapon fire."
Kelley was found in his vehicle in neighboring Guadalupe County after fleeing the church Sunday, dead from an apparently self-inflicted gunshot wound, the sheriff said.
"The exact circumstances of the gunman's death are still under investigation," a statement from the Wilson County Sheriff's Office and the Texas Department of Public Safety said.
Kelley called his father from his car after being shot, telling him he "didn't think he was going to make it," Martin said during Monday's news conference. Kelley then shot himself.
Authorities found two pistols, a Glock 9 mm and a Ruger .22, in Kelley's car.
Nick Visser and Lydia O'Connor contributed reporting.
This article has been updated to include comments from Kelley's neighbors, former classmates and employers.
Popular in the Community