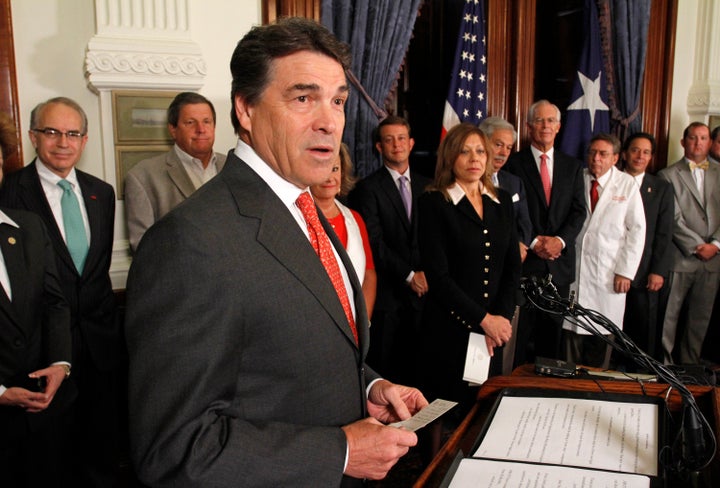 According to algebra and physics teacher Patrick Frasier, Gov. Rick Perry's (R) school budget cuts led to massive back-to-school confusion. In fact, until recently, Frasier wasn't even sure he could return to class this school year.
"All first-year teachers in my district were cut no matter what," he said. The bulk of them were hired back, but not before they polished their resumes. "We had no idea until the very end what was really going to happen," Frasier said.
Frasier decided to go into teaching after studying engineering at the University of Texas because he felt education was important work. He now teaches in San Antonio's Northside Independent School District.
He went back to class Monday and immediately noticed changes. Overall, he had 30 more students spread between his six classes than he had the year before.
"There's been a lot of talk about how this is the new normal," he said, referring to Perry's statements on school funding. "We're told we should get used to constant budget cuts."
While a HuffPost analysis of Texas schools' performance under Perry found mixed results, education observers worry that the massive funding cuts coming out of the most recent legislative session leave Texas schools at the top of a steep precipice. Under Perry's veto threat, the legislature chose not to pay for student enrollment growth, instead underfunding education by $5.5 billion -- despite access to the $9.4 billion in the state's reserve fund.
Perry has made job creation a big part of his campaign platform. But analysts predict that because of the cuts, 49,000 education-related jobs will be lost over the next two years.
"He refused to increase taxes even just the smallest bit to help with our deficit that we have now," Frasier said. "He's been full of contradictions."
Request for comment from the Governor's Office was not returned.
The Statesman reported that the effects of Texas's education cuts were apparent Monday at Wiley Middle School, where an enrollment surge combined with a teacher shortage resulted in massive overcrowding. Because of the high volume of students, lunch will last for more than two hours, with some students not eating until 1:30 p.m. Classes sizes this year average between 28 and 30 students.
Katie Mayo teaches English at Hebron High School in Lewisville, where her class size has increased slightly. She said that if she were grading her governor, she'd give Perry a D.
"In not tapping into the rainy day fund that we have, [it] kind of shows how he really feels about public education," she said. "It's a rainy day fund, and it was pouring."
The funding cuts are also affecting those who are not yet part of the school system, but would like to be. Districts that are hiring at all are re-hiring laid-off teachers, meaning there are few open positions for new teachers.
Christine Forbus, a Corpus Christi resident who graduated with a B.A. in teaching this December, has been unable to find a job.
"School districts back away when I hand them my resume," she said. During one of her failed job-hunting trips, Forbus said she saw an applicant break down. "I'll work for less, I'll do anything, just hire me," the girl said, in tears. Forbus said she left the room. "I don't need to be the next one to cry," she said.
Forbus and Frasier say they are incensed that their jobs and funding were first on Perry's chopping block.
"When you're thinking about the future of Texas or the country, education is the last place you should cut," Frasier said. "It's that simple: If you want jobs, you need education."
CORRECTION: Because of an editing error, an earlier version of this article stated that Patrick Frasier majored in teaching at the University of Texas. He majored in engineering.
Related
Popular in the Community