A Texas couple is rejoicing after getting a marriage license from the same county clerk's office that tried to deny them their legal right to marry.
Jim Cato and Joe Stapleton wanted to get a marriage license in Granbury, Texas, after last month's Supreme Court ruling in favor of nationwide marriage equality. But Hood County Clerk Katie Lang refused to issue any same-sex marriage licenses on the basis of her religious beliefs, the Star-Telegram reported.
"We live in Granbury. We pay our taxes in Granbury," Cato said from outside the courthouse in Granbury's town square last week. "We do not feel like we have to travel somewhere else for our marriage license. We will stick it out here until we get our license in Granbury."
The situation reached a boiling point on Monday, when the couple filed a federal lawsuit against Lang for turning them away multiple times. Shortly after the filing, the clerk's office granted the couple's marriage license, NBC Dallas-Forth Worth reported.
Cato and Stapleton, who have been together for 27 years, proudly held up the coveted document for reporters gathered outside the courthouse.
"Jim Cato and Joe Stapleton are delighted that they finally have been issued a marriage license and can get married in their home county," their attorneys, Jan Soifer and Austin Kaplan, said in a statement. "It's a shame that they needed to hire lawyers and file a lawsuit to make that happen."
Lang's office reportedly claimed it couldn't issue the license initially because of "software issues" and a "lack of guidance" about how to use forms for same-sex couples, The Texas Tribune reported. Lang later said that while she would "personally refrain" from issuing the licenses, others in the office could do so once "the appropriate forms have been printed and supplied to my office."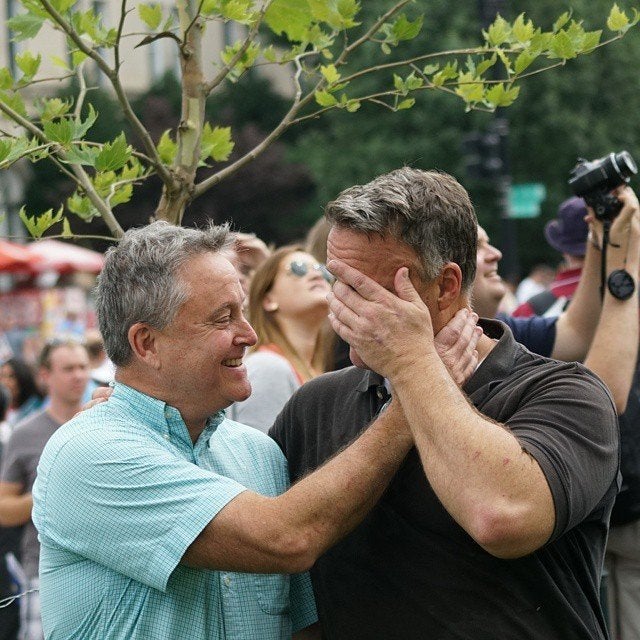 Supreme Court On Marriage Equality
Popular in the Community