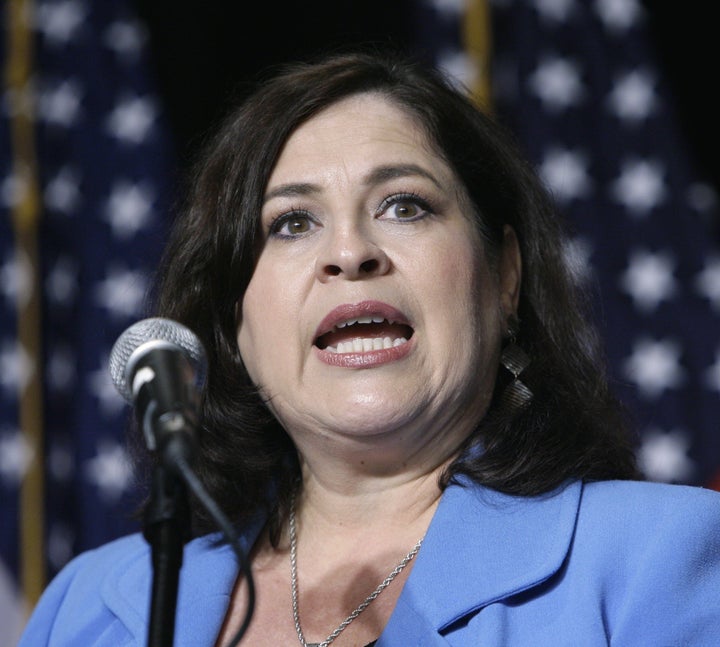 WASHINGTON -- As a group of Wisconsin Democrats camp outside their state in hopes of stalling an anti-public union bill, veterans of such high-stake showdowns see numerous challenges ahead. The media coverage will be suffocating; the urge to cut a deal will be compelling; the lack of sex will be, well, unsettling. Seriously.
"If you are going to be out more than two weeks call your spouse for conjugal visits," explained Texas Democrat Leticia Van de Putte, who, back in 2003, was one of 11 state senators who fled to New Mexico in order to stall Republican redistricting plans. "After two weeks -- and most of my colleagues are men -- I said get their wives here and quick because you are under intense stress."
She's not joking. Among the many trying elements that come with a "quorum break," the disruption to a lawmaker's personal life ranks highest. In interviews with The Huffington Post, several legislators and a top staffer who went through the Texas saga called it, easily, the most exhausting of their careers.
"It is a nightmare," said Harold Cook, the man who staffed Senate Democrats when they fled to Albuquerque on their quorum break. "First off you are going to a place you are not familiar with, and you will be around people you don't know, and you will be going to try and get out your message to your constituents through a reporter you may never have met. You are going to be short on staff because they are going to be back in the capital ... It was just about the toughest thing I did professionally and I think a lot of the senators would say it was the toughest thing they did in their legislative careers."
Whether the situation in Wisconsin will be as trying as that which took place in Texas is, at this juncture, entirely unknowable. Back in 2003, lawmakers actually staged two quorum breaks in an effort to stop the mid-decade redistricting proposal pushed by Gov. Rick Perry and then-Majority Leader Tom Delay. The first involved 53 House Democrats who left for Oklahoma in order to (successfully) prevent the chamber from considering the plan in regular session.
Perry then pushed the plan in a special session. And in the summer of 2003, he found a parliamentary loophole that would get the legislation passed without the necessary two-thirds vote in the state Senate. Eleven Democratic senators subsequently left for Albuquerque, where they stayed, with the blessing of Democratic Gov. Bill Richardson, for 46 days.
"We knew it was going to pass, we couldn't stay out forever. But we had to postpone it in time to try and get it to a federal court," said Van de Putte.
Wisconsin Democrats appear to be pining for a different outcome, one in which public pressure will force Republican lawmakers and Gov. Scott Walker to reconsider a bill that would strip many public union's of their collective bargaining rights.
It's an incredibly difficult task. For starters, as Cook notes, the opposition has a "home team advantage." Whereas the Wisconsin Democrats are hiding out in Illinois, Republicans will be mingling with the capital press corps, pitching to anyone in ear shot how irresponsible a quorum break is.
"The argument that people will make that it is disrespectful of the process," said Rep. Pete Gallego, who in 2003 fled for Oklahoma while a member of the Texas House of Representatives. "Truthfully it is very much a part of the process because a quorum is part of the rules and when you are arguing one side or another you are arguing it under the rules ... when you are in the minority you use every tool at your disposal and that's what those guys are doing. So more power to them."
The longer the quorum lasts the more tiring it will be. The protesters demonstrating at the capitol building in Madison won't stay there forever. And as all legislation, not just the collective bargaining bill, grinds to a halt, public attitudes will shift.
"The worst-case scenario for those breaking the quorum is what if the opposition decides to wait them out," said Cook. "If you don't have an exit strategy from that then you may have problems."
Then there is the abrupt change in lifestyle. The jaunt to Albuquerque back in 2003 was jarring for many lawmakers. One senator had just had a heart attack, requiring medical records to be transferred and a cardiologist located. Another senator's mother was elderly and it was unclear whether she'd make it through the standoff. Another senator had a baby on the way while another was in financial trouble (legislators in Texas are citizen legislators).
Indeed, looking back on the standoff nearly eight years later, lawmakers say it was the human element, not the political one, that proved most difficult.
"Now I know why prisoners get buff," said Van de Putte. "We were all in the fitness center. And we were there so long that we actually integrated in Albuquerque culture we went to the baseball games, a lot of us were Catholic and we went to the church. We even went to the dances and bingo. We found restaurants and made friends."
"Think about it," she added. "For the 11 of us, we were uprooted for basically 48 days."
Popular in the Community