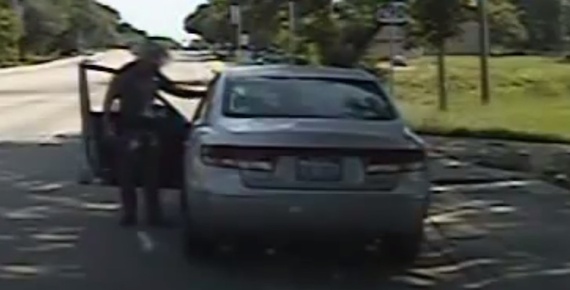 The U.S. Supreme Court issued an opinion which clearly shows how wrong the Texas State Trooper who arrested Sandra Bland really was.
Rookie Texas state trooper Brian Encinia is facing harsh criticism after the two videos depicting his chaotic and brutal arrest of Sandra Bland in rural Waller County.
Bland later died mysteriously in that county's jail less than three days later. Some people wonder why Sandra Bland would resist getting out of the car, but it is entirely reasonable for an African-American woman alone to fear violence from the police as has been reported throughout the state including an alleged sexual assault by a police officer in Amarillo, Texas, an alleged handcuffed police rape of a 19-year-old woman in San Antonio, Texas and recent comments of an officer saying they "can't un-rape you" caught on dash camera in Austin, Texas.
The Supreme Court of the United States (SCOTUS) recently issued a landmark ruling on the matter with an opinion written by Justice Ruth Bader-Ginsberg deciding the case of Rodriguez vs. United States in favor of the petitioner which exonerated Rodriguez.
Not content to merely settle one case, the Court opinion's author settled numerous matters of law involving traffic stops, and naturally drug sniffing dogs gained the most attention.
The key point of law in the court's ruling which applies to Sandra Bland's unlawful detention and arrest lies in one simple phrase: "Authority for the seizure ends when tasks tied to the traffic infraction are -- or reasonably should have been -- completed."
The SCOTUSblog wrote an in-depth analysis entitled "Traffic stops can't last too long or go too far, and no extra dog sniffs!", if you're so inclined to dig into the nooks and crannies of this issue. The complete opinion is below as well.
Photograhy is Not a Crime reported earlier that Texas State Trooper Officer Brian Encinia unlawfully ordered a nearby witness recording Sandra Bland's arrest to cease his activities, and it is confirmed that he is part of the Texas DPS, contradicting initial reports suggesting he might have been with Waller County Sheriffs.
Unfortunately, as the video notes, Officer Encinia was capable of conducting a similar stop in curt fashion for a student in a short encounter a few minutes before speeding off and making a U-Turn to catch up to Sandra Bland's car in rapid fashion initiating her ultimate demise.
It's unclear why Texas DPS wanted to share that bit of video and nothing else before or after.
Furthermore, it's unusual that they blurred the license plate of a traffic stop which is part of such an important public record document release.
The driver had no expectation of privacy on the side of a road during a traffic stop.
It would be interesting to see if that individual steps forward to provide more detail on why he gave a warning to a vehicle speeding and lacking in insurance as opposed to beating up the driver.
What is the point of these written warnings if they're not public records too?
Or maybe Officer Brian Encinia wasn't content with writing courtesy tickets when he was really looking for something more like the Texas DPS recruiting video below.
It's sad that the rookie cop likely lacked proper training in the finer points of the actual law, but was only trained in the administration of improper force under the color of law, and doomed to infamy through his skill in the instigation of force in the arrest of Sandra Bland.
Calling all HuffPost superfans!
Sign up for membership to become a founding member and help shape HuffPost's next chapter