A Texas state judge issued a temporary injunction Wednesday to keep a controversial family detention center from obtaining a license to run as a child-care facility.
The ruling, issued orally at a hearing in Austin, marked a victory for detainees and immigrant rights advocates who contend that the South Texas Residential Center in Dilley, Texas, is little more than a jail that seeks to go by another name.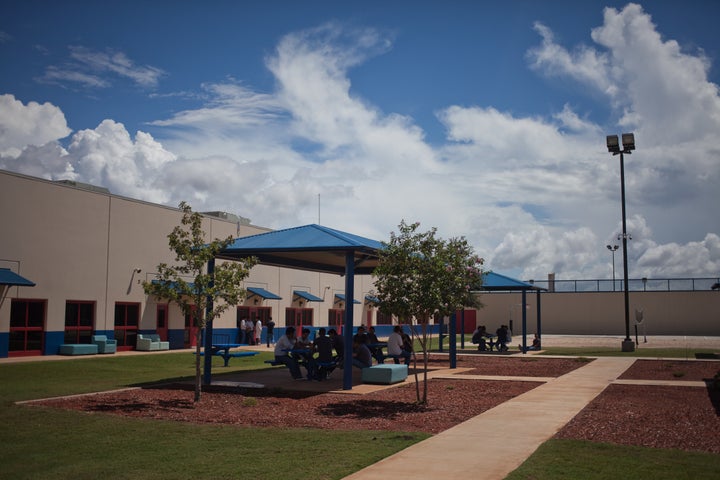 "It was a very good step to keep Texas from slapping child-care licenses on what are essentially prisons for children and their moms," said Bob Libal, the executive director of the advocacy group Grassroots Leadership.
A federal judge ruled last year that the Obama administration's family detention policy violates the 1997 Flores Settlement, which says that children must be housed in the least restrictive setting possible and agencies should generally release them. The ruling ordered the government to release children from family detention within five days in most cases.
To comply with the Flores ruling, Texas officials have tried to rush through new rules that license their facilities as "child care centers." Those rules would let the facilities hold kids for longer periods of time.
Under state rules governing child care facilities, children cannot share sleeping quarters with unknown adults -- a measure designed to prevent abuse. Official child care facilities are also supposed to allow children to leave on field trips or other excursions -- something the Texas family detention centers don't do. To get around the requirements, Texas authorities are offering "child care" licenses with exemptions to the normal requirements.
Crump's injunction will remain in place until the case is decided after proceedings resume in September, according to Libal. During that time, the facility can still run, but it risks running afoul of the Flores Settlement ruling.
Crimp's order did not, however, affect the Karnes family detention center. GEO Group, the company that runs Karnes for profit, obtained a temporary license to operate as a child care center at the end of April, before the lawsuit led by Grassroots Leadership was filed.
If the state of Texas loses the lawsuit, the temporary license issued to Karnes would likely be invalidated.
The vast majority of those migrants come from the three violence-plagued countries of El Salvador, Honduras and Guatemala. Upon entering, they often seek asylum or other forms of relief, saying they face threats if they return to their home countries.
The 2,400-bed Dilley family detention center was hastily constructed at the tail end of 2014 to help officials accommodate the flow. Corrections Corp of America, the country's largest private prison contractor, runs the center as a for-profit enterprise.
Immigrants' rights activists widely oppose the return of family detention, noting a jarring contradiction between the policy and Obama's wider efforts to expand deportation relief.
Luis Zayas, a University of Texas at Austin professor of social work who has interviewed dozens of migrants locked in family detention, told the court in the recent case that the detention centers' practices were harming the children mentally and physically. The stress they live under, he said, can affect their brain development and impede problem-solving skills and emotional development.
In a phone interview, Zayas said he doubted whether the two family detention centers could be repurposed as child care facilities that met national standards, citing the problem of mixed sleeping quarters for children and adults as emblematic of the facilities' problems.
"You cannot house children and mothers there and call it a 'child care center,'" Zayas told HuffPost. "It is really a prison. There would be so much more that they would have to do to make them child- and family friendly. That would be a massive undertaking. The best thing would be to release them quickly and not have to go through that."
Before You Go
Immigrants And Allies Rally Outside Supreme Court
Popular in the Community