UPDATE: The anti-abortion bill is dead for now. Lawmakers had to vote on the bill before the session came to end at 12 a.m. local time, but the clock ran out when more than 400 protesters disrupted the proceedings. Read the full details here.
Earlier story: The fate of a sweeping Texas anti-abortion bill, filibustered for 11 hours by state Sen. Wendy Davis (D), was uncertain today after protesting Texans erupted in pandemonium as Republican lawmakers tried to vote before the special legislative session's midnight expiration.
With 12 minutes to go before the special session's end at 12 a.m. local time, Senate Republicans tried to vote on the abortion bill. But the crowd of protesters in the capitol erupted into loud cheers and screams when state Sen. Leticia Van De Putte asked, "At what point must a female senator raise her hand or her voice to be recognized over her male colleagues?"
Amid the bedlam, it was unclear whether a vote was taken before the clock ran out on the session.
The raucous end climaxed Davis' daylong filibuster, shut down by Senate Republicans 90 minutes before the legislative session expired.
Davis, who took no bathroom breaks and wore a back brace so she would not have to lean on anything, captured the attention of President Barack Obama, lawmakers, celebrities and spectators from around the world as she attempted to fight off Republican efforts to thwart her filibuster. "I will not yield," Davis replied defiantly as one Republican colleague tried to ask her a question and coax her into slipping off topic, which would have broken the legislative rules and brought the filibuster to an end.
But around 10 p.m. local time, Lt. Gov. David Dewhurst (R) ruled that Davis' discussion of mandatory ultrasound testing was not germane to the anti-abortion bill. The legislation that Davis protested would prohibit abortions after 20 weeks of pregnancy, regulate first-trimester abortion clinics as ambulatory surgical centers and restrict access to medication abortions. But it does not specifically mention ultrasounds.
Republicans had ruled earlier in the afternoon that Davis broke Senate rules by having someone help her put on her back brace.
As soon as Davis was removed from the Senate floor, Texans staged a sit-in in the capitol building, chanting, "Let her speak!" A few Democrats tried to stall the vote on the bill and appeal the ruling that ultrasounds were not relevant to the legislation.
"The reason she is arguing against [this bill] and the reason she opposes it is because we are making it too difficult for women to carry out their constitutional right to make their decision about terminating a pregnancy," said state Sen. Kirk Watson (D), who appealed the ruling. "And in doing so, she's created some context. What she has said is, in Texas this isn't the first bill to deal with abortions and the regulation of abortions. In fact, in the last session of the legislature this body debated, discussed, and fought over a bill related to abortions. That bill was the sonogram bill."
Democrats continuted to squabble with Dewhurst over procedural rules after Davis stopped speaking on Tuesday night, hoping to delay a vote on the bill until the legislature's special session ended at midnight. Regardless of the outcome, Davis' admirers declared her an American hero.
This article has been updated to note the end of the legislative session.
Before You Go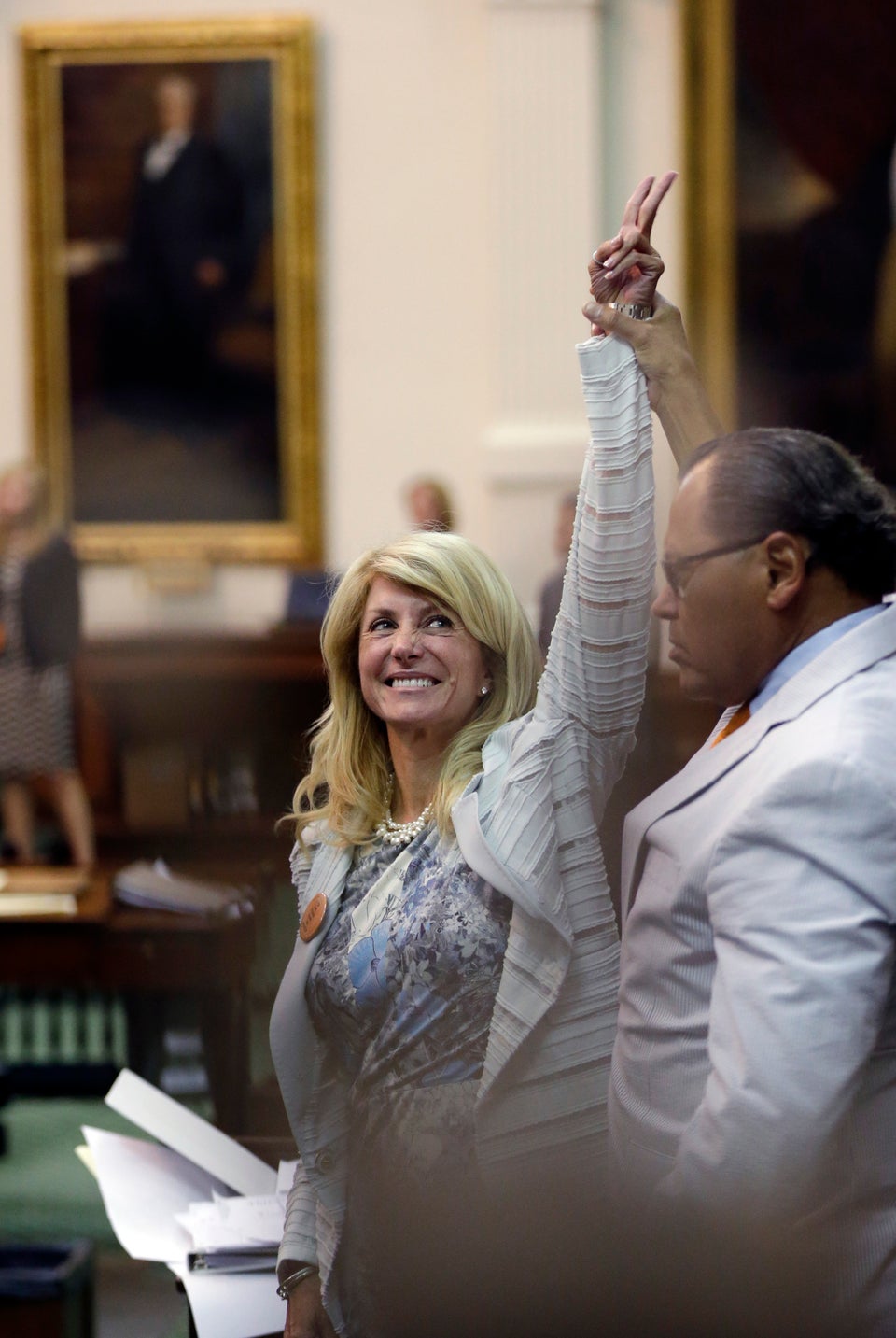 Wendy Davis Speaks For 11 hours On The Abortion Bill
Popular in the Community