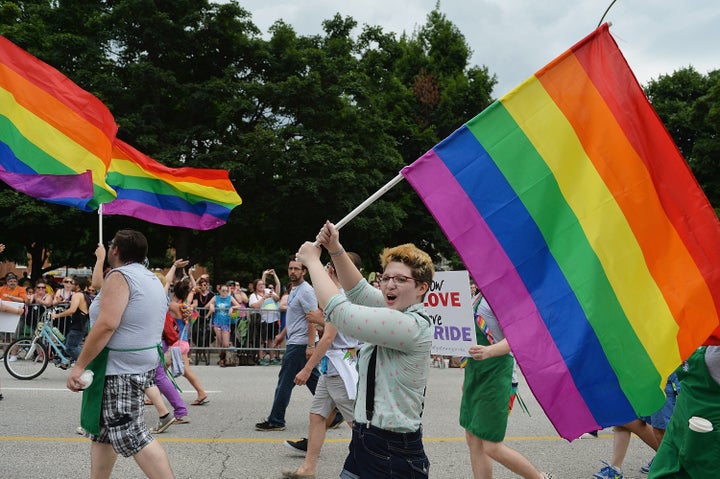 AUSTIN, Texas, Aug 5 (Reuters) - A U.S. judge on Wednesday ordered Texas officials to recognize on a state death certificate the surviving spouse in a same-sex marriage whose husband died earlier this year.
The case comes as states such as Texas, which had barred same-sex marriage, grapple with changes brought by the landmark U.S. Supreme Court decision in June that made gay marriage legal in the United States.
Texas, where Republican leaders have tried to push back against gay marriage, had balked at recognizing John Stone-Hoskins as the surviving spouse on the death certificate of James Stone-Hoskins, according to court documents.
U.S. District Judge Orlando Garcia in San Antonio ordered defendants including Texas Attorney General Ken Paxton, a Republican, and the state's acting health commissioner to appear in his court next week as he considers whether they should be held in contempt.
The two were not immediately available for comment.
John and James Stone-Hoskins were lawfully married in New Mexico in August 2014 and James died in January 2015.
Texas refused to recognize John as the surviving spouse at the time of the death and he is seeking to have Texas change its ways now that gay marriage is legal in all states.
He filed a lawsuit on Wednesday in federal court, which prompted the judge's order. It said Texas has refused to fill in the space on the death certificate for surviving spouse.
Republican Governor Greg Abbott, Paxton, a county clerk and the acting health commissioner were named as defendants. None of them responded to requests for comment on the case.
"Although John has made numerous attempts to have James's death certificate corrected to reflect John as James's surviving spouse, Defendants refuse to make this correction - thus refusing to recognize John and James's marriage," the lawsuit said.
Neel Lane, an attorney for Stone-Hoskins, said the reason Texas officials refuse to put John's name on the death certificate is because at the time his spouse died Texas was aggressively denying same-sex couples the right to marry.
"The only reason that he was denied that is because the state was intent on depriving him of his constitutional right," he said.
(Reporting by Jon Herskovitz; Editing by Eric Beech)
Popular in the Community