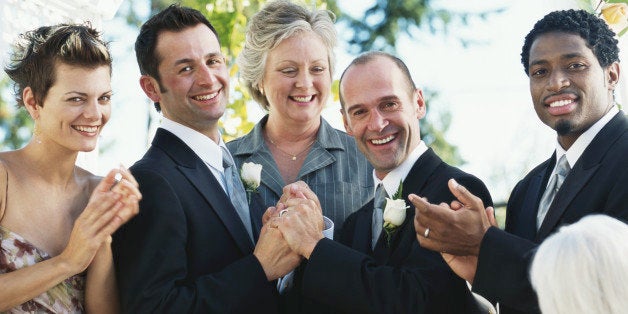 GUN BARREL CITY, Texas (RNS) This place got its name because the main road was straight as a gun barrel. Today, it's at the center of a fight over gay marriage.
That's because weekenders Mark Phariss and Vic Holmes, who bought an A-frame house overlooking scenic Cedar Creek Lake four years ago, have become minor celebrities as the men challenging Texas' ban on same-sex marriage.
Their battle, joined by two women whose Massachusetts marriage the Lone Star State refuses to recognize, is as unlikely as it is uphill. They've already won the first round in federal court in San Antonio, where District Judge Orlando Garcia ruled the state's marriage laws against gay couples "demean their dignity for no legitimate reason."
Yet if the national winning streak for gay marriage has an Achilles' heel, the conservative-leaning U.S. Court of Appeals for the 5th Circuit in New Orleans might be it. The court tilts 10-5 in favor of judges named by Republican presidents. It recently upheld a law requiring doctors who perform abortions to have admitting privileges at local hospitals, which forced some abortion clinics to close.
In the year since the Supreme Court ruled 5-4 that the federal government cannot deny marriage benefits to legally married gay and lesbian couples, lower court judges have uniformly fallen in line. Beyond Texas, they have given full or partial victories to gay couples in Arkansas, Idaho, Kentucky, Michigan, New Jersey, New Mexico, Ohio, Oklahoma, Oregon, Pennsylvania, Tennessee, Utah and Virginia.
Of the 10 states that are appealing those rulings, Texas — where the ban garnered 76 percent support in 2005 — may have the best chance at a reversal. Ironically, that would make Supreme Court intervention more likely, to resolve splits among circuit courts.
Not that Phariss and Holmes are giving up without a Texas free-for-all. At the Huddle House restaurant in Gun Barrel City (pop. 5,372), where pickup trucks line the parking lot and a bacon, egg and cheese melt with grits goes for $3.99, waitresses coo over the couple while delivering biscuits and gravy and Dr Pepper.
"We know them, and we've seen them on TV," general manager Candace Hunt says. "I don't think anybody should judge them. They should let God judge them when the time comes."
Hunt's support is emblematic of changing attitudes in Texas, where an independent poll taken in April showed support for gay marriage had pulled even with opposition. Still, Phariss and Holmes were reluctant plaintiffs.
Phariss, 54, a lawyer who can't persuade his twin sister to be on his side, was still closeted professionally when a fellow attorney asked for potential clients for the lawsuit. Holmes, 44, had served 22 years in the Air Force and was accustomed to its prior Don't Ask/Don't Tell policy.
As their names were added to the case, they took down their profile photos on Facebook and LinkedIn. Phariss removed his phone number from the Texas State Bar's website.
"We went to great lengths to try for people not to recognize us," Phariss says. "I've literally lost sleep worrying about people breaking into our house to harm us over this issue.
"Luckily, I've got a shotgun."
You might say Phariss and Holmes are Texas-style gay men.
Holmes chose an Air Force career after graduating from high school in Arizona. He served from 1988 to 2010, then retired and became a physician's assistant in Fort Worth, Texas. Among his buddies is a former Navy SEAL who supports his effort.
Phariss, an Oklahoma native, keeps a fraying Sooners banner alongside the American flag on their boat dock, home to two kayaks and two jet skis that see action when drought conditions don't conspire. He speaks fondly of his college fraternity brothers from Westminster College in Fulton, Mo.
Among Phariss' acquaintances is Texas Attorney General Greg Abbott, the Republican candidate for governor in November and a fierce defender of the state's ban on gay marriage. The two met at Vanderbilt Law School in the early 1980s and still exchange Christmas cards. In 1984, when Abbott was partially paralyzed by a falling tree, Phariss flew to Houston to help.
They're not the only military-legal couple fighting the state. Cleopatra De Leon, an Air Force veteran, and Nicole Dimetman, a marketing consultant with a law degree, are co-plaintiffs from Austin. They went to Boston to get married in 2009 before starting a family, now represented by their 2-year-old son. Upon returning home, Dimetman had to go through a costly adoption process.
"I think hearts and minds on this issue are changing everywhere," Dimetman says. "The whole country is probably doing a double-take about the speed at which this issue is moving. I think Texas is just reflective of that."
Beyond the lawsuit, Phariss and Holmes are pretty much homebodies. They live in suburban Plano, just a half-mile from Prestonwood Baptist megachurch, and commute to work in the congested Dallas-Fort Worth area. Weekends are spent in their transformed fixer-upper at the lake with three baying beagles. They travel frequently and have visited every continent. Next: the Arctic Circle.
They have yet to convince all their friends and relatives of the merits of their cause, but they're working on it. After filing the lawsuit, Phariss lost a friend with whom he bet annually over the Texas-Oklahoma college football game. "He sent me a text and said he was too mad to talk to me," Phariss recalls.
And after the story broke about his unlikely friendship with Abbott, Phariss' twin sister e-mailed: "I agree with Greg Abbott." Phariss e-mailed back: "Are you coming to our wedding or not?"
Tom Ward moved to Gun Barrel City a half-century ago to get 60 miles away from ever-expanding Dallas. Like many in the community, Ward — a former Texas Tech halfback and 82nd Airborne Division veteran whose Ben Franklin variety store was going gangbusters until Wal-Mart came to town — opposes same-sex marriage. That didn't change when Phariss and Holmes moved in across the street.
"These are good guys," he says over Bellinis on their deck by the lake. "But I don't approve of what they're doing. It's just not written in the Bible, folks."
There are plenty of folks who feel the same way, in Gun Barrel City and across the state. Last month, a waitress in East Texas warned some would-be customers that they "don't serve fags here." The Texas Republican Party refused to let the gay Log Cabin Republicans host a booth at this week's annual convention in Fort Worth. The Conservative Republicans of Texas are holding a rally there Thursday (June 5) in defense of the gay marriage ban.
Holmes recalls telling a friend about the couple's lawsuit and receiving an incredulous response: "Really, Texas? You couldn't pick an easier state?"
But there are signs of change, as well. After their district court victory in February, Holmes was surprised by his students at the University of North Texas Health Science Center, where he teaches anatomy and emergency medicine. "When I walked in the room, everyone just stood up and clapped," he says.
And along Gun Barrel City's upscale lakefront, most people seem open-minded. D'Ann Jordan grew up with Bible churches and Bible colleges, but the lesson she took away was inclusive: "Treat people like you want to be treated."
Now she's one of the many Mark-and-Vic cheerleaders.
"It's kind of exciting to see that they're going to be playing a part in making that kind of change," Jordan says. "It's history."
Copyright 2014 Religion News Service. All rights reserved. No part of this transmission may be reproduced without written permission.
Support HuffPost
Every Voice Matters
Before You Go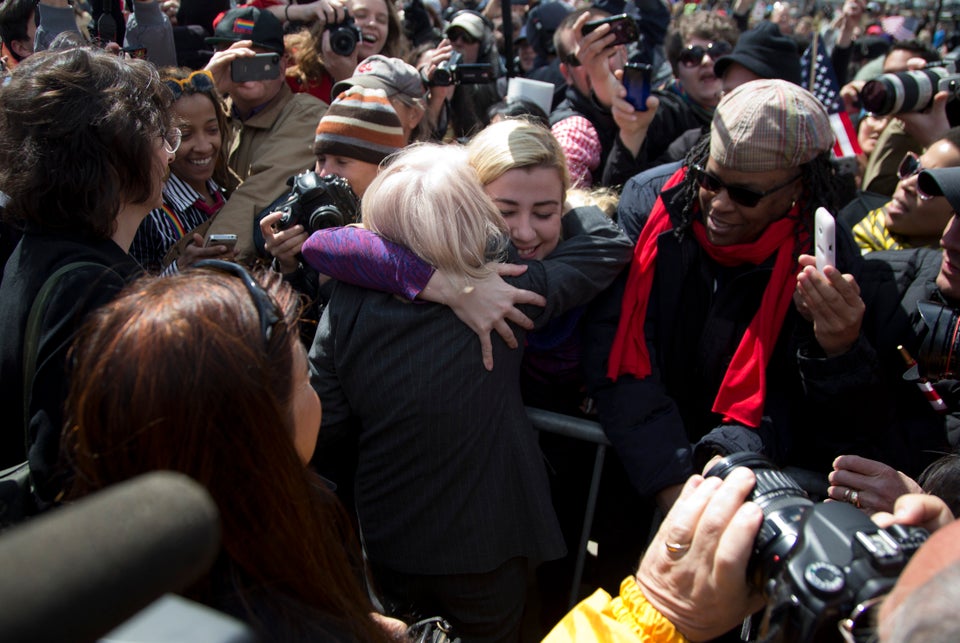 DOMA
Popular in the Community