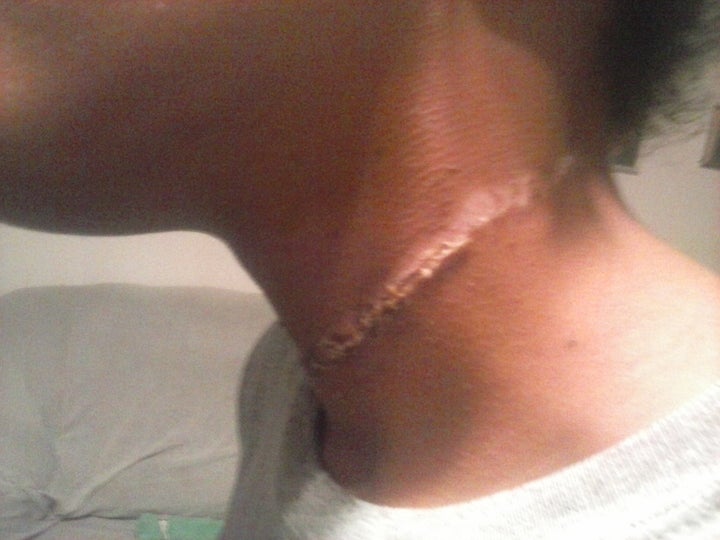 The parents of a 12-year-old Texas girl, who sustained a severe rope burn on her neck during an overnight school field trip to Germer Ranch in Blanco County, Texas, filed a lawsuit Monday against Live Oak Classical School.
Sandy Rougely and Kevin Parker are seeking $3 million in damages -- to cover the cost of medical expenses, physical pain, mental anguish, disfigurement, impairment, loss of use and enjoyment of life of their daughter, who is being referred to as K.P.. They are suing for such a large amount "to not only compensate the victims in this case, but to deter this type of egregious conduct from others in the future, and to serve as an example to all educational institutions that this type of behavior is unacceptable," the lawsuit says.
"When we began to dig deeper into what happened, we were shocked at the utter failure in how Live Oak handled this situation after the injury occurred," Levi G. McCathern, the family's attorney, told The Huffington Post in a statement. "Their tone deaf approach reflects an attitude that our client's injury was not worth investigating, or even informing her mother about."
"It was evident from our initial assessment that this case is not one of mere negligent supervision, but of a systematic and organizational failure in leadership by those in charge of the Live Oak Classical School," the statement continued.
During a class visit to the ranch on April 28, the children came across a rope swing hanging from a tree. A second, longer rope was tied to the seat so that the children could pull the rope, lift the swing into the air and help the occupant swing. Three of K.P.'s classmates used this rope to hurt her, according to the lawsuit:
Behind her in this group, within an arms length, were three boys, one of whom was the same boy Sandy had alerted Live Oak was bullying K.P. During one swing, K.P. watched as some of the other kids pulled the pull-rope back, ready to swing another child. She watched the kids let the rope go, thinking this was just like every other turn. However, she did not see what the boys behind her were doing, and the next thing K.P. knew, she felt the rope wrap around her neck and she was violently jerked to the ground with the pull-rope wrapped around her neck.
"It looked like somebody had ripped her neck apart and stitched it back together," Rougely told The Dallas Morning News last month.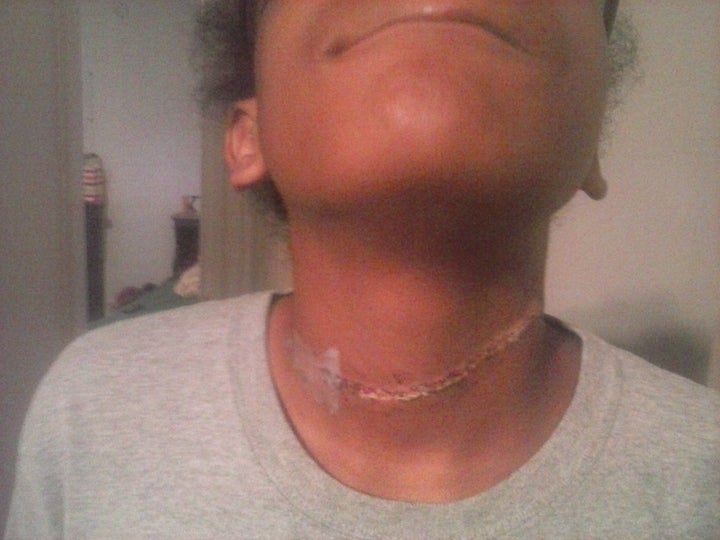 The racial connotations of the case are hard to ignore. K.P. is black and the three boys are white.
"It's nearly impossible to argue that this was somehow an accident that could have happened to any child that day, regardless of race," McCathern said in a statement released by the firm. "The severity and specificity of the injury certainly point to this incident being racial, but because the incident occurred behind K.P., and because no chaperone or teacher was there to see how the rope got around her neck. Only the children involved know the motivation behind this incident."
Live Oak said in a statement that it takes allegations of racism very seriously. The school said it interviewed eyewitnesses and couldn't find any evidence that racism played a role.
"I have interviewed the students, the chaperones and the doctor who treated the student right after the accident, and the information I obtained points to nothing but an unfortunate accident," David Deaconson, the school's lawyer, told The Huffington Post. "This is a private school that people choose to either attend or not. There is a public school choice in Waco ISD. If a child is truly being bullied in a private school throughout the school year and the parent is concerned about bullying and the school's alleged lack of concern, would a parent re-enroll their child for the next school year?"
K.P. told The Dallas Morning News that she thought the boys had hurt her intentionally. She said if the boys would have let go of the rope, it should have fallen instead of jerking her to the ground.
"That's why I think it was on purpose," she said. "I think someone tried to tie it around my neck."
The lawsuit claims that because none of the boys, or other children, helped K.P. off the ground the incident was not accidental. The family also claims Allison Buras, the school's dean, did not look into the incident, nor did she notify K.P.'s mother of her daughter's injury.

"For Live Oak to bury their head in the sand and chalk this incident up to an 'accident' or 'kids being kids' is irresponsible but unfortunately all too common," McCathern said in the statement. "Regardless of who or what caused the rope to get around K.P.'s neck, Live Oak's tone deaf response only amplifies an already horrific problem."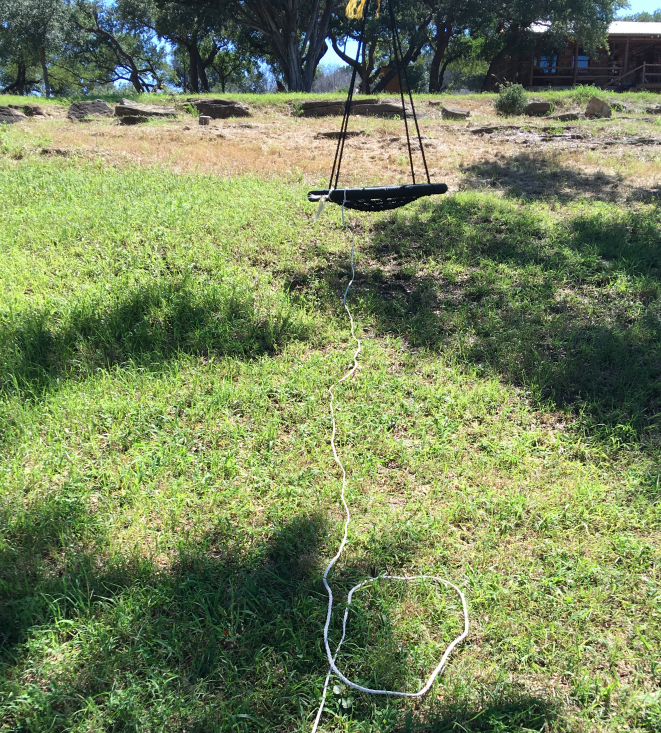 K.P. attended Live Oak Classical School, a predominantly white private school, during the 2015-2016 school year. But in fall 2015, K.P. told her parents that her classmates wouldn't speak to her and that she was being bullied, according to the lawsuit. It goes on to allege that, in one incident, a boy pushed K.P. on the ground. In another, the same boy pushed, kicked and shoved K.P. during a class assignment while the teacher was not looking.
Rougely told Buras that her daughter was being bullied but, according to the lawsuit, Buras dismissed the incidents saying they weren't malicious. The lawsuit further alleges that Live Oak's administration even placed partial blame on K.P.
"Occasionally, I can get her to smile but it is rare. Socially, she does not interact with her classmates," Melinda Johnson, the girl's science teacher, said in an email to Rougely that was presented as part of the lawsuit. Johnson added that K.P. was not "emotive" despite working well with other students.
Buras also pointed out in an email that she was "concerned about [K.P's] social development" since she struggled at her previous school.
"Live Oak seemed concerned only with the symptoms of the bullying, rather than the problem," the lawsuit says.
But the school maintains that K.P.'s injuries were accidental, and not a result of bullying. Deaconson told The Dallas Morning News that the school will "stand behind the facts."
"We all know anybody can allege anything in a lawsuit. That doesn't make it true," he said. "We also need to keep in mind we've got 12-year-old kids involved, and adults need to react in a way that doesn't put the 12-year-olds' safety at risk, which many of them already have."

CORRECTION: An earlier version of this article said Germer Ranch is in Waco, Texas, and incorrectly described bullying as having taken place in fall 2016.
This article was updated after publication to include a statement from David Deaconson, Live Oak's lawyer.
Popular in the Community