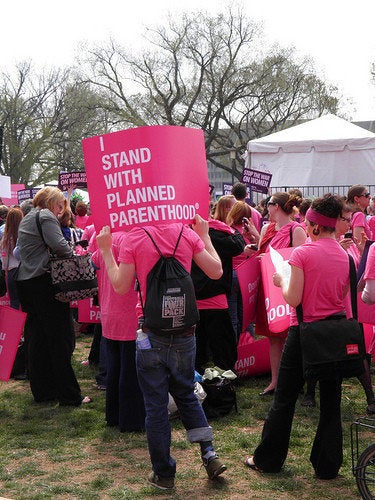 WASHINGTON -- In an attempt to defund Planned Parenthood without breaking any federal rules, Texas lawmakers passed two measures this month that will decimate the state's family planning program and result in nearly 300,000 women losing access to cancer and diabetes screenings.
In early June, Rick Perry, Texas' Republican governor, signed a budget bill that reduced the state's family planning funding from $111 million to just $37 million. Then on Monday, state lawmakers passed a measure that forces the Texas Health Department to dole out the remaining funds using a tiered priority system, in which Planned Parenthood is at the very bottom.
"It doesn't completely defund us, but it puts the agency in a position where they have to put us third in line for the money," said Yvonne Gutierrez, a spokesperson for Planned Parenthood of South Texas. "And it's not only us that's in the third tier -- it's all the traditional family planning providers that don't provide comprehensive care, many in rural areas. So it's the hard to reach population that's really being affected by this."
Texas Planned Parenthood offices have two avenues through which they receive state and federal money: the Women's Health Program (WHP), which is funded by Medicaid, and the state family planning program, which is funded by the Title X federal grant program. In addition to putting private providers like Planned Parenthood last in line for Title X funds, GOP lawmakers inserted language into the new Medicaid bill that will prevent WHP money from going to any entity that provides abortions or is affiliated with an abortion provider.
Because Planned Parenthood corporately separated its abortion services from its family planning services in 2005, every abortion it performs in Texas is paid for privately by the patient. But the Health Department will now have to define the word "affiliate" to determine whether Planned Parenthood's abortion and family planning services are closely related enough to disqualify it from state Medicaid funding.
"Anti-choice lobbyists have spent the entire year confusing the facts," said Peter J. Durkin, president and CEO of Planned Parenthood Gulf Coast, in an email to HuffPost. "These groups pressured lawmakers to de-fund Planned Parenthood by muddling conversations about family planning programs with false accusations that they subsidize abortion care. There is absolutely no legitimacy to their claims – and they know it."
Nearly half of the 120,000 low-income Texas women who use the WHP for basic health care, birth control and cancer screenings do so through a Planned Parenthood clinic, so the Health and Human Services Commission's ruling could be a devastating blow to family planning.
"If they're gonna kick Planned Parenthood out of the program, then all of these women going to a Planned Parenthood clinic are gonna have to go to another provider -- and these providers are already operating at capacity," Gutierrez told HuffPost.
Further, if Texas breaks federal Medicaid rules by discriminating against Planned Parenthood, the state could risk nearly $150 million in federal family planning funds.
The state of Indiana recently faced a similar predicament, and a federal agency rejected its attempt to cut Medicaid funds from Planned Parenthood on the grounds that it takes away a patient's freedom to choose a qualified provider.
Gutierrez said the Texas chapter is "encouraged" by the ruling in Indiana and plans to launch a similar challenge in court.
But a spokesperson for the Texas Health and Human Services Commission said she believes the Texas version could stand. "Our attorney general believes that we have the right to limit how those tax dollars are spent," she said.