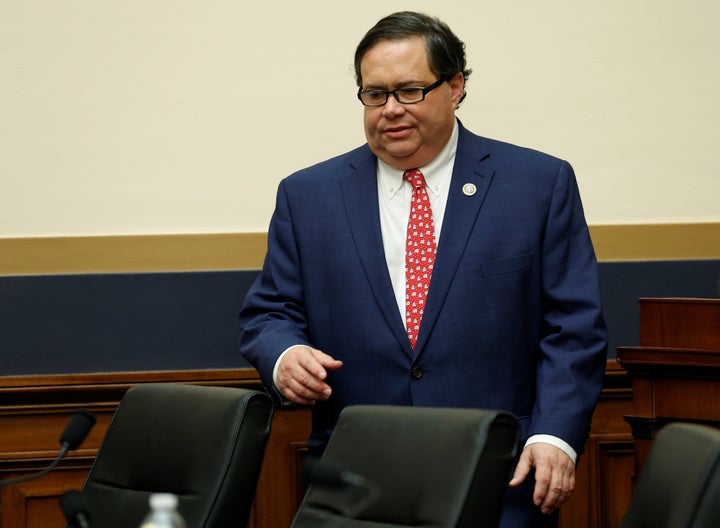 WASHINGTON ― There's a John Cusack movie from the mid-1980s, "Better Off Dead," that features a crazed paperboy who will not leave Cusack's character alone until he pays the $2 his family owes for newspaper deliveries.
The kid rolls up on his bike everywhere Cusack's character goes. At his front door. On a ski slope. On the roof of his piece-of-crap station wagon. "Two dollars!" the kid always shouts as Cusack flees. "I want my two dollars!"
The disgraced Texas Republican cannot escape people demanding he pay back the $84,000 in taxpayer money that he used to settle a sexual harassment lawsuit against him. The multimillionaire promised to repay it immediately in December, when news broke about the settlement. But he never did, and he spent the next four months ignoring pressure from the media and colleagues in both parties to do so. Three weeks ago, he abruptly resigned his House seat and went back to Texas, presumably hoping to put this chapter of his life behind him.
But on Wednesday, Texas Gov. Greg Abbott (R) showed up and demanded that Farenthold repay the $84,000 ― but not to the U.S. Treasury. The governor wants Farenthold to fork over the $84,000 as part of a larger payment to cover the entire cost of the June 30 special election being held to fill his congressional seat.
"I am writing to demand that you cover all costs for the called special election to fill the seat now vacated following your resignation," Abbott said in a sternly worded letter to Farenthold. "While you have publicly offered to reimburse the $84,000 in taxpayer funds you wrongly used to settle a sexual harassment claim, there is no legal recourse requiring you to give that money back to Congress."
Abbott also asked people on Twitter to join him in urging Farenthold to pay for the special election "because of his disgraceful conduct."
It's not clear how much the special election will cost, but the Victoria County elections administrator estimated it could be as much as $200,000.
Abbott wrote Farenthold that he wants a response by May 2. "This seat must be filled, and the counties and taxpayers in the 27th Congressional District should not again pay the price for your actions," he said.
One of the candidates running for Farenthold's seat has already endorsed Abbott's call.
Farenthold is under no legal obligation to repay the $84,000, which he spent on a 2014 lawsuit involving allegations that he'd told a female aide he had "wet dreams" and "sexual fantasies" about her. It's now a matter of people, including the Texas governor, shaming him into paying it back.
Read Abbott's letter here: 
Calling all HuffPost superfans!
Sign up for membership to become a founding member and help shape HuffPost's next chapter