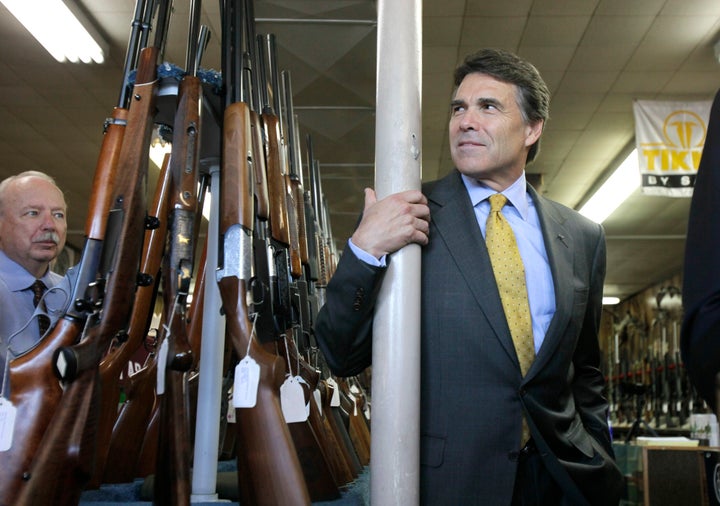 Despite emotional testimony from survivors of the 1966 University of Texas shooting, Texas state senators appeared poised Tuesday afternoon to send toward a final vote a controversial bill that would permit students to carry concealed handguns on the state's college campuses.
The bill, SB 354, would make Texas the second state after Utah to allow the carrying of concealed weapons on public postsecondary campuses. Lawmakers in nine other states, including Arizona, have introduced bills to allow guns on campus this year, according to the National Conference of State Legislatures.
Like the survivors of the 1966 University of Texas shooting, John Woods, who was a student at Virginia Tech during the 2007 shooting that left 33 dead, expressed a different view Tuesday.
"My feeling is we have a Second Amendment in this country for a reason, but as the Supreme Court has said very clearly, that doesn't mean that you can take your gun with you anywhere you want," Woods, whose girlfriend was killed in the shooting, testified before the Texas state senate's committee on criminal justice.
As written, the legislation would grant private universities discretion as to whether they allow guns on campus, but Sen. Rodney Ellis, a Houston Democrat, has said he will try to amend the legislation to give public university officials the same choice.
Proponents of the legislation, however, say students should be the ones to decide. "We don't understand why people lose this option for personal protection when they step onto a college campus," Daniel Crocker of Students for Concealed Carry on Campus told The Texas Tribune.
The bill's supporters also note that applicants for a Texas concealed handgun license must be 21 years of age, meaning that only upperclassmen, graduate students, and faculty and staff would be able to bring guns on campus. There are exceptions to the state law, however: members or former members of the military need only be 18, and an ongoing Texas lawsuit, supported by the National Rifle Association, seeks to reduce the license age minimum to 18.
Both the Texas House and Senate are considering bills that would allow students with a concealed handgun license to bring guns to class. Last week, the House legislation, HB 750, passed out of the House Homeland Security and Public Safety Committee with a 5-3 vote split cleanly along party lines, and is headed for a vote in the full House.
A majority of lawmakers in the Texas House favor the measure, and the bill, in some form is expected to be signed into law by Gov. Rick Perry, an aide told HuffPost on Tuesday.
The legislation comes mere months after a shooting scare at the University of Texas, in which a student brought an assault rifle to campus and eventually killed himself.
The guns-on-campus issue gained national attention in the wake of the Virginia Tech shooting. Some gun-rights advocates have argued that the lesson of that tragedy is that more students should carry firearms for self-defense.
Not so, Woods said Tuesday, citing the findings of the Virginia Tech Review Panel, a nonpartisan commission that compiled a list of 70 policy recommendations to prevent campus shootings in the future. One recommendation, Woods noted, was that university policies banning guns be given the force of law.
Now a doctoral student in molecular biology at the University of Texas, Wood said in a Tuesday interview with HuffPost that he hadn't spent much time considering gun control before his girlfriend and dozens of their fellow students were killed.
"She was one of the brightest, most energetic, good-hearted people I've ever met," Woods said of girlfriend Maxine Turner, who he had been dating for six months before she was killed. "I loved her, and I never told her that, so I'm putting it on the record here today."
A final committee vote on the Senate bill was not taken after the testimonies on Tuesday afternoon, since the five committee Republicans expected to vote "yes" were not present, but a vote is expected as soon as next week.

Calling all HuffPost superfans!
Sign up for membership to become a founding member and help shape HuffPost's next chapter