AUSTIN, Texas ― Texas can start implementing parts of an immigration crackdown law passed earlier this year after a panel of federal appeals court judges on Monday partially lifted an injunction blocking the law from going into effect.  
While the wording of the order left little clarity about how the controversial law would be enforced while litigation plays out, Travis County Sheriff Sally Hernandez abandoned the state's most contentious "sanctuary" policy.
Since Feb. 1, Hernandez had declined to honor requests from Immigration and Customs Enforcement to detain undocumented immigrants on the federal government's behalf unless the suspect was charged with or convicted of one of a short list of violent crimes, including murder and human trafficking.  
But hours after Monday's ruling, Hernandez met with county attorneys and decided to rescind the policy. The Travis County Sheriff's Office will now honor all such requests from ICE, known as "detainers," spokeswoman Kristen Dark said. 
"As I have maintained throughout this process, I have not violated federal or state law, nor do I intend," Hernandez said in a statement. "Our policy has been updated to comply with the findings of the Fifth Circuit Court of Appeals."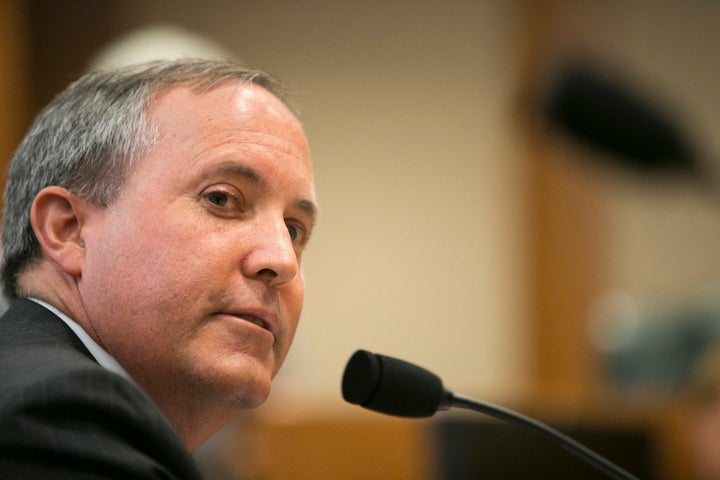 Senate Bill 4 forbids local governments from using so-called sanctuary policies to limit the cooperation between local law enforcement officers and federal immigration authorities. The law, as passed by the Texas Legislature in May, requires local officials to honor all requests from federal authorities to hold undocumented immigrants in local jails on their behalf, including those who would otherwise be freed because their charges were dropped or a judge allowed them to be released on bond. SB 4 makes it possible for the state to jail local officials who pass sanctuary policies for up to a year and allows police officers to check the immigration status of anyone they stop for any reason.
Several jurisdictions ― including the South Texas town of El Cenizo; the capital, Austin; and Houston, the state's largest city ― are challenging SB 4's constitutionality.  
But Monday's unanimous ruling by the three 5th U.S. Circuit Court of Appeals judges reversed two parts of Garcia's injunction.
Texas Attorney General Ken Paxton celebrated Monday's ruling, issuing a statement saying it would "allow Texas to strengthen public safety."
"Enforcing immigration law helps prevent dangerous criminals from being released into Texas communities," Paxton's statement reads. "I am confident Senate Bill 4 will be found constitutional and ultimately upheld."
Most notably, the panel's ruling Monday reinstates the part of the law that requires local jails to honor all requests, known as "detainers," from federal immigration authorities to hold undocumented immigrants who would otherwise be free to go.  
But the language left it unclear how the judges expected local jurisdictions to respond in practice. The panel's decision says SB 4's requirement to honor detainers from U.S. Immigration and Customs Enforcement "does not require detention pursuant to every ICE detainer request; rather, the 'comply with, honor, and fulfill' provision mandates that local agencies cooperate according to existing ICE detainer practice and law."
ICE detainers, however, are only requests. Several federal judges have found that holding someone on an ICE detainer who would otherwise qualify for release violates the Fourth Amendment protection against arrest without probable cause. And the part of the law that would punish officials who pass policies limiting detainers remains blocked. 
The only Texas jurisdiction with a blanket policy denying some classes of ICE detainers is Travis County, which includes Austin. The Travis County Sheriff's Office did not immediately respond to a request for comment.
But the ambiguous wording of the ruling means it may have little effect in practice, according to Thomas Saenz, president and general counsel of the Mexican-American Legal Defense and Educational Fund, one of the groups suing to overturn the law. 
"As best I can tell right now, it has a very limited effect," Saenz told HuffPost. "It's worded in such a way that I don't see it makes much of a change.… But it is a very cryptic decision, which unfortunately means that local jurisdictions are going to be making their own decisions about what it means."
Efrén Olivares, the racial and economic justice program director of the Texas Civil Rights Project, also finds the ruling on detainers unclear.
"The way I read that sentence in the order makes it sound as if detainers are voluntary under federal law, but they are mandatory under state law," Efrén told HuffPost. "We won't know until that issue is litigated."
Monday's ruling largely upheld the rest of García's injunction on SB 4. A separate panel of judges from the 5th U.S. Circuit Court of Appeals will hold another hearing Nov. 6 to decide whether to keep the law partially blocked while the case winds its way through the federal courts.
CORRECTION: A previous version of this story misstated Saenz's title at MALDEF. He is president and general counsel, not executive director.
REAL LIFE. REAL NEWS. REAL VOICES.
Help us tell more of the stories that matter from voices that too often remain unheard.
BEFORE YOU GO
PHOTO GALLERY
11 Ways Immigration Reform Helps The Economy