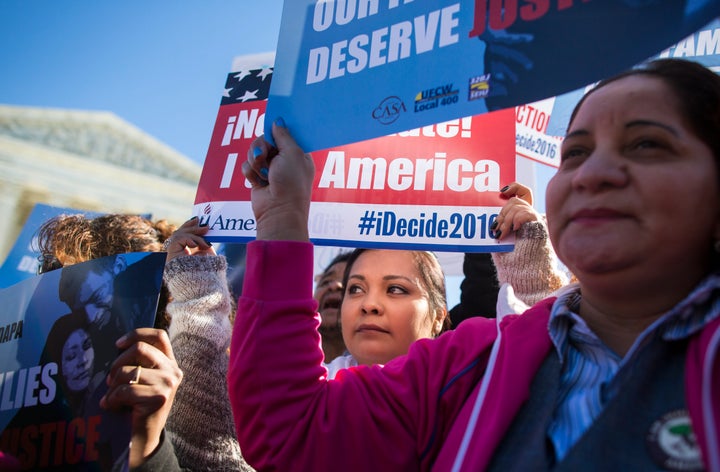 The clock is ticking on President Barack Obama's executive action on immigration, and Texas seems to know it.
The state on Monday asked the U.S. Supreme Court for more time to file court papers in its dispute with the federal government over the president's deportation relief programs -- a move that may delay a ruling in the case until after Obama leaves office.
If the request made by Texas Solicitor General Scott Keller for a 30-day extension for replying to the government's appeal is granted, it could run out the clock on the court being able to hear the case in its current term, which runs until June.
A Department of Justice official said the Obama administration opposes the extension. Legal experts said officials could still ask the justices to expedite the appeals process.
"The case presents issues of national importance and the Department believes it should be considered expeditiously," said DOJ spokesman Patrick Rodenbush in an emailed statement. "Therefore, we intend to oppose Texas's request for a full 30-day extension."
The Texas request also contends the Obama administration did not seek emergency intervention from the Supreme Court earlier in the litigation -- suggesting there should not be a reason for the government to be in a rush now. 
Rodenbush declined to comment on why the administration didn't go to the Supreme Court earlier to block two lower court rulings that effectively left Obama's immigration initiative on hold.
If Texas gets its way and the Supreme Court ultimately decides to hear the dispute without expediting it, oral arguments wouldn't be held until fall 2016, with a ruling not likely until after Obama leaves office in January 2017.
The timing matters because a number of Republican presidential candidates have vowed to rescind Obama's executive actions if elected, while Democratic contenders have pledged to keep them or even extend them.
The Obama administration maintains Texas and the other states that have sued have no legal basis to challenge Obama's actions. The states contend Obama overstepped his presidential powers by bypassing Congress and acting unilaterally.
Obama's executive order would allow up to 4.7 million undocumented immigrants to live in the United States without threat of deportation, as well as provide them with temporary work authorization and access to drivers' licenses under state law.
The program was directed at immigrant parents without criminal records whose children are either U.S. citizens or permanent residents. Another part of the program extends the 2012 Deferred Action for Childhood Arrivals program, aimed at young students brought to the United States as children.
PHOTO GALLERY
11 Ways Immigration Reform Helps The Economy
Calling all HuffPost superfans!
Sign up for membership to become a founding member and help shape HuffPost's next chapter