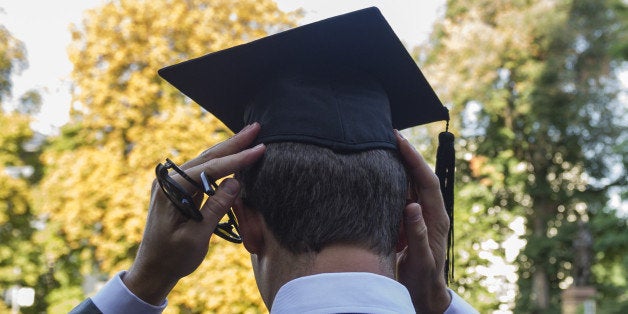 Even with in-state tuition rates, it's been difficult for Katia Carmona to pay for college.
The 25-year-old undocumented immigrant, who has lived in Texas for 15 years, is set to graduate from the University of Houston in May with a degree in psychology. She graduated high school in 2007, and has been working and studying ever since, taking time off when necessary to save more funds. Her education will pay off when she starts a job in human resources using the work authorization she received under an Obama administration policy.
If Republicans in the Texas Senate get their way, other undocumented immigrants who came to the U.S. as children, often called Dreamers, won't get the same opportunities. State legislators are pushing to repeal a 2001 law that allows Texas Dreamers to receive in-state tuition, which for many young people is the difference between college being tough to afford and completely out of reach.
"I know that if I didn't have in-state tuition, there's no way that I would have been able to pay," Carmona said in a phone interview. "The reason I'm graduating is that I had in-state tuition."
Carmona was one of about 175 people who signed up to testify Monday in Austin about the bill from Republican state Sen. Donna Campbell to end in-state tuition for Texas Dreamers. The marathon hearing in a Senate subcommittee on border security stretched more than 14 hours, and some would-be speakers -- including Carmona, who had class Tuesday morning -- had to leave. But many remained, and an overwhelming majority, many of them Dreamers, spoke against the bill.
Still, the subcommittee voted early Tuesday morning to move forward with the bill that would end in-state tuition for undocumented immigrants who came to the U.S. as children. The bill will go next to a full committee for consideration.
Texas was the first state to offer in-state tuition to undocumented immigrants in 2001. Since then, the state has taken a hard line on immigration. Former Texas Gov. Rick Perry (R), who signed the in-state tuition bill into law, sent National Guard troops to the border last year in response to a crisis of unaccompanied children and teenagers crossing illegally. Current Gov. Greg Abbott (R), then the attorney general, organized a state lawsuit against the Obama administration over deportation relief policies. One of the state's Republican U.S. senators, Ted Cruz, has made opposing "amnesty" one of his top priorities.
Perry famously defended the law during a Republican presidential primary debate in 2011, saying those who opposed helping undocumented young people get an education don't "have a heart." Now, as a potential 2016 contender, he is taking no position on the legislation to repeal the law he signed. Lucy Nashed, a spokeswoman for Perry, said "it's a decision for the Texas Legislature."
"With regard to the in-state tuition bill, this was an economic decision that Texas was forced to make because of the federal government's failure to secure the border," Nashed said in an email, explaining why Perry signed the bill in 2001. "This decision allows these young people to become productive, contributing members of society."
In the years since 2001, many Texas Dreamers have attended college at in-state tuition rates. Nearly 25,000 non-citizen resident students -- 1.9 percent of total students -- paid in-state tuition in 2013, according to the non-partisan, non-profit Center for Public Policy Priorities.
Campbell, the sponsor of the bill to end in-state tuition for Dreamers, argued during the hearing that the law could entice others to come to the U.S. without authorization. She said the legislature has "a moral obligation to take care of our own Texas citizens first."
"It's just bad policy that rewards illegal immigration in perpetuity," Campbell said.
Campbell told multiple Dreamers, after hearing their testimony, that her bill would grandfather them for in-state tuition. But the undocumented students said they also spoke on behalf for younger people who would be affected.
Sandra Tovar, 27, began to cry when testifying before the state senators about her experience. She graduated from Texas A&M in 2011 and is now working under the Deferred Action for Childhood Arrivals program, or DACA, which has allowed more than 100,000 Texas Dreamers to work legally. Tovar said it's important to her that younger Dreamers get the same opportunities.
"Please believe that when we Dreamers say that we want to give back to our community, we mean it," Tovar testified. "Please do not take this away."
Dreamers also questioned why the bill was going through a border security subcommittee when it was related to education and undocumented immigrants who have been living in Texas for years. Alejandra Villaseñor, 20, has been in the U.S. since she was 8 years old and is studying accounting at the University of Houston.
She gets by now on a scholarship and part-time work -- she is legally authorized to work under DACA -- but said that if she didn't have in-state tuition, she would either need to cut her schooling to part-time or drop out.
"We're not a risk to national security, we haven't committed any crime," Villaseñor said in a phone interview. "All we've done is try to get an education."
Popular in the Community