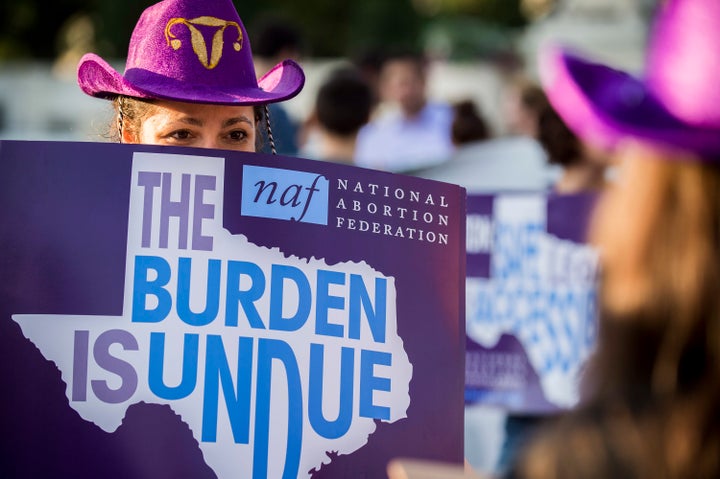 Texas is inching closer to banning insurance coverage for abortion ― with no exceptions for rape, incest or severe fetal anomalies.
On its third reading Wednesday, the Texas House passed HB 214 prohibiting coverage for all "elective" (i.e. non-emergency) abortions. It applies to women who have plans through their employer or through the Affordable Care Act.
The bill specifies that women may purchase supplemental insurance to cover abortion ― meaning that they would have to pay an additional premium ― if they so chose. Republicans who proposed the bill argue that this simply means insurance companies will no longer be "forced" to pay for abortions.
But Democratic legislators in the state have slammed the bill as political theater, since few plans there cover abortion anyway. They argue that it forces women in the state to purchase what amounts to "rape insurance."
"Women don't plan to be raped. Parents don't plan for their children to be victims of incest," Rep. Chris Turner (D) said. "Asking a woman or a parent to foresee something like that and buy supplemental insurance to cover that horrific possibility is not only ridiculous, it is cruel."
The bill's author, Rep. John Smithee (R), shot down amendments that would have provided for exceptions in the case of rape, incest or fetal abnormalities by asserting that "rape very seldom results in a pregnancy," according to The Dallas Morning News.
Reproductive rights organizations in the state were quick to condemn the bill.
"Texans should be able to make reproductive health decisions, including the decision to have an abortion, with dignity and respect and without politicians interfering with abortion coverage bans like HB 214," Heather Busby, executive director of NARAL Pro-Choice Texas, the advocacy group, said in a statement on Tuesday after the bill passed its second reading in the House.
"Unfortunately, some politicians remain single-mindedly fixated on pushing abortion out of reach in our state," Busby added.
The bill is one of several anti-abortion measures being considered during a 30-day special session convened by Texas Gov. Greg Abbott (R). The governor's 20-point agenda for the session also included a controversial proposed ban on transgender bathroom access, or "bathroom bill."
HB 214 will now head to the Texas Senate, which already passed a similar measure. If approved, it will head to Gov. Abbott to be signed into law.
Related
Popular in the Community