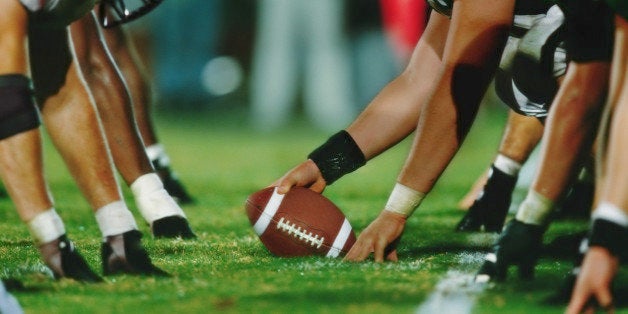 This Sunday, all eyes will be on Texas, where Houston is hosting the Super Bowl featuring the Atlanta Falcons and the New England Patriots. Most of the action will be on the field (there might even be a few unscripted events during Lady Gaga's halftime show). But this year's match-up also highlights an important behind-the-scenes equality battle in Texas.
The Atlanta Falcons and New England Patriots have recently championed LGBTQ equality and inclusion. Last year, when Georgia was on the verge of passing a law that would have given businesses the right to discriminate against LGBTQ people, the owner of the Atlanta Falcons voiced his opposition. The Patriots have also taken strong LGBTQ equality positions as a franchise. They signed onto a Supreme Court marriage equality amicus brief in 2015. Last year, they became the first NFL team to publicly support statewide transgender protections. Both teams represent the way the sports community can and should move the ball forward on equality for equality.
Ironically, however, these pro-equality champions will meet head-to-head in one of the most anti-equality states in the country. Texas has become increasingly hostile towards LGBTQ people. When the Texas legislature last met in 2015, the lawmakers introduced 23 anti-LGBTQ bills. Texas lawmakers are continuing their campaign to codify discrimination against LGBTQ people in its 2017 legislative session. The Texas legislature is already considering six anti-LGBTQ bills. This includes a bill that would give the state the power to take away LGBTQ protections passed at the city level.
Fortunately, LGBTQ discrimination is not the only thing in the Texas's legislative playbook. Pro-equality lawmakers have proposed several bills that would promote LGBTQ equality in Texas. And many cities are not waiting for the state to act on matters of equality: Dallas, Austin, Fort Worth, San Antonio and many other cities have passed local ordinances prohibiting anti-LGBTQ discrimination.
So Texas is not lost. It just needs to change directions. When a quarterback feels that the planned play should be abandoned for a better course of action, they can call an "audible." They can change direction, self-correct, and get the team back on track. This is what Texas needs right now-- an equality audible, a change to an inclusive game plan.
Calling all HuffPost superfans!
Sign up for membership to become a founding member and help shape HuffPost's next chapter