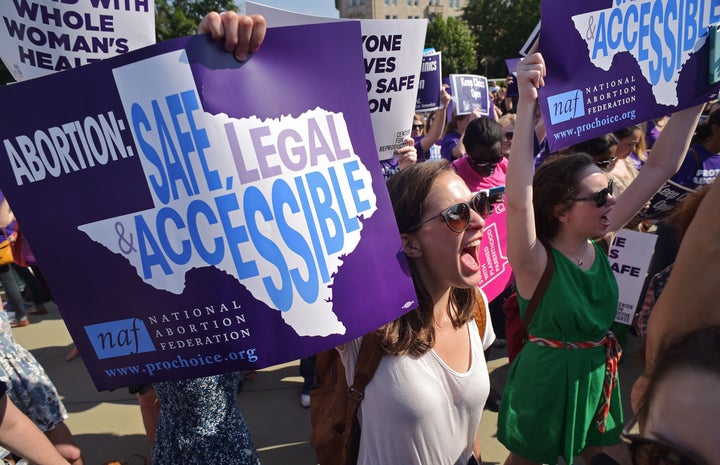 Senate Bill 8 ― which passed the Texas House of Representatives over the weekend ― is a wide-ranging anti-abortion bill that would, among other things, require all health facilities that treat pregnant women to dispose of embryonic and fetal remains that are "passed" or "delivered" via burial or cremation ― regardless of patients' wishes. That means that women who miscarry in a medical facility would also be subject to the rule.
Lawmakers backing the bill are seemingly unfazed that a federal district court already blocked a similar requirement after The Center for Reproductive Rights sued the state of Texas in December. The judge in that case was critical of the regulation, saying it could be a "pretext for restricting abortion access."
Indeed, opponents of fetal burial rules ― which have also been proposed in Louisiana and Indiana ― say they serve no medical purpose. Instead, they are an attempt to elicit an emotional response and shift thinking about the nature of fetal remains.
"For many years ... abortion opponents were attempting to make the case that restrictions were necessary to protect women's health, and this is a real shift from that. This isn't about women's health," Elizabeth Nash, senior state issues manager with the Guttmacher Institute, the policy and research organization, told HuffPost last year. "This is about trying to change attitudes toward the fetus and products of conception in order to try and revisit abortion rights."
The latest Texas bill, for example, states that cremated remains cannot be placed in a landfill; they must be scattered or buried. It also says that Texas will devise a grant program using private donations to help cover the cost of cremating or burying fetal remains, and that there will be a "burial or cremation assistance" registry that will maintain a database of funeral homes willing to provide "low-cost" burials or non-profits willing to help take on some of the costs. However, it's not at all clear what groups might be interested in doing that. Providers who do not comply with the regulation would lose their license, while women could face a $1,000 civil penalty.
In addition to the fetal burial rule, SB 8 also calls for a ban on dilation and evacuation or "D&E" abortions, a safe and common procedure used in second-trimester abortions, and prohibits the donation of fetal tissue (which can be used in medical research). It also includes a redundant ban on "partial birth abortion" ― a term used by anti-choice legislators for a procedure that was already banned by the Supreme Court in 2007.
Reproductive rights advocates from groups such as NARAL Pro-Choice Texas slammed the proposed regulations as "shameful" and "cruel."
"Lawmakers admitted during the SB 8 debate that they haven't consulted with any medical professionals but still chose to play doctor on the House floor," Heather Busby, executive director at NARAL Texas said in a press release. "Politicians are not doctors and they have no place in the exam room."
The bill now awaits final approval from the Senate before it would go to Texas Gov. Greg Abbott to be signed into law.
Popular in the Community